Full Biography Of John McCain
Assumed office  : January 3, 1987
Serving with Jeff Flake
Preceded by Barry Goldwater
Chair of the Senate Armed Services Committee
Chair of the Senate Indian Affairs Committee
In office: January 3, 2005 – January 3, 2007
Preceded by Ben Nighthorse Campbell
Chair of the Senate Commerce Committee
In office
January 3, 2003 – January 3, 2005
Preceded by Fritz Hollings
Succeeded by Ted Stevens
In office
January 20, 2001 – June 3, 2001
Preceded by Fritz Hollings
Succeeded by Fritz Hollings
In office
January 3, 1997 – January 3, 2001
Preceded by Larry Pressler
Succeeded by Fritz Hollings
Member of the U.S. House of Representatives
from Arizona's 1st district
In office
January 3, 1983 – January 3, 1987
Preceded by John Jacob Rhodes
Succeeded by John Jacob Rhodes III
Personal details
Born John Sidney McCain III
August 29, 1936 (age 81)
Coco Solo, Panama Canal Zone, U.S.
Political party Republican
Spouse(s)
Carol Shepp
(m. 1965; div. 1980)
Cindy Hensley (m. 1980)
Children 7, including Meghan
Parents John S. McCain Jr.
Roberta Wright
Relatives Joe McCain (brother)
Education United States Naval Academy (BS)
John McCain is a Military War Vietnam and a six-term U.S. senator from the state of Arizona. He was the Republican nominee for the 2008 presidential election, before his loss to Barack Obama. He served as a United States Senator from Arizona from January 1987 until his death
Who Is John McCain?
The son of a decorated Navy admiral, John McCain was born at the Coco Solo Naval Station in Panama on August 29, 1936. He enrolled at the U.S. Naval Academy and was dispatched to Vietnam, where he was tortured as a prisoner of war between 1967 and 1973. After his release, McCain served as a Republican congressman and senator from the state of Arizona, earning renown as a "maverick" who challenged party orthodoxy. He launched a bid for the U.S. presidency in 1999 and earned the Republican nomination in 2008, before losing to Barack Obama. After winning a sixth Senate term in 2016, McCain made headlines for his opposition to Republican attempts to repeal Obamacare and his battle with brain cancer.
John McCain Navy Blood
John Sidney McCain III was born on August 29, 1936, at Coco Solo Naval Air Station in the Panama Canal Zone (then a U.S. territory), the second of three children born to naval officer John S. McCain Jr. and his wife, Roberta. Both McCain's father and paternal grandfather, John S. McCain Sr., were four-star admirals, with John Jr. rising to command U.S. naval forces in the Pacific.
John McCain Health Care Holdout and Tax Reform
On July 25, 2017, less than two weeks after undergoing surgery to remove a blood clot from above his eye and learning he had a brain tumor, McCain made a dramatic return to the Senate to vote to proceed on repealing Obamacare legislation. He also delivered a memorable speech to his colleagues, in which he urged Republicans and Democrats to put aside their differences and work together, but also warned that he would not "vote for the bill as it is today."
Early in the morning of July 28, McCain made good on his word. Called to the Senate to vote on the "skinny repeal" bill, he was seen conferring with several prominent senators, as well as Vice President Mike Pence, before delivering his decisive "no" vote to torpedo the bill's chances of passing.
Two months later, when Republican Senators Lindsey Graham and Bill Cassidy spearheaded another attempt at repealing Obamacare, McCain again announced that he would not back the legislation. "I believe we could do better working together, Republicans and Democrats, and have not yet really tried," he said. "Nor could I support [the bill] without knowing how much it will cost, how it will affect insurance premiums, and how many people will be helped or hurt by it."
you might also like : Childhood, Biography & Facts of Bob McEwen
In late November, as Senate Republicans sought to push through a new tax bill, McCain announced that this time, his party had his support. "After careful thought and consideration, I have decided to support the Senate tax reform bill," he said in a statement. "I believe this legislation, though far from perfect, would enhance American competitiveness, boost the economy, and provide long overdue tax relief for middle class families." Aided by McCain's crucial vote, the Senate tax reform bill barely passed in early December.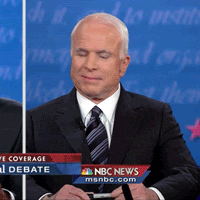 Even while away from the Senate to deal with health issues in early 2018, McCain demonstrated that he would continue to speak out when necessary. This time, the issue was a controversial House memo that purportedly demonstrated how the FBI and DOJ abused authority when obtaining a wiretap warrant for a Trump campaign associate. Although many Republicans supported the public release of the memo as evidence of bias against Trump, McCain was among those who expressed concern that it would prove damaging to the intelligence community.
"The latest attacks against the FBI and Department of Justice serve no American interests—no party's, no president's, only Putin's," McCain said. "The American people deserve to know all the facts surrounding Russia's ongoing efforts to subvert our democracy. … If we continue to undermine our own rule of law, we are doing Putin's job for him."
McCain also sought to remain involved in the ongoing debate over immigration reform by teaming with Delaware Senator Chris Coons to propose legislation. In April, he said that the president's comments about withdrawing troops from Syria had emboldened Syrian leader Bashar al-Assad, his words seeming prophetic when al-Assad was accused of launching deadly chemical attacks against his people later in the month.
John McCain Book: 'The Restless Wave'
In late April 2018, McCain released an excerpt of his upcoming memoir, The Restless Wave: Good Times, Just Causes, Great Fights, and Other Appreciations, in which he delves into the discovery and fallout of his cancer diagnosis, leaving him in a position where he is now free to "vote my conscience without worry."
Befitting his status as an elder statesman, McCain warns his Senate colleagues against "secluding ourselves into ideological ghettos" with increasing reliance on personalized news sources and like-minded communities. "Before I leave I'd like to see our politics begin to return to the purposes and practices that distinguish our history from the history of other nations," he says. "I would like to see us recover our sense that we are more alike than different."
The Restless Wave excerpt also had McCain musing on his own mortality, with a nod to For Whom the Bell Tolls: "The world is a fine place and worth the fighting for and I hate very much to leave it," he writes. "I hate to leave it. But I don't have a complaint. Not one. It's been quite a ride. I've known great passions, seen amazing wonders, fought in a war, and helped make a peace. I made a small place for myself in the story of American and the history of my times."
John McCain Personal Life
McCain married Carol Shepp, a model originally from Philadelphia, on July 3, 1965. He adopted her two young children from a previous marriage, Doug and Andy Shepp, and in 1966 they had a daughter together, Sidney. The couple divorced in April 1980.McCain met Cindy Lou Hensley, a teacher from Phoenix and daughter of a prosperous Arizona beer distributor, while she was on vacation in 1979 with her parents in Hawaii. McCain was still married at the time, but separated from his first wife.
John and Cindy were married in Phoenix on May 17, 1980. They have four children: Meghan (born in 1984), John IV (known as Jack, born in 1986), James (known as Jimmy, born in 1988) and Bridget (born in 1991 in Bangladesh, and adopted by the McCains in 1993).
you might also like : Childhood, Biography & Facts of Clair Engle
In August 2000, McCain was diagnosed with skin cancer (he had lesions on his face and arm, which doctors determined were unrelated to a similar lesion he had removed in 1993). He subsequently underwent surgery, during which all the cancerous tissue was successfully removed. McCain also underwent routine prostate surgery for an enlarged prostate in August 2001.
John McCain Brain Cancer Diagnosis
On July 14, 2017, McCain underwent a procedure to remove a blood clot from above his left eye at the Mayo Clinic Hospital in Phoenix. The operation led to the discovery of an aggressive, malignant brain tumor known as glioblastoma, a condition that had killed McCain's former Senate colleague Edward Kennedy.
McCain's daughter Meghan tweeted a photo with her dad on a hike after his diagnosis
"Over the last few months, Senator McCain has been participating in physical therapy at his home in Cornville, Arizona, as he recovers from the side effects of cancer treatment," the statement said. "He has remained engaged on his work as Chairman of the Senate Armed Services Committee, and has enjoyed frequent visits from his family, friends, staff and Senate colleagues.
Senator McCain and his family are grateful to the senator's excellent care team, and appreciate the support and prayers they continue to receive from people all over the country."
US senator John McCain dies at 81
John McCain, a war hero and towering figure in American politics, known for reaching across the aisle in an increasingly divided nation, died Saturday following a battle with brain cancer. He was 81.
The senator's passing marked the end of a storied, 35-year political career that brought the independent-minded Republican within reach of the White House as his party's presidential nominee.
McCain had been a rare and outspoken Republican critic of Trump, accusing him of "naivete," "egotism" and of sympathizing with autocrats. He made a decisive vote last year that killed Republican attempts to repeal Barack Obama's health care reforms, and Trump never forgave him.
[spacer height="40px"]
Fact Check
We strive for accuracy and fairness. If you see something that doesn't look right, contact us!
Thanks for reading and remember to share this post
Source: biography