Who is Kingsley Coman?
Kingsley Coman was born on June 13 1996 is a French professional footballer who plays as a winger for the German Bundesliga club Bayern Munich and the French national team.
After training at the Paris Saint-Germain Academy, Coman joined Juventus when his contract ended in 2014 and won Serie A and Coppa Italia in his first season in Italy.
In August 2015 he moved to Bayern Munich on a temporary loan basis, where he won another double in his first season.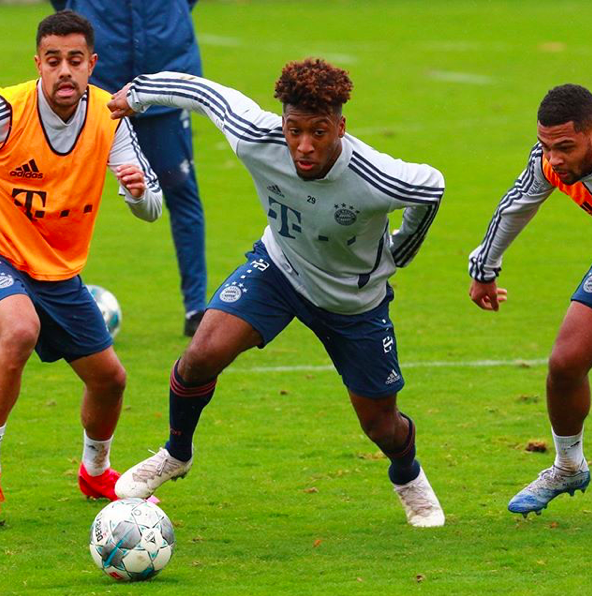 Kingsley Coman earned 39 caps and scored 11 goals in France's youth teams, from under 16 to under 21. He made his senior debut in November 2015 and represented the nation at UEFA Euro 2016, where he reached the final.
Kingsley Coman Early life
Kingsley Coman was Born in Paris to parents from Guadeloupe, Coman began his career in 2002 at the age of six with US Senart-Moissy.
Paris-Saint-Germain
After two years at the club and with the support of his father, Coman was scouted by the League football club, Paris Saint-Germain (PSG) club, with which he had joined the Youth Academy in 2004.
SEE ALSO: Romelu Lukaku Untold Stories and Net Worth
After 9-years in the club's youth system, Coman made his professional debut for PSG on February 17, 2013, when he made his professional debut against Sochaux (3-2 defeat). He was substituted for Marco Verratti in the 87th minute.
Kingsley Coman went from PSG's youth team to scoring against them in the Champions League final ? pic.twitter.com/deSwqjI3t9

— Bleacher Report (@BleacherReport) August 23, 2020
Kingsley Coman is the youngest player to have played for PSG at the age of 16.
PSG won the Trophy of Champions on August 3 2013, beating Bordeaux 2-1 in Gabon and Coman played the last 16 minutes in place of Ezequiel Lavezzi.
Kingsley Coman Net Worth
With a market value of £36.00 million, Kingsley Coman is ranked 46th of all players worldwide who play as a "Forward". Kingsley Coman is also ranked the world number 16 of all players playing as a "left winger".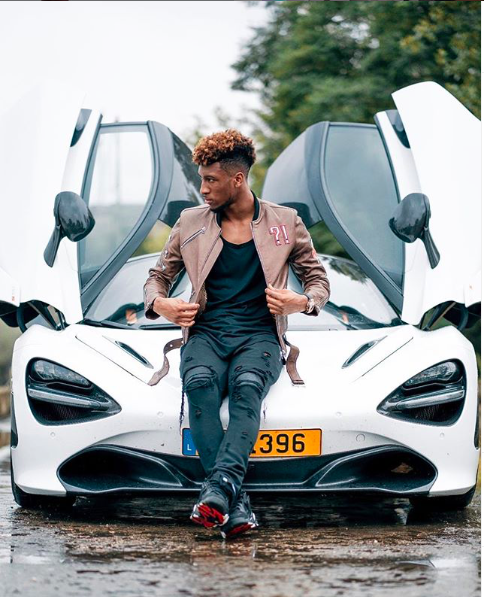 Kingsley Coma net worth has been estimated between $1 and $5 million dollars in 2020.
His Net worth 2018 was estimated between $100,000 – $1 million
Football Career
Juventus
2014-15 season
On July 7, 2014, Coman signed a 5-year contract with the Italian champion Juventus after his contract with PSG had ended. Coman made his Serie A debut on August 30 2014, having almost scored twice in a 1-0 away win over Chievo.
On January 15 2015, Coman recorded his first professional goal in Coppa Italia's round of 16 against Hellas Verona in a 6-1 win. He remained unbeaten in the final on May 20, a 2-1 extra-time victory over Lazio.
Bayern Munich
Season 2015-16
On August 30 2015, Coman signed a contract with Bayern Munich for a two-year loan from Juventus for EUR 7 million, to be paid in two instalments, with a purchase option for a fee of a further EUR 21 million on April 30 2017, just 2-months before the loan expires. It has been assigned management number 29.
View this post on Instagram

?? #fcbayern #bundesliga #miasanmeister
Coman made his debut on September 12 and replaced Arturo Vidal after 56 minutes of a potential 2-1 Bundesliga win over FC Augsburg at the Allianz Arena. After a week later, he scored his debut goal for his new club with a 3-0 win at Darmstadt 98. The following week, he scored another goal with the same advantage at Mainz 05.
SEE ALSO: Thomas Tuchel Net Worth 2020 [Age + Biography]
Coman scored his first UEFA Champions League goal in a 4-0 defeat to Olympiacos on November 24. He was runners-up to compatriot Anthony Martial of Manchester United for the Golden Boy 2015, which is awarded to the best player in Europe under the age of 21.
International career
On June 2nd-2014, at the age of just 17, Kingsley Coman made his first appearance for the French U-21 side, which began with a 6-0 friendly against Singapore and scored a goal once in the match.
On November 5, 2015, Coman was elected to the French senior national team for the first time to play friendly matches against Germany and England.
Eight days later he made his debut at the Stade de France, where he stepped in as Anthony Martial's substitute in the 69th minute of a 2-0 win over world champions Germany, overshadowed by shots and explosions around the stadium.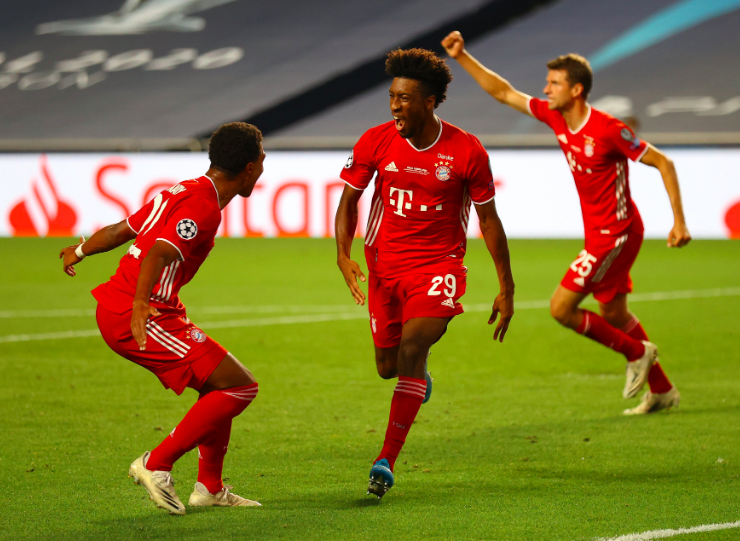 The following March 29 against Russia, in the first game on the pitch since the attacks, Coman replaced Martial at half-time and scored his first international goal when he was lined up by Dimitri Payet, confirming a 4-2 victory.
In May 2016, Coman was appointed to the 23-man squad of national coach Didier Deschamps for UEFA Euro 2016, which will be played at home.
After his performances throughout the tournament, when his nation reached the final only to lose 1-0 in extra time to Portugal, Coman was nominated for the Young Player of the Tournament award, which eventually went to Portuguese player Renato Sanches.
SEE ALSO: Gianluigi donnarumma Net Worth [Age + Biography]
Coman was one of 11- players put on standby for France's squad at the 2018 FIFA World Cup in Russia. Kingsley Coman was not called up for the 2018 FIFA World Cup due to injury.
On June 2 2019, Coman made his comeback for France against Bolivia after 19 months of not playing for the national team. Coman came back in the 65th minute as a substitute.
Kingsley Coman Girlfriend and Personal life
In June 2017 Coman was arrested for domestic violence after he allegedly assaulted a model by the name of Sephora Goignan, his ex-girlfriend. In September 2017 Coman pleaded guilty in a French court and accepted to pay 5,000 Euros to Goignan.
Kingsley Coman Bio Wiki
Name
Kingsley Junior Coman
Birth Date
13 June 1996
Birth Place
Paris, France
Height
1.79 m (5 ft 10 in)
Playing position(s)
Winger
Club information

Current team

Bayern Munich
Number
29
Youth career
2002–2004
Sénart-Moissy
2004–2013
Paris Saint-Germain
Senior career*
Years
Team
Apps
(Gls)
2013–2014
Paris Saint-Germain B
16
(0)
2013–2014
Paris Saint-Germain
3
(0)
2014–2017
Juventus
15
(0)
2015–2017
→ Bayern Munich (loan)
42
(6)
2017–
Bayern Munich
66
(13)
National team‡
2011–2012
France U16
9
(0)
2012–2013
France U17
8
(3)
2013–2014
France U18
6
(1)
2013–2015
France U19
7
(2)
2014–2015
France U21
9
(2)
2015–
France
22
(4)
Kingsley Coman Stats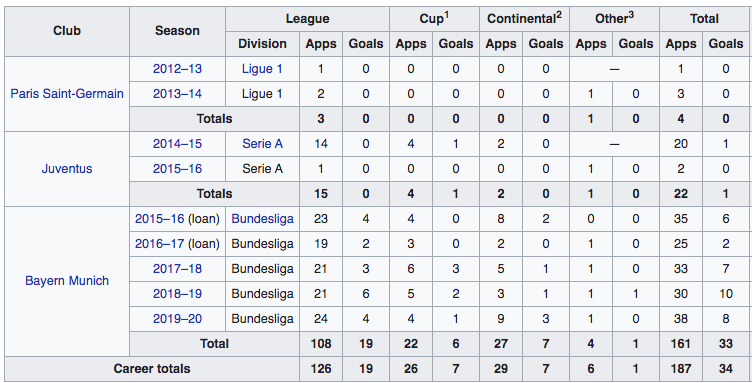 [spacer height="30px"]
SEE ALSO: 
[spacer height="30px"]
Antonio Rudiger Net Worth [Age + Biography]
[spacer height="30px"]
Fact Check
[spacer height="30px"]
We strive for accuracy and fairness. If you see something that doesn't look right, contact us!
Thanks for reading and remember to share this post on social media
[spacer height="40px"]
Reference: Wikipedia