Who is DJ Khaled?
Khaled Mohamed Khaled, commonly known as DJ Khaled, he's  an American born record producer of Palestinian-Arab origin, he's well known radio personality, DJ, record label  company director and author. He is currently the o-president of the record label "Def Jam South" and CEO and founder of the "We the Best Music Group".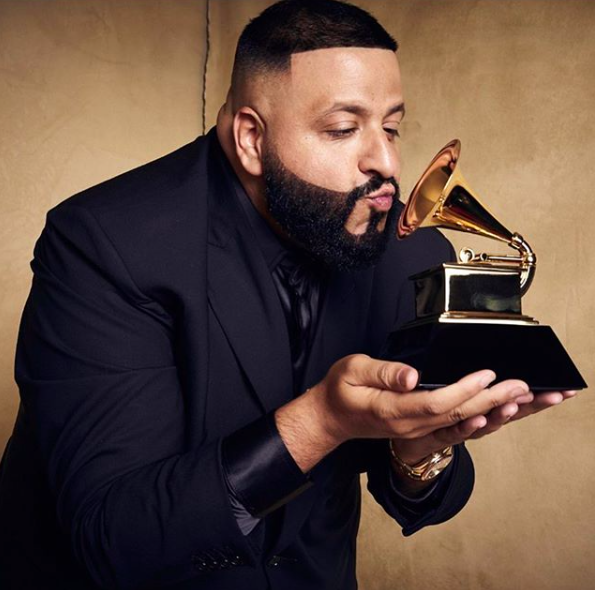 DJ Khaled's early life, childhood and education
Khaled was born on 26 November 1975 in New Orleans, Louisiana, the son of parents who had immigrated to the United States. His brother Alec Ledd (Alla Khaled) is a movie actor and a devoted muslim. His parents were musicians and played Arabic music. Already at a young age he developed an interest in rap and soul music.
Regarding his education, Khaled attended Dr. Phillips High School.
DJ Khaled's Career, Salary and Net Worth
Khaled first met and helped several young artists before their success, including Birdman, Lil Wayne and Mavado. In the early 90's he was DJing for reggae sound clashes. And towards the end of the 90s he started his career as a radio host, as the host of "The Luke Show".
After working with various music artists, Khaled began recording his own songs. In June 2006, his debut album entitled "Listennn…" was released. His second album "We the Best" was released a whole year later. Since then he has released other albums such as 'Victory', 'Suffering From Success', 'Major Key' and 'Grateful'.
SEE ALSO: Eminem Net Worth 2020 [Age, Music, Biography + Death Rumour]
By the end of 2015-16, several snapchat videos of Khaled's 'Key to Success' attracted a lot of attention on the internet. In 2016 he wrote a book called 'The Keys', in which he gives his opinion on success. He also had a cameo appearance in promotional material for "Spider-Man: Homecoming".
He has also worked with some of the most famous names in the music industry, including Jay Z, Future, Kanye West, Big Sean, Lil Wayne and Rick Ross.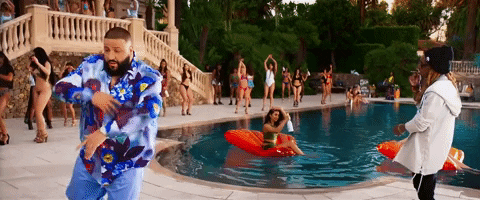 SEE ALSO : Travis Scott Childhood Biography, life Story & Net worth
Khaled won the Best DJ of the Year, BET Hip-Hop Awards in 2011, 2012 and 2016 and was also was awarded the MVP of the Year. He also won the Hustler of the Year and the American Music Awards in 2017.
DJ Khaled Net Worth
Khaled is also president of the record label "Def Jam South" and CEO as well as founder of the "We the Best Music Group". Khaled has not revealed his current salary or net assets. DJ Khaled's net worth is valued at over $ 65 million dollars in 2020.
View this post on Instagram

KHALED KHALED WILL BE MY BIGGEST ALBUM ! FANLUV LETS GO!!!!!! IM A POPSTAR⭐️ BIGGEST POPSTAR ⭐️! ?? MAN DIFFERENT!!!!!!!!!!!!!!!!!!! #WETHEBEST !!!!!!!!!!!!!!!!!!!!!!!!!!!!!!
DJ Khaled's rumors and controversy
There was a rumor that Khaled might be involved in a feud with the rapper Birdman. He also became involved in a controversy after he got involved in a big lawsuit over his album "I Got the Keys". Furthermore, his appearance at the Electric Daisy Carnival also caused a lot of controversy. There are currently no rumors about Khaled's life and career.
SEE ALSO: Drake Childhood Biography, life Story and Net worth
DJ Khaled's body measurements
When we talk about his body measurements, Khaled has a height of 168 cm (5 feet). In addition he weighs about 106 kg or 234 lbs. Furthermore his hair colour is black and his eyes are also black.
DJ Khaled Wife and Personal life
Dj Khaled is married to his wife Nicole Tuck and they have two kids together, "Asahd Tuck Khaled andAalam Khaled, he was born on 23 October 2016, Khaled attracted national attention after transmitting the birth live on his Snapchat account. On the 20th January 2020, Tuck gave birth to their second son.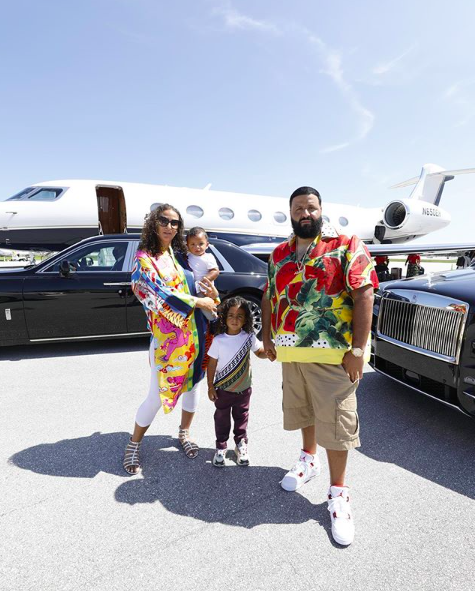 In January 2017, Khaled bought the former home of Robbie Williams in Mulholland Estates, a gated community in Los Angeles, California. In 2018, Khaled bought a waterfront home in Miami for $25.9 million.
Social Media Profile
Khaled is active via the social media. He has a large number of followers on social networks like Facebook, Twitter and Instagram. On Twitter he has more than 3.9 million followers. He also has more than 8 million followers on Instagram. His Facebook page also has more than 3.4 million followers.
DJ Khaled Music and Album

Studio albums
DJ Khaled Wiki
Full Name and Age

Khaled Mohamed Khaled

November 26, 1975 (age 44)

New Orleans, Louisiana, U.S.

Other names

Beat Novacane
Arab Attack

Occupation

Disc jockey
songwriter
record producer
record executive
media personality

Home town
Miami, Florida, U.S.
Television
The Four: Battle For Stardom
Children
2
Awards
List of awards and nominations
Musical career
Genres
Hip hop
Instruments

Turntables
keyboards
sampler
vocals

Years active

1998–present
Labels

Roc Nation
We the Best
Epic
RED
Republic
Cash Money
Young Money
Koch
Def Jam South
Terror Squad

Associated acts

Terror Squad
Ace Hood
Birdman
Drake
Fat Joe
Jay-Z
Jeremih
Justin Bieber
Lil Wayne
Rick Ross
Trick Daddy
[spacer height="30px"]
SEE ALSO: Just in: Kanye West launches the Album – Jesus is Born
[spacer height="30px"]
Fact Check
[spacer height="30px"]
We strive for accuracy and fairness. If you see something that doesn't look right, contact us!
Thanks for reading and remember to share this post
[spacer height="40px"]
Reference: Wikipedia and marriedbiography