Name: Christopher Julius Rock
Born February 7, 1965
Andrews, South Carolina, U.S.
Medium Stand-up, television, film
Years active 1984–present
Genre: comedy
Spouse: Malaak Compton (m. 1996; div. 2016)
Partner(s) Megalyn Echikunwoke (2016–present)
Children 2
Relative(s) Tony Rock (brother)
Website chrisrock.com
Chris Rock also known as Christopher Julius Rock is an American born comedian, actor, writer, producer, and director. Chris Rock hosted the 77th Academy Awards in 2005 and the 88th in 2016. He has won four Emmy Awards and three Grammy Awards. He was voted the fifth-greatest stand-up comedian in a poll conducted by Comedy Central. He was also voted in the United Kingdom as the ninth-greatest stand-up comic on Channel 4's 100 Greatest Stand-Ups in 2007, and again in the updated 2010 list as the eighth-greatest stand-up comic.
Who is Chris Rock?
Chris Rock wears various hats as a stand-up comedian, actor, screenwriter, film producer and director.
Rock is currently the eighth-greatest-stand-up comic, as contained in the 2010 100 Greatest Stand-Ups. Owing to his versatility, the American superstar has walked home with three Grammy Awards and four Emmy Awards.
Chris Rock's Bio – Family Background
Born as Christopher Julius Rock III, Chris' parents welcomed him on 7th February 1965 in Andrews South Carolina. However, after his parents relocated to Brooklyn, he settled there and subsequently enrolled at James Madison High School.
Christopher Julius Rock and his wife Rosalie Rock raised Chris along with his seven other brothers and two sisters. His father, who worked as a truck driver and newspaper deliveryman died in 1988 from ulcer surgery while mother (née Tingman), worked as a teacher and social worker.
After dropping out from high school, he managed to obtain a GED. His parents withdrew him from James Madison High School as he was a bully-victim at the hands of white learners.
Rock is said to have discovered his roots to the Udeme people of northern Cameroon. His great-great-grandfather, Julius Caesar Tingman, served in the American Civil War as a member of the US coloured troops after 21 years of slavery while his paternal grandfather, Allen Rock, was a preacher.
Brothers
Chris Rock's younger brothers are Tony Rock, Jordan Rock, Kenny Rock, Andre Rock, Brian Rock, Andi Rock and Charles Ledell Rock (his half-brother). Charles passed away in February 2006 after a protracted battle with alcoholism.
Eleven years older than Chris and highly educated, Charles was Rock's only son to graduate from the college. Prior to his death, he lived in a homeless shelter and even worked in a hospital. He died a lonely and frustrated man at the age of 52.
Presently, Kenny and Tony, are trying their hand in the entertainment business and are said to have followed their brother's footstep in comedy.
The Begining of His Career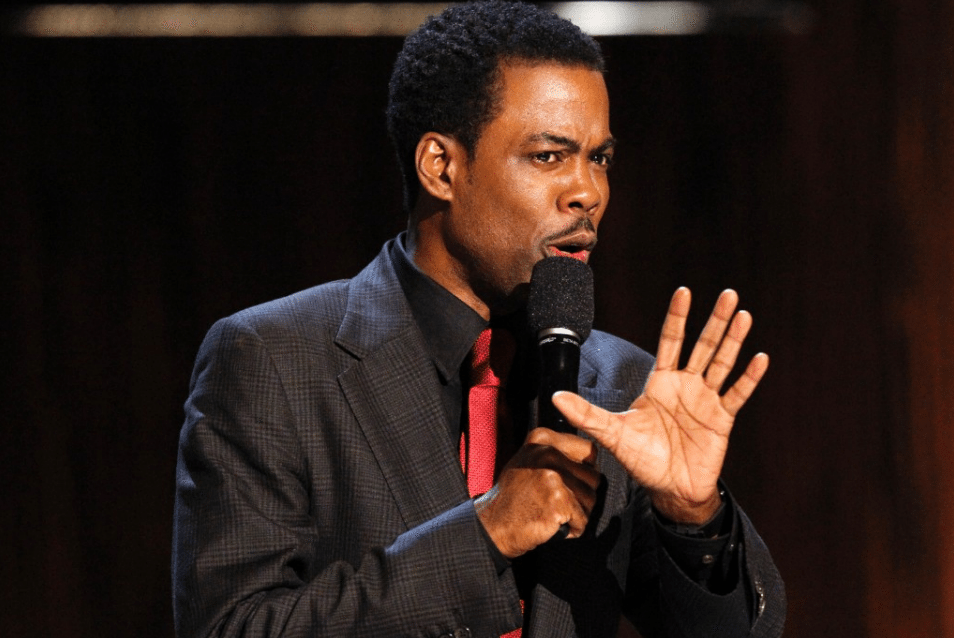 Rock worked at fast-food restaurants before he began pursuing a career in comedy at 19. He started out at NYC's famous comedy club, Catch a Rising Star and quickly became a fixture in the club's circuit. The comedy club is also responsible for the fame of stars like Robin Williams, Ellen DeGeneres, Jerry Seinfeld and more. His promising talent earned him small roles in movies such as I"'m Gonna Git You Sucka" and other TV series.
Rock later landed his first movie role in "Beverly Hills Cop II" thanks to fellow comedian Eddie Murphy who was impressed by his performance at a nightclub and offered him the role.
His big break came in 1990 when he joined the Saturday Night Live cast. Rock's comedy was influenced by the fact that he was a bully victim in his white-dominated high school.
He said he was also influenced by his paternal grandfather who was a preacher. Rock's comedy became loved by many and together with fellow cast members which included Adam Sandler, they were named the bad boys of Saturday Night Live. A year later, Rock released his debut comedy album titled "Born Suspect". Thanks to the two-year spell at SNL, Rock gained national exposure.
Rock began to get frustrated with the SNL and left joining African-American sketch show, In Living Color but unfortunately, it was cancelled a few months later. He wrote a movie which he also starred in but still, it was unsuccessful. In 1994 Rock returned to stand up and made his debut in HBO comedy special titled Big Ass Jokes.
Rise To Fame
Chris Rocks's biggest break came in 1996 in his sophomore HBO special titled "Bring The Pain". The comedy album brought him huge critical acclaim as well as two Emmy Awards. Rock's popularity grew and he began featuring in TV shows including as host of 1997, 1999 and 2003 MTV Video Music Awards. Bigger & Blacker (1999), Never Scared (2004) and Kill The Messenger (2008) were his follow-up HBO comedy special, the first two saw him being named as the "funniest man in America" while the latest won him an Emmy for outstanding writing.
Rock created a comedy talk show, "The Chris Rock Show" which was aired on HBO. The show ran for 5 seasons between 1997 and 2000 and won him an Emmy. Rock's success has been on the increase since them. Now popular, Chris Rock began to receive many major movie roles. He lent his voice to animated film series "Madagascar" (2005-2012) and won the Kids Choice Award for best voice. Some of his recent movies include "Death at Funeral", and "2 Days In  New York".
His comedy albums "Roll With The New" (1997), "Bigger & Better" (1999) and "Never Scared" (2006) have each won a Grammy Award for Best Spoken Comedy Album. He has also made music videos for his songs including "Champagne", "No Sex (In the Champagne Room)" and more.
Writing, Production and Directing
Chris Rock has written a book "Rock This!" which is a translation of his comedies. He has written directed and starred in movies such as "Head of State" and "I Think I Love My Wife". He produced semi-autobiographical series, "Everybody Hates Chris" which is part of his life story while in high school. The show won 2 Emmys and received several nominations. In 2009 he released his first documentary titled "Good Hair" and is currently working on another one titled "Credit Is Evil".
Apart from the three MTV VMA's he has hosted, Rock has also hosted the BET Awards, the 77th and 88th Academy Awards respectively in 2005 and 2016.
As a way of giving back to the society, Rock is involved in charity. He is an ambassador for UNICEF and has donated millions to support causes like Parkinson's disease, human rights, education, poverty and more.
Chris Rock's Net Worth
Chris Rock did not only solidly build his career in comedy, he has continued to remain relevant and influential in the entertainment industry. From all the endeavors articulated above, he has amassed for himself impressive earnings of $100 million.
Wife, Kids, and Divorce
Until August 22, 2016, Rock was married to Malaal Compton-Rock, a beautiful lady he met at the Essence Festival in 1996. Malaal is the owner of StyleWorks, a non-profit full-service salon which provides women abandoning welfare to enter the workforce with free services.
Chris and his wife stayed together as husband and wife in Alpine, New Jersey for 20 years, having married on November 23, 1996. Their relationship was, however, officially brought to end in August 2016 after the comedian filed for divorce from his wife in December 2014.
The couple's 20 years of marriage produced two lovely daughters – Lola Simone (born 2002) and Zahra Savannah (born 2004).
Chris Rock Girlfriend
It's no news that the comedian has found love again after his divorce from Malaal. Rock's girlfriend, Megalyn Echikunwoke, is an actress born to Igbo-Nigerian father Onigwe Versato Echikunwoke and English, Irish, German mother Anita Laurie on May 28, 1983, in Spokane, Washington. So, she's of Nigerian descent (from her father's side) and European descent (from her mother's side).
Rock began dating Echikunwoke in early 2016. Megalyn has been appearing on the screen since 1998. She's famed for starring in tv shows like "CSI: Miami", "Arrows", and "The 4400".
She first drew public attention as an actress at Summer Arts Camp at the age of 14. Nevertheless, an opportunity that moved her to her professional success came at 15 when she guest-appeared on "The Steve Harvey Show" and on American television miniseries -"Culture".
In addition to acting, Megalyn loves politics and has been very active in it. She once embarked on the campaign trail for former president Barack Obama and also helped in wooing voters.
see also :
[spacer height="30px"]
Fact Check
[spacer height="30px"]
We strive for accuracy and fairness. If you see something that doesn't look right, contact us!
Thanks for reading and remember to share this post on social media & stand a chance to win $10,000