Name: Anthony Jamal Bean
Birthday: February 20, 1987
Nationality: American
Famous: Stand-Up Comedians American Men
Age: 32 Years, 32 Year Old Males
Sun Sign: Pisces
Also Known As: Anthony Jamal Bean
Born In: Washington, DC
Famous As: Stand-Up Comedian
Who is Chico Bean?
A talented and versatile star, Chico Bean mostly earns a living by making people laugh. Like some of his colleagues in the industry, Bean has trod the rocky path to fame and also has a rags-to-riches story. Despite family tragedies and financial setbacks, the stand-up comedian rose through the storms and has successfully carved a niche for himself in showbiz. Explore lesser-known facts about the comedian, singer, writer, and actor who is best recognized as an integral part of MTV's Wild 'N Out show.
Chico Bean Biography (Age)
Chico Bean also know as Anthony Jamal Bean is a native of Washington DC, born on February 20, 1987. Chico had a very tough childhood as he lost his dad at age two while his mom struggled to make ends meet as a single parent.
Despite being born and bred into the street life which was a norm for most of his family members, Chico chose to break the circle and make a good name for himself through a legit endeavor. With the goal to become one of the greatest entertainers ever, Bean began working assiduously to carve a niche for himself in showbiz. He is also passionate about music and was influenced by rap music while growing up.
There is no information readily available about Bean's educational endeavors but it is no secret that he had a conventional education and had his tertiary studies in North Carolina. Though naturally endowed with a great sense of humor, Chico did not initially set out to become a comedian. But he made a life-changing decision to turn his passion into profit and thus ventured into stand-up comedy while in college.
Chico Bean debuted his comedy career in Greensboro, North Carolina in 2007. His growth in the comic scene was a gradual process as he first began as an opener for top comedians. A few years later, Chico Bean launched Freestyle Funny Comedy Show, in collaboration with two other comic acts – Darren Brand and B-Daht. The trio later increased in number as DeMar 'OsamaBinDrankin' Rankin Sr. joined the group which became popular for performing stand-up comedy across various cities and locations including clubs and schools.
The group's talents could not go unnoticed and soon caught the attention of industry big wigs. Particularly, Chico Bean had a major breakthrough in 2011 when Nick Cannon discovered his talents in North Carolina and offered him a chance to participate in the Fresh Faces of Comedy Stand-Up show. Bean established himself as a talented and versatile act at the show as he had to rehearse and redo his skit on short notice after he was informed by the showrunners that curse words were not allowed during his performance.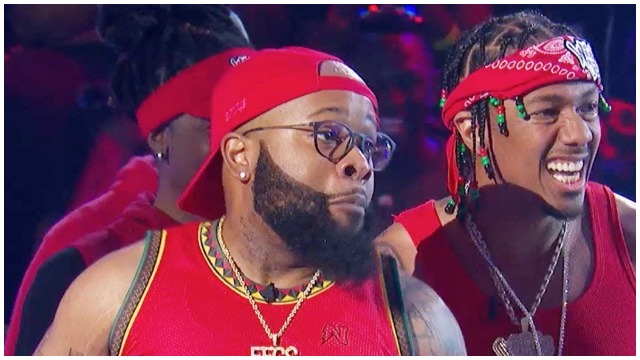 Chico's spontaneity at the show greatly impressed Cannon who encouraged him for greater exploits. His next big stint was on MTV's Wild 'N Out. Nick Cannon was of immense help to Bean before and during the auditions. Interestingly, Nick took the stress of ensuring that Bean first auditioned alone with him in North Carolina before going to the proper audition in New York.
Thankfully, the efforts paid off as Chico eventually made it through to the MTV show. He has since established himself as a household name on Wild 'N Out and continues to wow his audience with amazing performances. In addition to the popularity Chico Bean has gained on the MTV series, he is also considered as one of Wild 'N Out's most valuable cast members. Bean has also starred on other sketch comedy shows such as Guy Court, Trivial Takedown, and Uncommon Sense, among others.
His Net Worth
Chico Bean may not have gotten to the zenith of his career yet but he has successfully carved a niche for himself in the entertainment industry. In addition to the recognition and honors, the talented comedian's hard work has undoubtedly been financially rewarding so far. Chico's yearly earnings and net worth have not been disclosed but he is believed to have amassed a decent fortune and can afford a comfortable lifestyle.
Chico Bean's Family (Daughter)
Chico Bean had a rough childhood which was mostly as a result of his father's death at an early age. The comedian has had his own fair share of family tragedies as he's lost his father and five other family members to gun violence. Bean's father was killed on the streets of DC when he was only a toddler and it left his mother saddled with the responsibility of raising the comedian as a single parent.
On the other hand, Bean has also begun expanding the family down generational lines. He is a proud father to a daughter named Pierce Chanel. For reasons best known to him, the comedian has not disclosed details about his daughter's mother nor the circumstances surrounding her birth. More so, given the mystery shrouding his personal life, it is difficult to ascertain Chico Bean's relationship status as he has not been romantically linked to anyone since he came into the limelight.
See Also: John Henton – Bio, Net Worth, Daughter, Is He Married, Who is The Wife?
Other Facts To Know
1. The stand-up comedian got the moniker 'Chico' from one of his uncles while growing up and it has since stuck as his official stage name.
2. Besides the aforementioned professional accomplishments, it is uncommon knowledge that Bean has other credits in the creative industry. He once worked as a writer and actor on the E! Network sketch comedy series, The James Davis Project.
3. Influenced by the rap culture, Chico Bean grew up singing and rapping, a skill that has been of immense help during his performances on 'Wild 'N Out'.
see also :
Nick Cannon Childhood life Story & Net worth
Fact Check
[spacer height="30px"]
We strive for accuracy and fairness. If you see something that doesn't look right, contact us!
Thanks for reading and remember to share this post on social media & stand a chance to win $10,000