Quid pro quo ("something for something" in Latin) is a Latin phrase used in English to mean an exchange of goods or services, in which one transfer is contingent upon the other; "a favour for a favour".
How the United States  President Donald Trump hijacked his impeachment process with " no quid pro quo."
He defended his actions using the slogan even before the whistleblower complaint was released. And now he's made it stick as a key issue in the impeachment debate.
It is certainly true that "no quid pro quo" fits nicely as a slogan, even if it doesn't exactly roll off the tongue.
[spacer height="20px"]
Just as he repeated "No collusion" on a loop during the Russia investigation, Trump very specifically repeats his denial of quid pro quo nearly every time he talks about Ukraine, which is a lot.
[spacer height="20px"]
The term doesn't appear in the whistleblower complaint that set the entire impeachment inquiry in motion.

It doesn't appear in the Constitution, which lays out the impeachment process as punishment for "Treason, Bribery, or other high Crimes and Misdemeanors."
It didn't appear in the initial news stories about the complaint, either, such as when The Washington Post reported on September 18 that it had been triggered by Trump's interaction with a world leader.
[spacer height="20px"]
[spacer height="20px"]
Quid pro quo is a Latin term that means "something for something," as CNN's Veronica Stracqualursi wrote last month. It's often used in the legal world, but since it is not directly tied to impeachment in the Constitution or anywhere else, it's not the question lawmakers will have to decide if they draw up articles of impeachment against Trump and hold a trial in the Senate on whether to remove him from office.
[spacer height="20px"]
It could be an element of Hamilton's violation of the public trust, but the exchange of things of value is not required in order to be found guilty of high crimes and misdemeanors.
[spacer height="20px"]
The idea of quid pro quo with regard to Trump and Ukraine emerged on his terms. The Wall Street Journal used the term September 20, when it reported that Trump had pressured Ukrainian President Volodymyr Zelensky seven or eight times to investigate Joe Biden's son Hunter. But the context of that usage is important.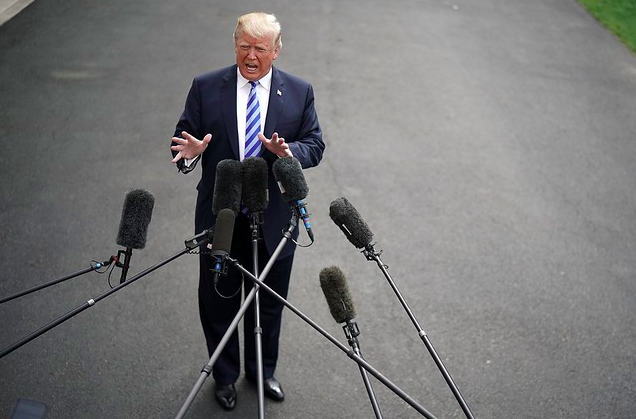 [spacer height="20px"]
"Mr. Trump in the call didn't mention a provision of U.S. aid to Ukraine, said this person, who didn't believe Mr. Trump offered the Ukrainian president any quid pro quo for his cooperation on any investigation," wrote the Journal's reporters.
[spacer height="20px"]
That's using the term to further a denial — it was the first glimpse of what's become Trump's main article of defense: that there was no quid pro quo.
[spacer height="20px"]
According to a search of the Factba.se database, Trump himself first used the term publicly a few days later, talking to reporters outside the White House on September 22.
[spacer height="20px"]
"It was a warm, friendly conversation," he said, referring to his conversation with Zelensky. "There was no quid pro quo. There was nothing. It was a perfect conversation."
[spacer height="20px"]
But Trump actually had been using the term "no quid pro quo" with regard to Ukraine long before the whistleblower complaint was public and before any of the published reports about his phone call with Zelensky.
[spacer height="20px"]
"According to Mr. Morrison, President Trump told Ambassador Sondland that he was not asking for a 'quid pro quo,'

" Taylor wrote in his statement, referring to National Security Council official Tim Morrison and US Ambassador to the European Union Gordon Sondland, before making clear that Trump certainly had expectations of what Zelensky should do.
"But President Trump did insist that President Zelenskyy go to a microphone and say he is opening investigations of Biden and 2016 election interference, and that President Zelenskyy should want to do this himself."
[spacer height="20px"]
[spacer height="20px"]
The next day, Taylor testified, in a phone call between Sondland and him, the idea came up again in terms of what Trump says he is not doing.
Paraphrasing Sondland, Taylor wrote, "President Trump was adamant that President Zelenskyy, himself, had to 'clear things up and do it in public.' President Trump said it was not a 'quid pro quo.' "
[spacer height="20px"]
[9/9/19, 12:47:11 AM] Bill Taylor: As I said on the phone, I think it's crazy to withhold security assistance for help with a political campaign.
[9/9/19, 5:19:35 AM] Gordon Sondland: Bill, I believe you are incorrect about President Trump's intentions.
[spacer height="20px"]
The President has been crystal clear no quid pro quo's of any kind. …
In these early developments, the idea of quid pro quo was coming exclusively from Trump's mouth, according to the accounts of Taylor and Sondland.
[spacer height="20px"]
He was very concerned that what would occur would not be a quid pro quo even as he was insisting on investigations in order to release the security funding.
Fast-forward between then and now, and quid pro quo has been manufactured into a key element of the story, dominating cable news discussions.
[spacer height="20px"]
"Neither he (Taylor) or any other witness has provided testimony that the Ukrainians were aware that military aid was being withheld. You can't have a quid pro quo with no quo." Congressman John Ratcliffe @foxandfriends Where is the Whistleblower? The Do Nothing Dems case is DEAD!"
"I've been in there for 10 hours, I can assure you there's no quid pro quo," Rep. Mark Meadows, a North Carolina Republican, said Tuesday on the sidelines of Taylor's closed-door testimony.
[spacer height="20px"]
Democrats, meanwhile, have been trying to downplay the idea.
"I know we're having this long conversation about what the definition of a quid pro quo is, but there's no question from his testimony that everything, in the words of Ambassador Sondland, are contingent on the Ukrainians agreeing to go after Burisma, agreeing to go after Biden and all the other things they asked for,"
Rep. Jim Himes, a Connecticut Democrat
, said on CNN's "New Day."
[spacer height="20px"]
Another Democrat, Rep. Jason Crow of Colorado, echoed that.
"I think we have to make something very clear," he said. "There doesn't have to be a quid pro quo. If the President asks a foreign government to do something to interfere with a US election that is unlawful, it's unethical and it's unprecedented."
[spacer height="20px"]
A former Republican congressman from Pennsylvania who opposes Trump, Charlie Dent, said there's plenty of evidence of quid pro quo, no matter what you call it.
"They keep saying there's no quid pro quo," said Dent, who's now a CNN contributor. "And all I keep reading is if you do this for that. That's what they keep saying. The Latin was missing, apparently, but other than that all the elements are there."
[spacer height="40px"]
Fact Check
We strive for accuracy and fairness. If you see something that doesn't look right, contact us!
Thanks for reading and remember to share this post on social media