Nick Foles
Full Name: Nicholas Edward Foles
Born: January 20, 1989 (age 30)
Austin, Texas
Position: Quarterback
Height: 6 ft 6 in (1.98 m)
Weight: 243 lb (110 kg)
Career information
High school: Westlake (Austin, Texas)
College: Arizona
Michigan State
NFL Draft: 2012 / Round: 3 / Pick: 88
Career history
Philadelphia Eagles (2012–2014)
St. Louis Rams (2015)
Kansas City Chiefs (2016)
Philadelphia Eagles (2017–2018)
Jacksonville Jaguars (2019–present)
Roster status: Active
Career highlights and awards
Super Bowl champion (LII)
Super Bowl MVP (LII)
Pro Bowl (2013)
Pro Bowl Offensive MVP (2013)
NFL passer rating leader (2013)
NFL record 7 touchdown passes in a game (tied)
NFL record 25 consecutive pass completions (tied)
[spacer height="30px"]
Who is Nick Foles
Nick Foles is a professional American born Football player who plays as quarterback for the Philadelphia Eagles. recently, the NFL star has been headlining on the news not only as a result of the Super Bowl LII but also as a result of a lot of things about him including his future.
Here is everything you need to know about Foles:
Nick Foles Biography
It was on January 20, 1989, that Nick Foles was born in Austin, Texas as Nicholas Edward Foles. It was also in Texas that the man was raised with his brother Marcus by their parents; Larry and Melissa Foles. His father owns a restaurant which he began after dropping out of high school.
While growing up, Nick had always loved and played the game of football as such there is no surprise that it has become part of his life. That said, he had also always wanted to be a pastor.
For his education, Foles attended the Westlake High School from where he graduated in 2007. He then went on to attend the University of Arizona where he got a degree in communication.
Career Summary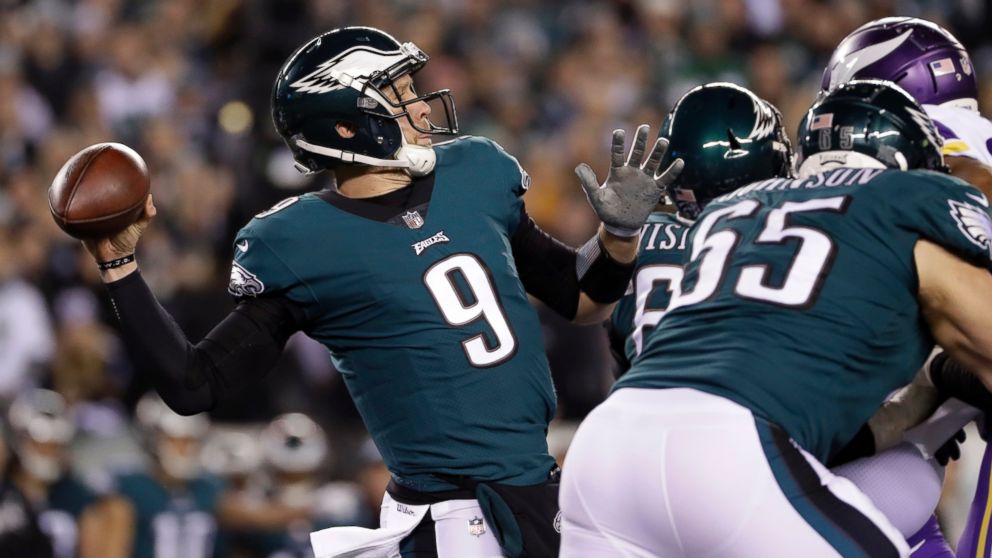 Foles began his professional career in 2012 with the Philadelphia Eagles after he signed a 4-year contract that would keep him until 2016. The year was a mixed year for him, but 2013 came with so much for him, ending as his best year yet, even though he was diagnosed with a concussion that same year. In the game against the Green Bay Packers, Foles made a history after he posted a passer rating above 149 in consecutive weeks. That made him the first in NFL to achieve that.
In the same year, he was able to beat Tom Brady and set a new TD-INT ratio record in NFL history. He went home with a 119.0 passer rating that only placed him below Peyton Manning's 121.1 rating in 2004 and the 122.5 set by Aaron Rodgers in 2011. To cap off the great year, he was awarded the "NFL Greatness on the Road" and the Pro Bowl Offensive MVP awards.
2014 wasn't all bad for him, but in 2015, he moved to the St. Louis Rams, only to leave in 2016, before joining the Kansas City Chiefs in the same year. In 2017, he went off as a free agent. It was after this that Nick Foles made his historic second coming to the Philadelphia Eagles. Ironically, he came as a backup quarterback.
Following an injury sustained by Carson Wentz, Foles got the opportunity to lead the Eagles and he was able to do this. On the team's road to the Super Bowl, he has helped them to get the first victory in 9 seasons by defeating the Atlanta Falcons after he completed 23 of 30 passes for 246 yards. He also played a significant role as the Eagles defeated the Minnesota Vikings in the NFC Championship Game.
Although he has grown up with football, Nick revealed that he had lost his love for the game because unlike what used to be, he no longer wakes up wanting to play as much as he did earlier. That was after he had left the Rams. But then he found his way back to the game when he joined the Kansas City Chiefs.
Sucks to hear. Nick Foles has broken left clavicle and will be out a while ? pic.twitter.com/FmAhyCGrxD

— John Clark (@JClarkNBCS) September 8, 2019
After leading the Philadelphia Eagles against New England Patriots in Super Bowl LII and after the life of football as a whole, Nick Foles still has the hopes of going after his lifelong dream of becoming a preacher. He revealed that in 2017 he got to register into a seminary and he hopes to continue.
Nick Foles Wife and Family
Having come from a very happy family, Foles has as well been able to build a very happy family with his wife, Tori Moore. The two got married in 2014 after they have been together since they were both at the University of Arizona. What they shared in common apart from the strong admiration for each other was the love for sports as while he played football, Tori was into volleyball.
Before becoming lovers, Nick and Tori were first friends in school and after college, they decided to take things further until they got married in April 2014.
Jacksonville, we're home! #duuuval pic.twitter.com/ZxxfutNiCD

— Nick Foles (@NickFoles) April 14, 2019
On June 16, 2017, the couple saw the birth of its first child, Lily James Foles. Lily and Tori have been the motivation for Nick who wants to make both of them proud as he revealed.
Nick Foles Salary and Net Worth
Very significant in the journey of the Eagles to the Super Bowl, Nick has had a very interesting journey that hasn't been all smooth. However, when it comes to what he has been able to make in the name of the game, he has made quite a lot. Just as he has paid his dues.
Following the 2-year contract he signed in 2017, Foles is walking home with the base salary of $4 million. However, when everything is added, in 2018, the man may see himself walking home with at least $11 million. His guaranteed take-home pay is $7 million for the year.
Looking at every other thing, the net worth of Nick Foles is placed at $17 million. There are other sources that indicate that the number 9 jersey man for the Philadelphia Eagles may be making more or less.
Nick Foles Injuries
In September, 2019, Nick Foles suffered a broken clavicle early during the Jaguars' 40-26 home loss to the Chiefs on Sunday. There's no timetable on Foles' return; it's just being said that he's out "indefinitely." Foles will undergo surgery on Monday.
Height and Body Measurement
Nick is obviously a well built and athletic man. He has a body that made it possible for him to succeed as a football player. Here is his body measurement:
Height: 6′ 6″, Weight: 243 lbs
see also :
Fact Check
We strive for accuracy and fairness. If you see something that doesn't look right, contact us!
Thanks for reading and remember to share this post on social media & stand a chance to win $10,000