Erdogan
Birthday: February 26, 1954
Nationality: Turkish
Famous: Presidents Prime Ministers
Also Known As: Recep Tayyip Erdogan, Mayor Recep Tayyip Erdoğan, Erdoğan, Recep Tayyip
Sun Sign: Pisces
Age: 64 Years
Born In: Kasımpaşa
Famous As: 12th President Of Turkey
Spouse/Ex-: Emine Erdoğan
Father: Ahmet Erdoğan
Mother: Tenzile Erdoğan
Children: Ahmet Burak Erdoğan, Esra Erdoğan, Necmettin Bilal Erdoğan, Sümeyye Erdoğan
Religion: Islam, Hanafi, Sunni Islam
Founder/Co-Founder: Justice And Development Party, Alliance Of Civilizations
Who Is Erdogan?
Erdogan was Born in Istanbul, Turkey, in 1954, Tayyip Erdogan became involved in politics while attending university. The first Islamist to be elected mayor of Istanbul, he reduced pollution and improved the city's infrastructure, but was imprisoned on charges of inciting religious hatred. 
Erdogan later served three terms as prime minister, during which time he markedly improved Turkey's economic standing, but drew criticism for perceived power grabs. He was voted the country's president in 2014, and after surviving an attempted military coup in July 2016, he earned reelection two years later.
Erdogan Early Years
Real Name : Tayyip Erdogan is the president of Turkey. He was given birth on February 26, 1954, in the Kasimpasa quarter of Istanbul, Turkey, to parents Ahmet and Tenzile Erdogan. He spent part of his childhood in Rize, where his father worked as a coastguard, before the family returned to Istanbul when he was 13. 
Raised without much money, Erdogan sold lemonade and sesame buns on the streets as a teenager. A talented football player, he competed for many years and reportedly drew interest from top clubs, but was prevented from pursuing that path by his father. Erdogan instead attended the religious Istanbul Imam Hatip School, where he became involved with the National Turkish Students' Association, and passed the exams to earn a diploma from Eyup High School as well. 
His Political Beginnings 
Influenced by the teachings of National Salvation Party leader Necmettin Erbakan, Erdogan was elected head of the party's Beyoglu Youth Branch and Istanbul Youth Branch in 1976. The party was dissolved in the wake of a 1980 military coup, and after Erdogan earned a graduate degree from Marmara University's Faculty of Economics and Administrative Sciences in 1981, he worked as an accountant and a manager in the private sector.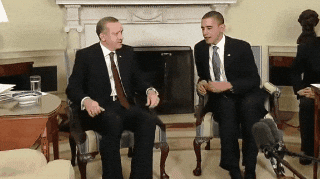 Erdogan returned to politics with the formation of the Welfare Party in 1983, becoming the Beyoglu District head in 1984. The following year, he was voted the Istanbul Provincial head and named to the Central Executive Board. Tasked with improving voter turnout, Erdogan was credited for the party's success in the 1989 municipal elections. 
Instanbul Mayor and Imprisonment 
Recep Tayyip Erdogan was elected mayor of Istanbul in 1994. The first Islamist to serve in this role, he demonstrated his religious commitment by banning alcohol from city-owned cafes. He also successfully tackled the city's water shortage, reduced pollution and improved infrastructure, helping to modernize the country's capital. Erdogan came under serious fire in December 1997 after publicly reciting a poem which included the lines "The mosques are our barracks, the domes our helmets, the minarets our bayonets and the faithful our soldiers." Charged with violating secularist law and inciting religious hatred, he was forced to step down as mayor and barred from public office, and ultimately wound up serving four months in prison in 1999. 
Erdogan As Prime Minister 
His prison sentence complete, Erdogan co-founded the Justice and Development Party (AKP) in 2001. The AKP claimed a resounding victory in the 2002 parliamentary elections, and Erdogan soon had his power officially restored thanks to a constitutional amendment that overturned his political ban.
He became prime minister of Turkey on March 9, 2003, and subsequently was reelected to the position twice more. 
As prime minister, Erdogan markedly improved Turkey's economic standing. He reigned in inflation and encouraged foreign investment, leading to a rise in per capita income, stronger credit ratings and close ties with Western allies. However, Erdogan also increasingly became known as an authoritarian leader out to increase the breadth of his power.
In 2013, he had several senior military officials imprisoned for life for plotting to overthrow the AKP, and also ordered the military to crush peaceful demonstrations at Istanbul's Gezi Park. The following year, after condemning the use of social media, he briefly blocked Turkey's access to Twitter and YouTube. 
Erdogan – President 
After reaching his term limits as prime minister, Erdogan became the AKP's candidate in Turkey's first direct election for the presidency, and was inaugurated on August 28, 2014. Although the role had previously been more of a ceremonial one, Erdogan indicated his intention to establish new powers as president.
His goal was temporarily impeded when the AKP failed to garner a majority in the 2015 parliamentary elections, but after attempts to form a coalition government faltered, the AKP regained the majority in an election that November. 
Mounting unrest boiled over in the form of an attempted military coup on the night of July 15, 2016. Erdogan, who was vacationing with his family, narrowly avoided trouble when his hotel was raided, and successfully escaped to Istanbul. Out of harm's way, he took to the video chat app FaceTime to implore his countrymen to fight the renegade military units.
He was largely supported by key government officials and influential figures, and within a few hours the coup, which resulted in more than 400 deaths and another 1,400 people injured, had been quashed.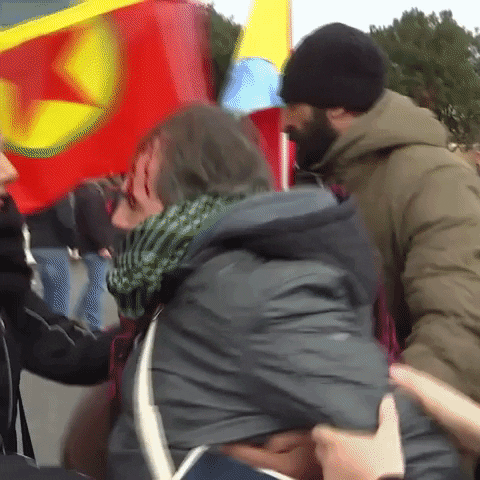 Erdogan blamed the uprising on followers of Fethullah Gulen, a Turkish cleric living in exile in the United States, and demanded the cleric's extradition. Along with imprisoning thousands of military personnel, he had tens of thousands police officers, judges, civil servants and teachers suspended, detained or placed under investigation. He then declared a national state of emergency, lending credence to the idea that he would use the experience to oust his known enemies and claim even more power.
Those fears were realized with the narrow passage of a constitutional referendum in April 2017, which eliminated the post of prime minister and gave Turkey's president new executive powers, including the ability to appoint judges and officials.
Erdogan – Reelection to Second Term 
After Erdogan called for early elections in 2018, opposition parties put up a spirited fight in an attempt to halt his consolidation of power. However, the incumbent earned a reported 53 percent of the vote in the June 24 election, enough to avoid a runoff with the runner-up, Muharrem Ince. And while his AKP earned less than 50 percent of the parliamentary vote, its alliance with the Nationalist Movement Party ensured a majority coalition there, as well.
you might like : President George W. Bush Childhood Biography, Family & Facts
That night, with the results still being processed but pointing toward victory, Erdogan delivered a short speech outside one of his Istanbul residences. "It seems the nation has entrusted me with the duty of the presidency, and to us a very big responsibility in the legislature," he said. "Turkey has given a lesson of democracy with a turnout of close to 90 percent. I hope that some will not provoke to hide their own failure."
Erdogan Net Worth 
As of December 2015, Erdoğan has an estimated net worth of $185 million.
see also:
[spacer height="30px"]
Fact Check
We strive for accuracy and fairness. If you see something that doesn't look right, contact us!
Thanks for reading and remember to share this post on social media & stand a chance to win $10,000
Source: biogrbaphy