Buying turf equipment can be a challenge, if you've never purchased used anything you know exactly what I mean. Are you on a tight budget? If so, therein lies another concern.  Have you purchased turf equipment before, ie aerators, greens mowers or other turf machinery?  If so, were you satisfied with the equipment and the service that you received?
You're a smart turf manager. You know, keeping your turf in stellar condition means returning patrons.  Whether you're a sports arena, a golf course or other type of turf manager, greens keeper, operations manager, or purchasing agent you will need to know all the options before buying.
The time and money required to get brand new turf equipment can be extensive. New aerators and greens mowers can be expensive.  Budget cuts left you wondering what to do on purchases that are necessary.   To avoid this kind of situation, buying  good used turf equipment is the best choice.  If you need assistance buying a particular piece of machinery Global Turf Equipment can help.  Check our website for a list of turf equipment for sale.  Our products are hosted online for your convenience.
Where To Buy Used Turf Equipment?
Considering the time needed to buy anything these days, we need simple to understand, clearly informational websites or brochures to view.  The company most likely to earn your business is the company that contacts you quickly with answers to your questions, the company representative whose voice is truly concerned about your real needs, who doesn't employ high-pressure sales and who has been in the business with a great track record for a long time.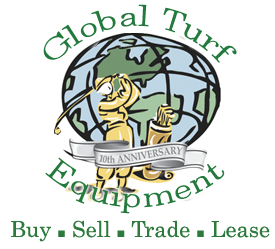 Global Turf Equipment offers the biggest selection of pre-owned and off-lease used golf course equipment all over the world.  You can be rest assured, you will find exactly what you require. The aerator or greens mowers you viewed online looks good, but what about the guarantee?
Global Turf Equipment guarantees the machinery you are looking for is available to purchase.  The Global Turf Equipment is updated frequently, with real machinery for sale, and not sample machinery or false or misleading photos. What you see is what you get.
Buying used Turf Equipment is a Smart Decision
The answer is simple.  We buy used, to save money.  We purchase or buy used turf equipment in order to have comparable machinery, at a discount over buying new.  Used equipment, if purchased from a reputable distributor, is the way to go.
No doubt about it, refurbished, pre-owned, good used turf equipment can save you thousands of dollars.
Yes, it looks good, but…
Beware, you will find  what looks like good used equipment at unimaginably low prices for a reason. Not everything that shimmers are indeed gold.  Shop smart by starting with a global-equipment leading distributor, where the guarantee stands strong.
If you're looking for turf mowers, aerators, greens mowers or other turf maintenance equipment contact us now.  Without beautiful turf your clientele will not return.  Impress for the best!