While t shirt screen printing has been done for a long time, the basic elements of this art, such as screens, film and inks, remain largely the same.
Many new machines make the manual aspects of screen printing much easier. Machines that make as many as eight or 12 t-shirts at a time are now the norm, replacing most of the physical labor with cutting-edge technology. Innovative printers are always being launched. With new technology that includes "direct to garment" printers, computers will probably replace screens one day, which sets the stage for this review of the Canon LP17 and its many advantages for making films.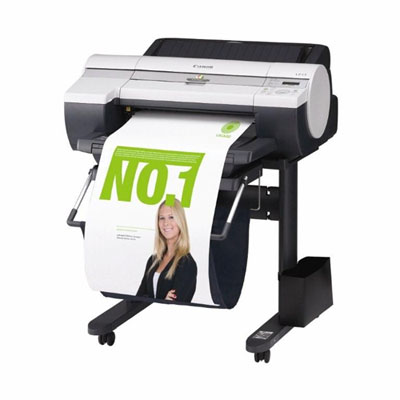 To make screens, users have to convert artwork on the computer into a positive film paper that's used for exposing the screen. People make screens in many ways. Before the advent of computers, many screen printers drew their films by hand using light-resistant
pens. Chemical-based systems, which work like camera film in a photo lab, were less common because they were much more expensive and toxic to the environment. Oyo made a dry-based system that utilized an image setter; the product burned images onto film. Unfortunately, this method often caused shrinkage and consequent misalignment of registration marks.
Eventually the Canon LP17 earned a reputation in the screen printing industry. Although it's ink based, it aligns registration marks perfectly with every run, and the clarity of its print is incredible. Its blacks are completely opaque, resulting in amazingly crisp prints. The boldness of the blacks possible in this system are thanks to the fact that its inks are based off of pigment and dye. The printer is excellent for sold spot design, but simulated process in full color can be accomplished with incredible half-tones, and the images created on t-shirts appear just as they would on paper. As a bonus, the printer retains its CMY, which means that outside of screen printing, users can print banners, posters and photographs on all kinds of media.
The consumables for the printer aren't too expensive, either; inks and film are both very reasonable. The only expensive part is the print head, but it lasts about two years. Finally, the maintenance tank can be a little costly, but it lasts about three months. Consumers can shop around to find the best prices on the films, but the supplier actually carries them for decent prices.
The printer's very fast considering the quality of images it produces. Some prints might take longer than with an image setter, but its bold colors and lack of issues with registration marks more than make up for it, especially for t shirt printing.
The printer includes Filmgate, which is some of the easiest printer software out there. Initial setup is a guaranteed breeze thanks to phone support. Filmgate gives users total control with features including dot gain, film previews and multiple copies without re-sending the image file.
This printer is simply phenomenal. Its precision saves big money over time by avoiding registration mark issues, and its quality is amazing.