Who is Robert Lewandowski?
Robert Lewandowski is a polish-born professional football player born on August 21st, 1988, and he plays for Bayern Munich as a striker. He is the captain of the Polish national team. He is known for his positioning, technique, and finishing and is widely regarded as one of the world's best strikers.
After having been a top scorer in the third and second division of Polish football with Znicz Pruszków, he joined the top club Lech Poznań and became the top scorer in the league by winning the Ekstraklasa 2009-10.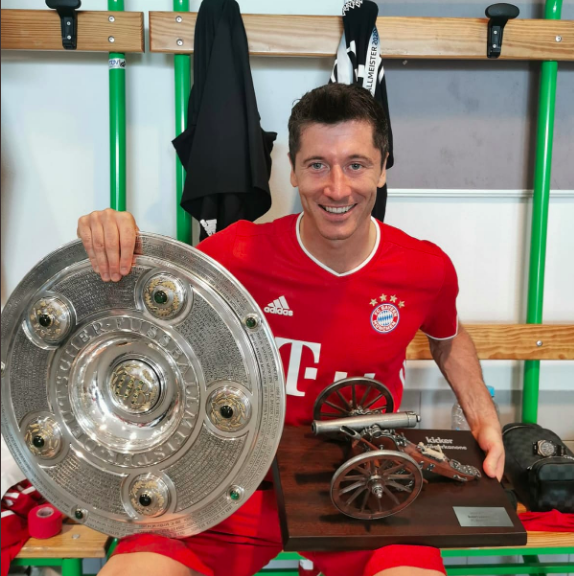 In 2010, he moved to Borussia Dortmund for 4.5 million euros, where he won two consecutive Bundesliga titles and a season as the league's top scorer.
SEE ALSO: Serge Gnabry Net Worth 2020 [Age, Biography + Bayern Munich]
In 2013 he reached the final of the UEFA Champions League with Dortmund, a tournament in which he was the second-best scorer behind Cristiano Ronaldo.
Before the 2014-15 season began, Robert Lewandowski agreed to a free transfer to Dortmund's home rivals Bayern Munich. In Munich, Lewandowski won the Bundesliga title in each of his first six seasons and was appointed to the Bundesliga team of each season.
In 2015-16, 2017-18, 2018-19 and 2019-20 seasons, he led the league in goal-shooting, and in 2016-17 and 2019-20, he was named Bundesliga player of the season. He was twice named to the UEFA Champions League squad for the season and is the fourth-highest scorer in the competition's history.
Players to score 50 #UCL goals for FC Bayern:

– Robert Lewandowski

End of list. pic.twitter.com/0D7XSMsBCo

— ?? FC Bayern US ?? (@FCBayernUS) August 14, 2020
Robert Lewandowski has scored more than 200 goals in the Bundesliga, reached the century mark faster than any other foreign player and is the leading international scorer in the league. Since records began, Robert Lewandowski also holds the record for the fastest 5-goal run in a major European football league, having scored five times in nine minutes against Wolfsburg in 2015.
Lewandowski has been a full national team player for Poland since 2008. He has played more than 110 international matches and was a member of the Euro 2012, Euro 2016 and 2018 World Cup team. Sixty-one international goals make Lewandowski the best scorer ever for Poland.
In 2015 Robert Lewandowski was voted Polish Sports Personality of the Year, and in 2016 he finished fourth in the FIFA Ballon d'Or Awards 2015. Eight times he was voted Polish Player of the Year – a record. The Guardian named him the fifth-best footballer in the world in 2015.
Robert Lewandowski Early Life and Football Career
Lewandowski was born in Warsaw and grew up in Leszno in the district of Warsaw-West. Robert Lewandowski made his first steps in football as an unregistered player of the local club Partyzant Leszno.
In 1997, he moved to MKS Varsovia Warsaw, where he played for seven years as a youngster, and the following year Lewandowski moved to Delta Warsaw, where he finally managed to play in the first team and score four goals.
SEE ALSO: Bayern Munich vs PSG (Paris Saint Germain) Predictions + Injury
In the 2006-07 season, Lewandowski was the top scorer in the Polish third division with 15 goals and helped Znicz Pruszków advance. In the following season, he was the top scorer in the Polish second division with 21 goals.
Another title ??… but we are hungry for more ??
#DFBPokal @FCBayern pic.twitter.com/Ovco8lXgRT

— Robert Lewandowski (@lewy_official) July 4, 2020
Lech Poznań
Robert Lewandowski, who plays for Lech Poznań, was the best scorer of the Ekstraklasa 2009-10 with 18 goals.
In June 2008, Lech Poznań signed Robert Lewandowski from Znicz for 1.5 million PLN. Earlier this month, Lewandowski's agent Cezary Kucharski offered him to his former team Sporting Gijón, which had moved up to the Spanish premier league after ten years in the second division. Sporting turned him down, however.
Borussia Dortmund
2010-2012: debut season, league and cup doubles
Lewandowski, on the day he was introduced as a player at Borussia Dortmund, July 2010. Following speculation in the press that Lewandowski might switch to several clubs, he switched to the Bundesliga club Borussia Dortmund in June 2010. He signed a four-year contract with the German club with an alleged fee of around EUR 4.5 million. On September 19th, Robert Lewandowski scored his first Bundesliga goal for a 3-0 win in the Revierderby against Schalke 04; the game ended 3-1.
Bayern Munich
In November 2013, Robert Lewandowski confirmed that he would sign a preliminary contract for Borussia Dortmund's rival Bayern Munich, which officially happened on January 3rd, 2014; he signed a five-year contract and joined the team at the start of the 2014-15 season. Robert Lewandowski was formally introduced as a Bayern Munich player on July 9th, 2014.
SEE ALSO: Thomas Muller Net Worth and Biography
The preseason began on July 9th, 2014, at which time he was introduced. He made his debut in the preseason on July 21st, 2014, and scored a goal. He opened the scoring on August 6th when Bayern played the MLS All-Star Game 2014 in Portland, Oregon, and finally lost 2-1.
Robert Lewandowski made his competitive debut for his new club on August 13th, 2014, in a 2-0 defeat.
International Career
Lewandowski appeared three times for the Polish U21 team in friendly matches against England, Belarus, and Finland.
He made his senior debut on 10 September 2008, three weeks after his 20th birthday, against San Marino, where he came on substitutes for a 2-0 away win in the 2010 FIFA World Cup qualifiers and scored a goal. Only player, Włodzimierz Lubański Scored a goal on his international debut at a younger age than Lewandowski, who was 16 at the time. Lewandowski scored another qualifying goal in a 10-0 win over the same team on 1 April 2009.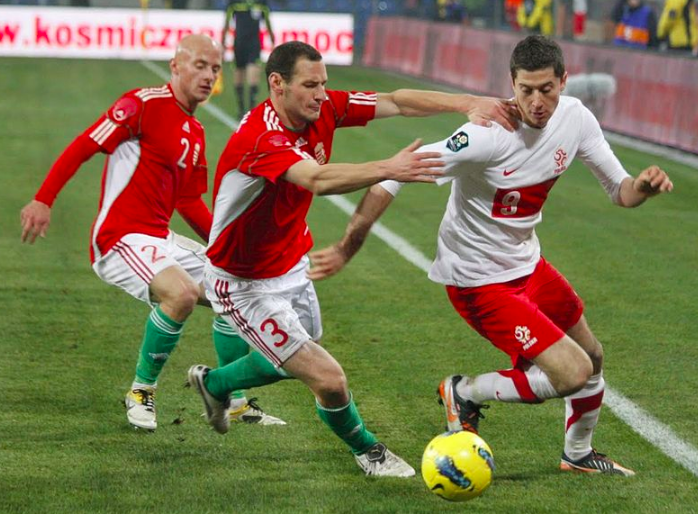 Robert Lewandowski Personal life
Robert Lewandowski's father gave him the name Robert to make it more comfortable to move abroad as a professional footballer. Lewandowski's father, Krzysztof (died 2005), was Polish Judo champion and also played in second division football for Hutnik Warsaw. Robert Lewandowski's mother, Iwona, is a former volleyball player for AZS Warszawa and later Vice President of Partyzant Leszno.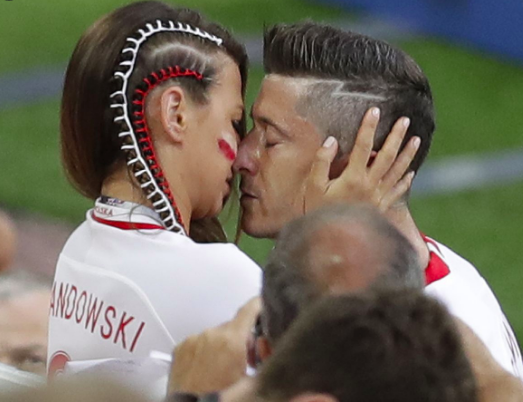 His sister Milena also played volleyball and represented the U21 national team. Robert Lewandowski also shares a surname with Gina Lewandowski, an American defender for the 2012-19 women's Bavaria team, but is not related to her.
His wife, Anna Lewandowska, won a bronze medal at the 2009 World Karate Championships. She got married on 22 June 2013 in the Church of the Annunciation of the Blessed Virgin Mary in Serock. They have two daughters: Klara (born on 4 May 2017) and Laura (born on 6 May 2020).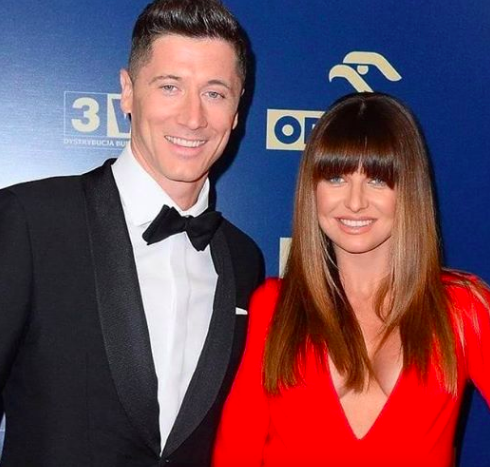 Lewandowski is a practicing Catholic He first met Pope Francis in October 2014 when Bayern Munich visited the Vatican after a 7-1 victory over A.S. Roma in the UEFA Champions League.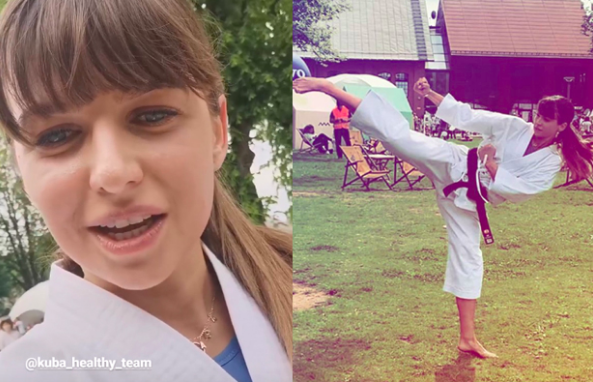 In October 2017, one day after the goal that was to help Poland qualify for the 2018 World Cup, Lewandowski completed a decade of studies at the Academy of Physical Education in Warsaw with a Bachelor of Physical Education (BPhEd) degree in coaching and management.
Besides his native Polish, Lewandowski also speaks English and German.
Robert Lewandowski Net Worth
His net worth as of 2020 is definitely going quite high, seeing how much growth he has had in Bayern Munich. And in Bundesliga, there's a lot of money in the league, Lewandowski net worth in 2020 has been estimated to the tune of $45 million
Philanthropy and Business
During their career, Lewandowski and his wife Anna have supported, donated and raised money for various charities and children, including the Children's Memorial Health Institute in Warsaw, for which they raised more than PLN 150,000 during Anna's birthday party on 25 August 2018.
Lewandowski also donated PLN 100 thousand for the treatment of Cyprian Gaweł, a three-year-old boy from hell, and every year he helps to raise funds for the Great Orchestra of Christmas Charity by donating his personal belongings or private meetings, which are sold at online auctions.
In March 2014, he was nominated UNICEF Goodwill Ambassador.
In March 2020, Lewandowski and his wife Anna donated one million euros during the Coronavirus Pandemic 2019-20.
In addition to philanthropy, Lewandowski invests mainly in start-ups, e-commerce, and websites, mostly through Protos Venture Capital, a company in which he has a stake. He also owns "Stor9_", an agency specializing in marketing communications.
Sponsoring and media appearances
In 2013 Lewandowski signed a sponsorship agreement with Nike. Lewandowski plays in Nike hypervenoma boots.
Lewandowski was on the cover of the Polish edition of EA Sports' FIFA 15 video game together with Lionel Messi. Robert Lewandowski's "X" goal celebration – arms crossed and index fingers pointing upwards – appears in FIFA 18.
Robert Lewandowski stats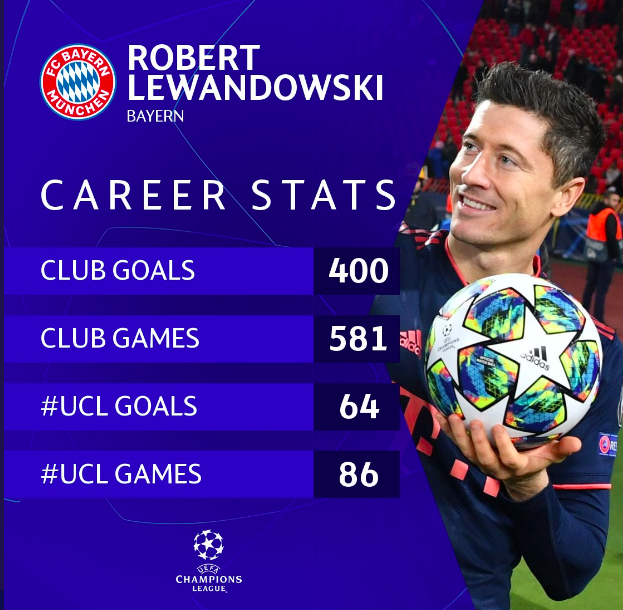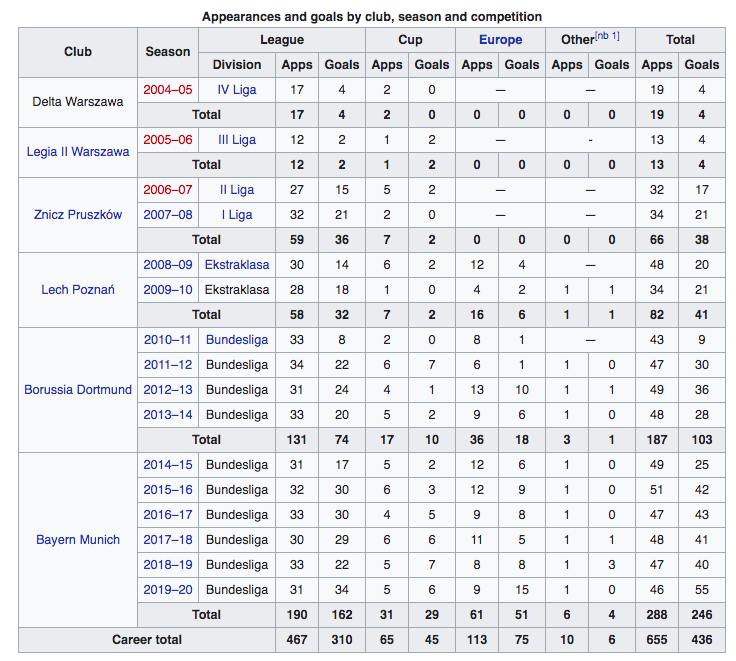 Robert Lewandowski Bio Wiki
Name
Robert Lewandowski
Birth Date
21 August 1988
Birth Place
Warsaw, Poland
Height
1.84 m (6 ft 0 in)
Playing position(s)
Striker
Club information

Current team

Bayern Munich
Number
9
Youth career
1996–1997
Partyzant Leszno
1997–2004
MKS Varsovia Warsaw
Senior career*
Years
Team
Apps
(Gls)
2005
Delta Warszawa
17
(4)
2005–2006
Legia II Warszawa
12
(2)
2006–2008
Znicz Pruszków
59
(36)
2008–2010
Lech Poznań
58
(32)
2010–2014
Borussia Dortmund
131
(74)
2014–
Bayern Munich
190
(162)
National team‡
2007
Poland U19
1
(0)
2008
Poland U21
3
(0)
2008–
Poland
112
(61)
[spacer height="30px"]
Fact Check
[spacer height="30px"]
We strive for accuracy and fairness. If you see something that doesn't look right, contact us!
Thanks for reading and remember to share this post on social media
[spacer height="40px"]