In the recent times you must have noticed that laminate flooring have made a huge mark in the construction industry. This spurt in growth has also taken within a very short span of time. A major reason behind the increase in popularity of laminate flooring is that, it can be installed without much hassle. The wood floor is floating in nature, and is placed underneath the laminate flooring. The manufacturers of this kind of floorings are making use of the latest technology to manufacture a wood core made of dense fiber. The top plastic coating is also very durable in nature.
Making
The construction of laminate flooring can be broadly divided into two distinct types. These two major types are direct pressure laminates and high pressure laminates. The distinction between the two can be attributed to the manner in which they are attached to the dense wood fiber core.
In the making of direct pressure laminates, all the different layers are fused together at the same time to the core.  Resins as well as pressure and heat are used to fuse everything together, and in the end a very compact structure of laminate flooring emerges. In the making of high pressure laminate flooring, the process involves two steps. In the initial process, sheets in the style of papers would be made to fuse together by use of glue and then a print film would be used to stick it to the core. Here everything is glued together with the application of the high pressure; the flooring becomes hard and really durable.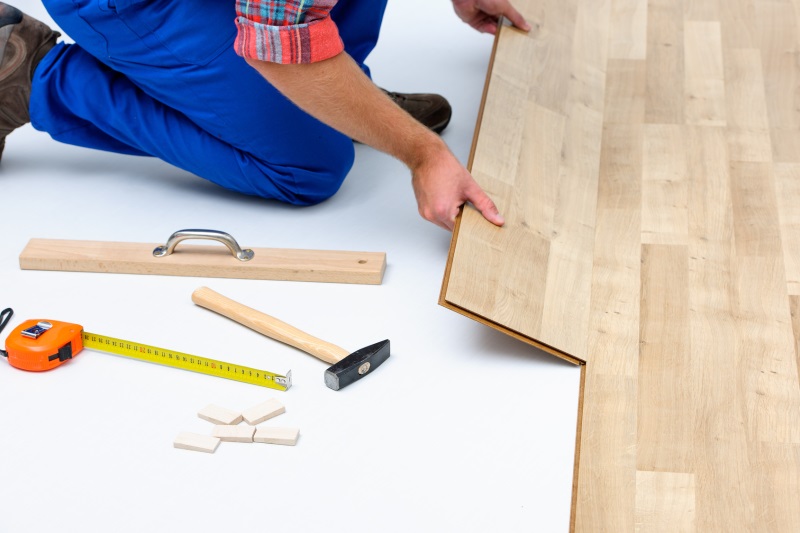 More Safety
If you are having laminate flooring in your household, then you can be assured of the fact that the flooring will not be affected by spills, burns or normal stains. This kind of flooring is quite tolerant to scratches. A wide variety of laminate flooring is available in the market and so you can easily get replacement of parts that may have got damaged in some manner. There are single strip, two strips as well as three strips variety of the flooring. In terms of edges, there are square edged and also the beveled edged. Laminate flooring can imitate lots of styles and so you can make your floor look like carved from traditional stones or even made of ceramic tiles.
Measures
If you have put laminate flooring in your household, then you will have to abide by certain measures to ensure that the flooring lasts for a long time. The instruction manual that will be provided to you by the manufacturers of the flooring is to be followed; if it is done properly, then you will have a floor that will last for a very long time:
Mats must be placed in front of certain places such as room entrances, sinks and stoves.
Protectors must be placed beneath the different furniture items.
The chair coasters must be clean and you must check to confirm that they are efficiently functioning.
The humidity level and the room temperature subjected to the flooring must be tried to follow. Large deviations from it can damage your flooring.
Cleaning
The laminate flooring is extremely durable in nature. It is not very difficult to clean. Ideally, the floor must be mopped in a damp manner by using ammonia or vinegar. You should be careful and ensure that if water is being used, then the water should not completely flood the panels of wood. You should avoid using products such as floor polish or soap to clean the flooring, as it will get damaged if these things are used.
After reading these above mentioned guide, you understand all the necessary things about Laminate Flooring. If you want to know more then keep in touch to get more information.