If you want to learn a bit more about some marketing strategies along with other tips and tricks then you'll find there are numerous video tutorials on various websites that will help you to do just that. In fact odds are you've already encountered some of them and started to learn more already.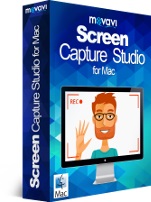 To make things a little bit more convenient – why not save those videos so that you can watch them offline? Once you have a copy of the video stored on your hard drive you can watch it whenever is convenient and won't need to constantly re-stream it to do so. Although the marketing video itself may not provide an option to 'save' it, with the help of Movavi Screen Capture Studio for Mac it is easy enough to learn how to record screen on Mac and then save it later.
As a matter of fact you can save any marketing video tutorial from a website by following these steps:
Set the capture frame to encompass the marketing video tutorial that you want to save by resizing and repositioning it accordingly.
Check that the audio source is set to 'System Audio'.
Start the recording by pressing 'REC' and play the video at the same time.
Click 'Stop' when it is done and then 'Save' to save it.
In most cases there is no need to do anything other than that, although Movavi Screen Capture Studio for Mac will allow you to set all the other recording parameters if you want to. More importantly however it comes with several features that will help you to tweak the videos that you record.
For the marketing tutorials that you're saving, it might be helpful to trim out any video segments that aren't required, or even extract and save important parts as individual clips. Aside from that you could also choose to use Movavi Screen Capture Studio for Mac to enhance the video quality, insert stylish animated transitions, add customizable text, include audio tracks, and much more.
Be sure to try saving the next marketing video tutorial that you find useful by using Movavi Screen Capture Studio for Mac. The best way to see what it is capable of and how easy it is to use is to put it to the test and try it out for yourself.