PBX systems help a business organization to have a unified telephone system with extensions, which can be effectively used for the organization of incoming and outgoing calls, call routing, quick information exchange, and navigation of customers and call transfers.  In this system, telephones are linked with each other and a network is created for the employees to permit convenient calls and empower the outside callers to reach their respective contacts swiftly.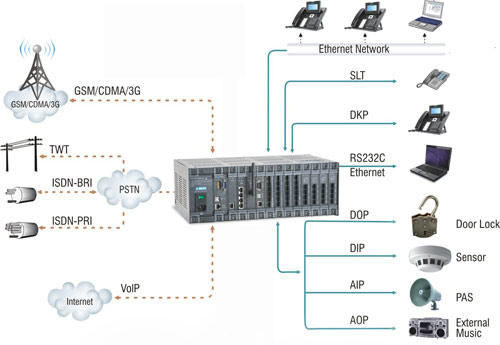 How to Purchase the Right PBX System
Here are some important considerations which you must take into account to find and buy an appropriate PBX system for your business.
You should contemplate the ownership and its total cost, along with the initial principal amount required for purchasing a new telephone network for your organization. You can buy either on premise PBX systems or hosted systems. While the former needs you to make a huge upfront investment but in case of the latter it becomes more affordable due to monthly payment option.
You must check the different ways in which the features of on premise and hosted PBX systems are bundled together. Hosted systems come with bundled features and the fee is charged according to a set/user cost. On the other hand, on premise devices offer the buyers more flexibility in terms of functionality and features hence this system is highly customizable.
You have to see where you can acquire customizations services easily. Both of the systems provide the facility but in case of on premise equipments, the management and disposition of the system is supervised by your own IT professional so customization is more attainable here. This system is right for those who need advanced customization to run their businesses.
See what kind of voice quality you need for the organization then decide between the on premise and hosted systems. If you need high voice quality for your network, on premise PBX system is the best option.
See what will be the true cost of employing tech support for operating your PBX system.
Different Kinds of PBX Telephone Systems
The main types, found in a PBX phone system, are Hybrid PBX, VoIP, and Traditional PBX systems. In traditional systems, an operator is required to handle a switchboard. VoIP systems are an advanced version of this equipment that use internet for sending and receiving calls as well as voicemails. It's a convenient and useful system for the users. The last, hybrid systems are a combination of VoIP and traditional systems that provide high efficiency and ease to users.

Options Available in PBX Systems
There are numerous options, or you can say features available in PBX system such as IVR, DID, voicemails, etc. The PBX server is used for operating the PBX system in an organization. Two methods are used for setting up a system, i.e., self-hosted and virtual setups. While virtual systems are hassle-free, more convenient, and less- burdening for businesses, especially small ones or the self-hosted ones. It will offer security and control as well as save money for a business.
You can easily find PBX systems at online stores, at an affordable price. Today, this system has become an essential requirement for every business. An organization with a well-functioning PBX system has great potential to become successful as well as have effective client relationships and interactions.