Your bedroom can be of any kind you like: romantic, bright, classic, contemporary, etc., but the main thing is that it should be comfortable — and this will depend on how skillfully you will arrange the furniture. It is the position of furniture that can make a room cozy and convenient. But no less important is to choose the right home accessories, which will complete the style of your bedroom. If you want to purchase quality and stylish furniture, accessories and other things that create the atmosphere of coziness in your house or apartment, visit https://jiji.ng/decor-accessories! Jiji is the largest Nigerian marketplace. Here you can find all kinds of products in all kinds of categories at the lowest prices. Jiji is a website you can rely on!
Standards for open place
The comfort in the bedroom is very important. For example, in a room that is fully equipped with furniture should be enough space to easily move from bed to closet and from closet to window. In addition, nothing should prevent opening/closing the front door and closet shutters.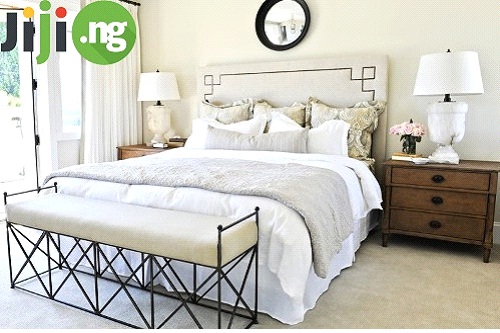 It would be nice if the area of the bedroom is quite big — it will provide freedom for movement and moving around the bed, along windows and walls, as well as in the center of the room.
When it comes to bedroom for an elderly person, you should use furniture with rounded corners and set the pieces relying on simple logic for the sake of people, who will live in this bedroom. For example, you should think of a place for a chair or stool with backrest near the bed – for putting a blanket, sitting, or just leaning.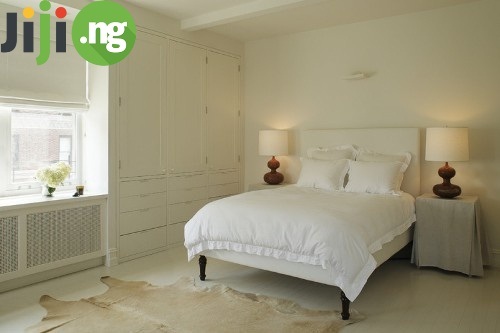 Also, consider a schema for the main passages, they should not be "broken", otherwise an old person will need to perform unnecessary and awkward turns. The width of the passages should be 1-1.2 m.  Purchase the furniture according to the size of a room. For example, for the bedroom of an area of 9-10 sq.m., the double bed 1,4 x 200m (1,6х200 m) will be enough. Larger bed in such a room will be clearly inappropriate, it will "steal" valuable space, and the room will look smaller than it really is.
Requirements for basic furniture
Only the spacious bedrooms with large windows "allow" an additional dresser or cupboard for bedding. In a room of a standard size you should place objects carefully, otherwise your bedroom will turn into a strange messy room. For example, if you are installing a stand-alone high cupboard opposite the footboard of the bed or close to the window.
Don't use massive furniture in small rooms, the dimensions should be selected in strict accordance to dimensions of your bedroom. But there is a little trick when it comes to a small room and massive furniture: the facades of the furniture should match the color of the walls, this way they will be their logical and functional sequel.