Most girls dream of the perfect prom dress, after seeing so many beautiful film stars rock them in the classic movies, it's no wonder everyone wants to feel like a princess. From the ball gowns of Disney, to some of the best comedies, there is an endless choice of prom dresses from TV shows and moves that everyone loves.
We're throwing it back in this article, forget about the future, it's all about the past. Hopefully, reminiscing with us about the best movie and TV show prom dresses will give you more of an idea as your prom day creeps up on you! Before you know it, you'll be searching for yours and these memorable choices will be at the forefront of your mind. These fictional characters have truly paved the way with the best and most amazing prom dresses, while the style isn't always something we would choose, they're iconic in the fashion and movie industry.
Sandy from Grease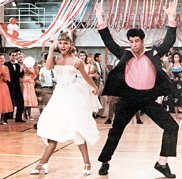 Is there anything more classic than the beautiful white flowing number that Sandy wears to her prom? We think not! This dress would still work today if you love the style, it's a traditional design and works along with newer trends. Despite Grease premiering in the late 1970's, it's something we'd love to see more prom queens rocking.
Hermione from Harry Potter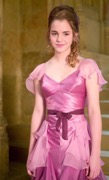 The young wizard was able to wear a simply magical prom dress to her big night, and so should you! This dark pink choice is a popular color with so many girls as it's just super pretty. While we're not loving the sleeves, everything else about this dress is perfect.
Monica from Friends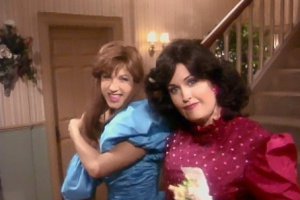 We're sure this memorable dress is known for being one of the least fashionable pieces in TV history, but we can't help but love it. Perhaps it's Monica's fun-loving character, or maybe we just love the fact that this polka-dot piece is absolute goals.
Sharpay from High School Musical 3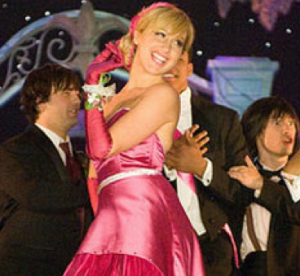 While we started off the High School Musical series not particularly liking Miss Sharpay, we found the love towards the end. Her silk pink dress is something we'll forever remember, including those beautiful gloves!
Kat from 10 Things I Hate About You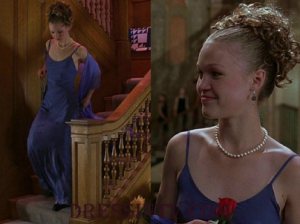 Only occasionally do we love prom dresses 2019 from decades ago since the trends and styles are forever changing. Yet, this navy-blue number chosen by Kat is a classic and something every girl should experience for her big day.
Lorraine from Back to the Future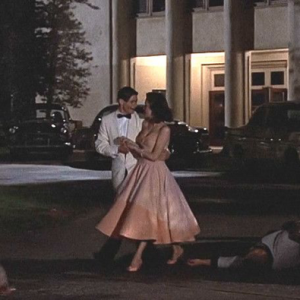 We don't know what to love more, the orange, strapless ball gown worn by young Lorraine or her beautiful romance with George. No wonder he fell for her at the prom night, she's knows how to truly wear elegance.
Blair from Gossip Girl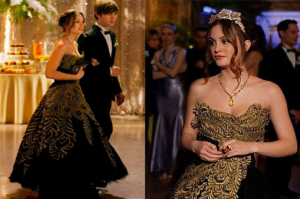 The aware for the most dramatic prom dress ever definitely goes to Blair from Gossip girl. Black is a statement anyway, wearing it with classic gold detailing and to your prom is taking fashion and style to a whole new level. We're in love.
Sam from A Cinderella Story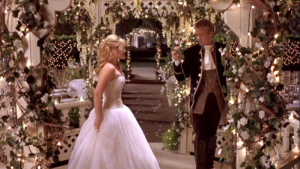 Sam rocks this ivory ball gown better than any other princess, and it's a style that many prom queen opt for these days. The fitted top and flowing bottom is a total statement, it might not be your wedding day yet but who says you can't try out this? JJ's House have some amazing prom dress deals right now and if you have a quick look through their selection you'll come across so many designs similar to this one.
Bella from Twilight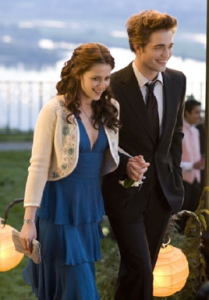 She might have been shy facing the prom lights, but nothing stopped Bella from glowing with beauty wearing a stylish blue number to her prom dress. The plunge style is a perfect prom choice too.