Watching a movie can be a great way to relax and enjoy some special time with your family. When it comes to making memories, though, there's a big difference between "watching" a movie and "experiencing" a movie. Truly experiencing a movie requires engaging all the senses to transport you out of the world you're in and into the world of the movie. If you're able to do that with your kids, you can be sure they'll be talking about it for a long time. Here are a few ways you can help create an unforgettable family movie night.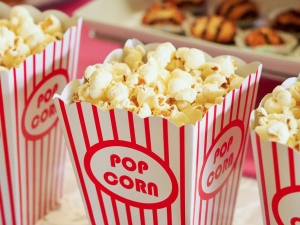 Food for Thought
One component that sets a movie theater experience apart from watching a movie at home is the yummy, albeit overpriced snacks. You can bring this experience home, however, and for a lot less money than you'd have to pay at a theater. Popcorn, candy, soda, pretty much anything and everything that you normally wouldn't allow your kids to indulge in are the perfect snacks to enjoy during a movie. Of course, since you're at home, you can customize the snacks to meet the unique dietary needs of your family. Making your snacks together can bring you and your kids closer while adding a fun activity to your day. Try sticking to a theme for each movie night. For example, watching a fun monster film could be paired with monster cookies that you and your kids decorate together that morning. Not only does this save you money, but you also get to let your kids do something fun and creative.
Have a Seat
One way that major movie theaters are working to set themselves apart is through the installation of advanced seating. These plush, reclining seats provide a comfortable place to spend two hours or more. Even the most comfortable chair in a theater can't compare to your favorite seat at home, though. That's why it's important to find that favorite chair, wherever it may be, and relocate it to the movie room for the movie night. Even if it's inconvenient, providing that extra level of comfort will provide loads of enjoyment for the entire family. Building a blanket fort with plenty of pillows and space to stretch out in is also a great way to create a magical movie experience. Transforming your living room into something extraordinary together takes your family fun to the next level.
Loud and Proud
Of course, the most important way to truly experience a movie is to view that movie using high-quality equipment. Of course, a large and high-quality television is important to the movie watching experience. Sound, however, is potentially even more important, as sound provides the emotion and context within which the images on screen can truly come alive. For example, a Tivoli Hi-Fi system can fill a room with immersive sound that truly transports you to another world. Especially for sing-along loving families, great sound is a must!
The More, the Merrier
Another way to improve your movie-viewing experience is to invite plenty of family and friends to experience it with you. There's something about being able to share in a powerful experience that really draws people together. By enjoying time spent together before and after the movie, you can create shared memories that are remembered positively by everyone who attends.
Truly special movie nights are special because they don't happen every day. While it's fine to watch movies whenever and wherever with whomever, if you're going to go to the work to create a truly immersive experience, you don't want to ruin its uniqueness by doing it every time you watch a movie together. By holding a special movie night every once in a while, you can create lasting memories without creating constant work for yourself and others.