Vampire is one of the classic topics in the film industry and here are some of the newer ones that we may miss: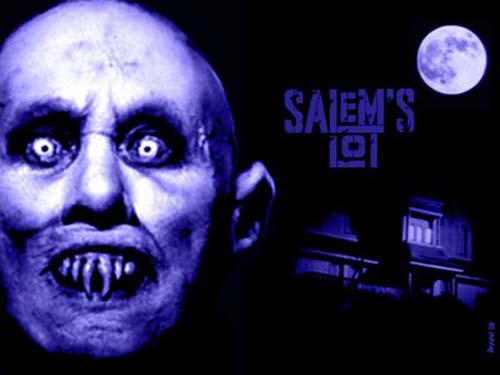 SALEM'S LOT: It's starred by James Mason, who we know from Starsky & Hutch TV series. He plays as the head of vampire clan and the character looks interesting, even when he/it doesn't talk. It's one of the better Stephen King's film, with enhanced sinister vampiric elements to it.
CRONOS: Cronos is a small mechanical scarab, a type of beetle, considered sacred in the era of Ancient Egypt. It's not a real vampire film, but the device offers immortality by feeding on someone's blood. It's a multi-layered representation of science, religion and history. Vampire is often considered as a tired, old genre in the film industry, so Cronos should be a fresh-take on it.
Blade: is an action-packed vampire movie with the usual sinister and dark settings. Compared to other vampire movies, it comes with the entertaining coolness of a modern action film. It paved the way for Sam Raimi's and Bryan Singer's popularity in the film industry. The movie sometimes feels like a techno music videos with its banging soundtracks.
BRAM STOKER'S DRACULA: It's not the newest vampire film, but still a modern take on the classic topic. It has the freshest faces of the time when the film was made, such as Keanu Reeves and Winona Ryder. There are also Gary Oldman, Anthony Hopkins, Sadie Frost and Monica Belluci. Reeves, the lead character, may seem drown amid the older talents. As an example, Oldman simply steals every scene and he is a delight to behold.
30 DAYS OF NIGHT: It is a straightforward, simple and formulaic vampire movie, about vampires that attack a town. So, we should be aware that much gore and blood will be spilled. It is just a good fun and people who don't want something complicated should watch it.
NEAR DARK: It is a dirty, mean, gritty, grim and more importantly, massively underrated film. It is about a gang that cruises the freeway. It combines Texan western and gothic elements, with stellar cast, including Bill Paxton, Janette Goldstein and Lance Henriksen. In this movie, vampires are hunters, instead of lovers.
LET THE RIGHT ONE IN: It is a unique vampire film that is uniquely made. The protagonist is a 12-year boy and the movie should appeal us with its unpredictable, violent, romantic and nostalgic storyline.
INTERVIEW WITH A VAMPIRE: Antonio Bandera, Brad Pitt and Tom Cruise appear as pale, impeccably-attired vampires. The 12-year old Kirsten Dunst steals the show in this film and she has a tough role to play. The film has blatant homo-eroticism, is full of pomposity and appears decadent. The gothic splendour and hedonism in this film won it an Oscar and it continues to be an inspiring masterpiece in the film industry.
Vampire is an interesting subject in the film industry and we can watch almost endless depictions of it in films and TV shows.