Businesses are aware that time is money, but sometimes things take longer simply because it's worth doing right. However, with the tools available to you, there's no reason why managing your online store and shipping process needs to take much time at all. Integrated shipping software helps you navigate the shipping as well as the selling process, from uploading new products to organizing sales to printing postage. Incorporate this software into your daily business transactions, and you'll wonder why you didn't do it earlier.
Easy Tracking
You probably use software to keep track of sales on your website. You may have software keep track of what you spend on postage and how many packages leave your business and when. However, if you don't opt for integrated software, you're creating an entirely unnecessary task: manually inputting the sales information into the shipping program.
Integration means that your sales are connected to your shipping. The software keeps track of when people buy each product, how well the product is selling and when you ship the product — as well as how much it costs you to ship it. Removing the need to transfer data from one program to the other manually not only saves your company time, it decreases the risk of human error.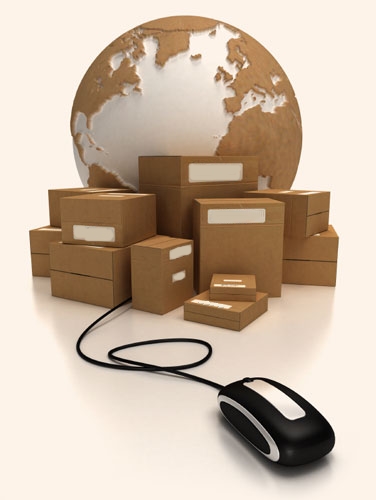 Better Communication
Communication between co-workers is more efficient when you use integrated programs to keep track of sales and shipping. For example, the person in charge of setting up shipping charges during the checkout process will be able to see precisely how much postage has cost to ship an item in the past and can calculate the shipping and handling rates appropriately. A copy editor writing about a product can see if the product has shipped internationally often and use the global popularity as a selling point in his description.
Communicating via the software's messaging applications keeps the discussion focused on the shipping and online sales of the product, so it's easier to track concerns and resolutions.
Simple Lookup
When a customer contacts you via your online store wanting to know how much you charge to ship an item to her country, in the past, you might have had to bring up your separate shipping software to look up postage-related answers. With integrated software, the information is accessible within the same program. You'll also be able to track how effective a limited free shipping promotion might be for your business; for example, if fewer items are shipped during a certain day of the week, start offering free shipping on that day.
Entrepreneur reports 63 percent of consumers who cancel orders after making it to the check-out page do so because they think the shipping cost is too high. By making your shipping process more efficient and quickly accessing postage rates, you can charge the least amount possible for shipping and handling, which results in more sales. No more too-high flat rates; track how much it costs you to ship a product and adjust the shipping rates accordingly.
More Efficient Mailing
Rather than processing orders manually as they come, integrated software can do everything, from confirming the order and the items are in stock to printing the postage and label for your packers to slap on the box. Printing postage is fast and can even be automatic depending on how you set up the program.
Since information is always easily accessible to your employees, you can step in and oversee the accuracy of every order at any time. However, if you're experiencing an influx of orders – like at the holiday season or during a sale — you won't have to have someone manually input addresses and print out labels and stamps. Less human input translates to fewer mistakes, and your customers will get their orders faster.
With integrated software that manages your online store and shipping process, you'll save not only time, but you'll make more money, too. The more accurate your idea of the shipping charges, the less you can charge for shipping and handling and the more business you're liable to do. However you choose to use your integrated software, you're sure to appreciate the convenience and accessibility of the information the software provides.
About the Author: Lurlene Horton is the owner of an IT business.