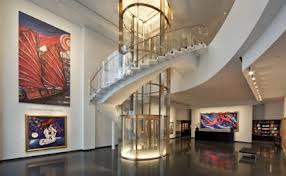 It has been known worldwide that New York is the most popular city among other cities. It is mainly because of its rich collection of museums and galleries, and hosting some of the world's greatest exhibitions and art. Here are some information where you can find interesting exhibition shows in New York.
One of the many museums and galleries New York has is the Museum of Metropolitan Art or also known as "the Met". It is the largest art museum in the United States and second to the most visited museum worldwide. It is on the eastern edge of Central Park in which the area is known as the "Museum Mile". Museum Mile also hosts the world-famous Guggenheim Museum which opened in 1872. It is renowned for its diverse collections of art and cultural ephemera from around the world, from Oceanic to medieval Byzantine art.
Metropolitan Art Museum is known for New York's cultural highlights. Last October 2012, a special exhibition in the said museum is conducted and will last until September 2013. A special exhibition was held to commemorate the centennial of its own, unique, 'Arms and Armour' department. The museum is founded in 1912 by Dr. Bashford Dean, a guest curator since 1904. He was also a zoologist by training, and a Professor at Columbia University.
The exhibit tells the people about the military history buffs of the city. It also provides a good sense of information especially to the tourists looking for places to visit in New York. And with newly refurbished display cases and lighting, visitors can view some of the rarest objects, books, manuscripts and photographs from the early 20th century that cover the esoteric and multifaceted career of Dr. Bashford Dean.
Informative and eye-opening trajectory of the development of American armory is what the exhibition aims to give its viewers. Known for its diversity and simplicity, American arms are anchored in the culture of American westward expansion, where an absence of federal law produced conditions where settlers often sought their own self-defense. As such, the weapons tend to be carefully handcrafted, experimental in nature, and designed for ease of use. This aesthetic of simplicity and design suited to local conditions repeats itself throughout American art, from weapons to bridges, from houses to skyscrapers like the Empire State Building.
Dr, Bashford Dean has a wide range of interest towards armor; from medieval Japanese warfare up until his own time when the production processes of how the arms are created and produced has changed into a more advanced one. He personally hand-drew a range of historical and international armour for the Museum's catalogue collections, some as early as 1903. Many of these drawings and manuscripts can be found at the latest exhibition.
Checkout NYC exhibits if you join a New York City sightseeing tours today.