Scale and Library
The space-saving library that helps you make order out of every centimeter in the shape of a cube: You can assemble it using wooden panels. If you use thicker gauges and fixed to each other different cubes you can also use the library as a stairway to the loft.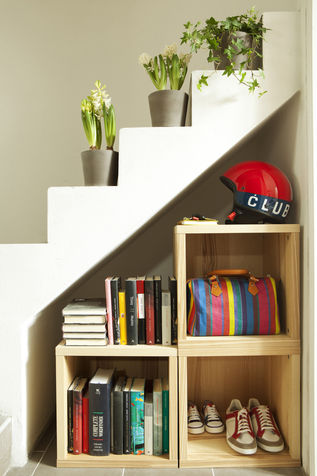 DIY bathroom furniture: space-saving ideas
The bathroom decor often has to deal with confined spaces, uses design to maximize the environment at your disposal. Curved lines and compact size for next generation healthcare, earning centimeters and are easier to clean. Bated sink is great for obtaining additional space: you can place under a shelf with soaps and beauty department.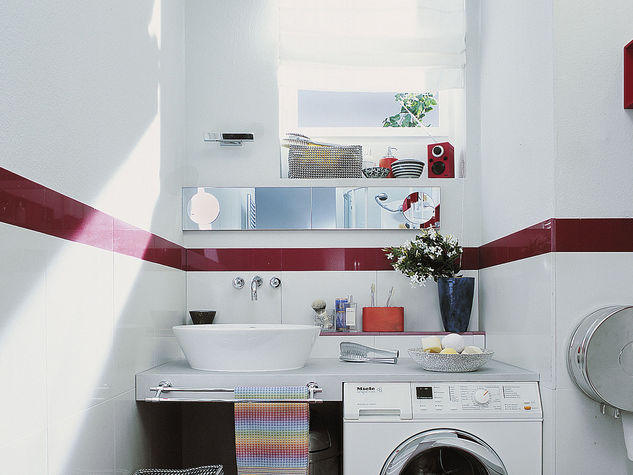 DIY bedroom: space-saving furniture
To furnish the bedroom maximizing the space structure the environment by building suitable niches, for use with different roles: a library can help you create two separate locations, on the one hand, for rest, and on the other to a reading corner or study. If the ceilings allow it evaluates the idea of a loft, with which to exploit the verticality of the room: on the underside of a desk or you can enter the closet of clothes.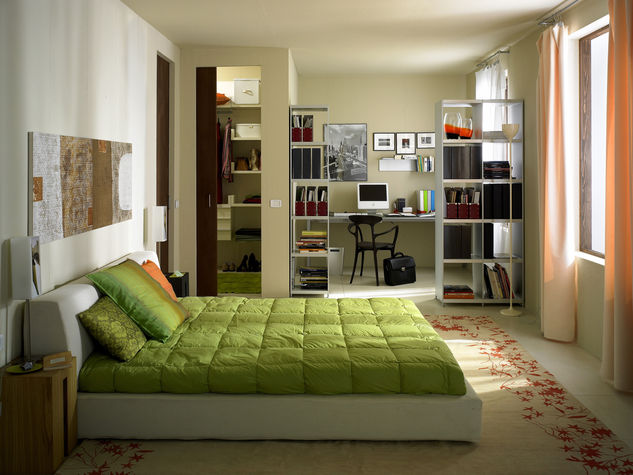 Space-saving solutions: furniture DIY
If you have an unused room or a fairly wide corridor, ideally cut out a part: you can fit some shelves and use a curtain so as to make the new space invisible, which you can use as a storage room or for clothes. Like you dare? Leaving the exposed shelves: you'll get a glance of sweaters and T-shirts, in addition to furnishing an idea smiling originality. Necklaces, jewelry, hats hang accessories on the wall resting them gently with many colored tacks.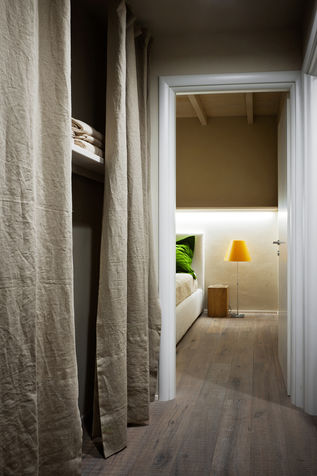 Space saving furniture: DIY home decorations
Booths and screens are a strategic solution for dividing rooms with a touch of originality: less demanding than a false wall, they are flexible and take up little space. Ideally, if you love to renew the house and use them in more than one context. The DIY idea? He draws the screens from a plywood panel or an old door in an afternoon to devote to DIY you can make them special with a stencil or decoupage.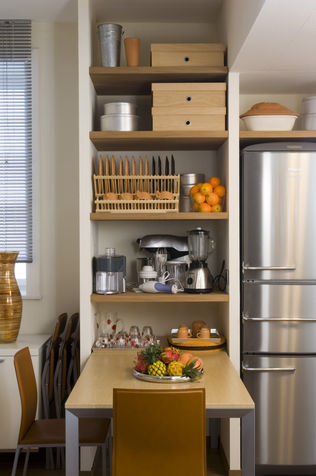 DIY saving furniture kitchen
In the kitchen shelves can save you from the lack of space if the table is close to the wall you build an ideal niche, made with different wood shelves or with a faux stone panel: using many cans or jars you can store your everyday tableware, as well as herbal teas and chamomile, the box of biscuits and fruit basket. Here, all the objects that you use frequently extraordinarily close at hand with no mess.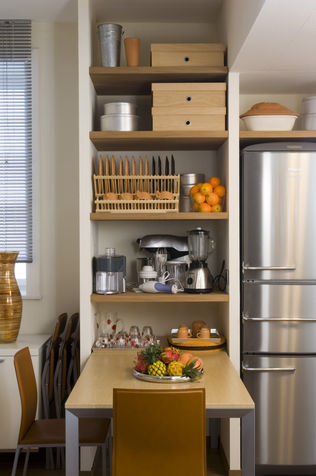 DIY space-saving cabinet: furniture solutions
You do not have a closet? Build it on sight, using an entire wall. You can mount one garment rails of metal, which is usually the structures we see in the stores, and hang clothes on hangers: in the morning you will have a glance on the combination perfect to wear during the day. Around the stender build a wooden structure: it will be a convenient place to store accessories, scarves and T-shirts, as well as being useful for protecting your clothes from dust. Above, you can add boxes with what you use less frequently: remember to label each container with a piece of masking tape: it will save you time and energy.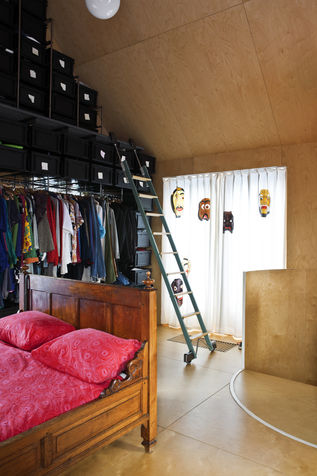 Space-saving ideas: DIY table for kitchen
A small table with wheels in the kitchen has a threefold function: it helps to keep in order and within reach of the frequently used items, can serve as a table for cooking and if necessary you move fast in the dining room, near the table opted for a dinner with guests. Adding a wooden ladder to the side of the table also the shelves higher will be reached: the all occupying the minimum space.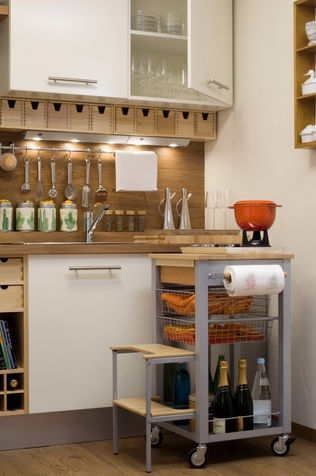 Scale trays: DIY saving furniture
The wooden stairs that contain secret drawers? The perfect strategy to handle two functions into a single object. You can get them done to measure or create them yourself, if you get on with the wood: under the mezzanine will be a place where to store towels, sheets and bags.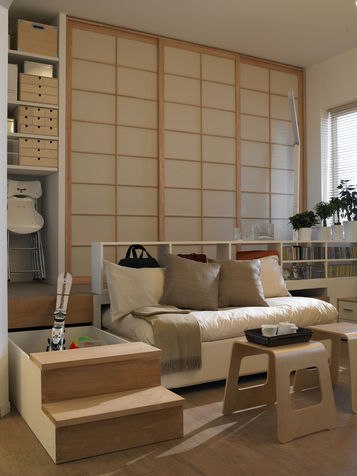 DIY home furniture space-saving shoe rack
The shoes? Uses a corner of the bathroom or hallway to place a shoe rack: remember to choose it broad enough so that it can contain as much as possible. To find a place for boots, bigger flops and shoes in cardboard boxes, labeled, to be ordered on a shelf.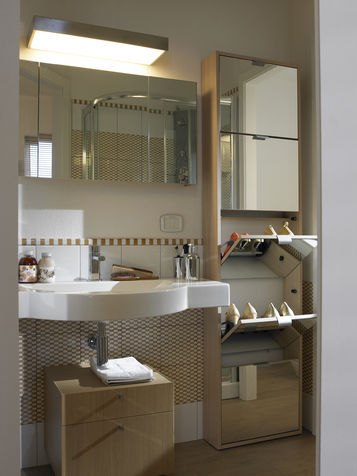 Wardrobe: cabin space saving cabinet
A flap and the local-wardrobe appears as if by magic: you enter through a small-scale and conceals a real walk-in closet, equipped with shelves and shelves of different sizes.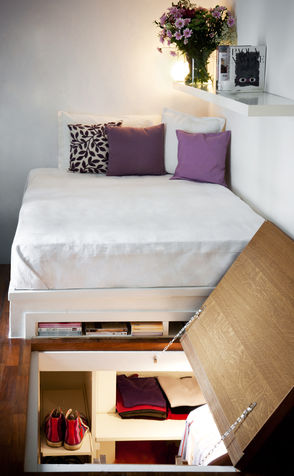 Space saving furniture: DIY study corner wardrobe
The study area? Realize it with an old table that smells of holidays, slatted wood, suitably repainted with a personal note thanks to decoupage. Add a floor lamp can create a powerful light beam: books and magazines can find their place on metal shelves against the wall. You just need a tent to make them invisible.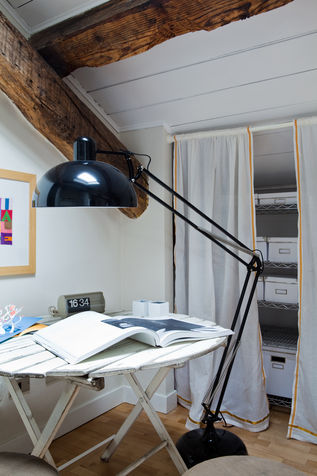 Space-saving bed: home furniture
The bed reveals a strategic space to store linens and blankets surplus. The headboard? Build it with wood panels: many cubes to store the book you are reading and the objects you want to have next to you.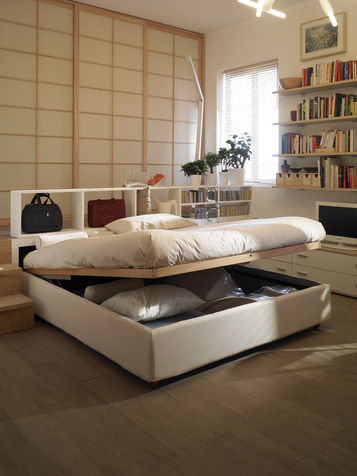 Space-saving solutions: sliding doors
The sliding door, glass with aluminum frame, allows you to go from the bedroom to the living room with a solution of continuity, without breaking that divides and unites with the bright airiness of the transparent material.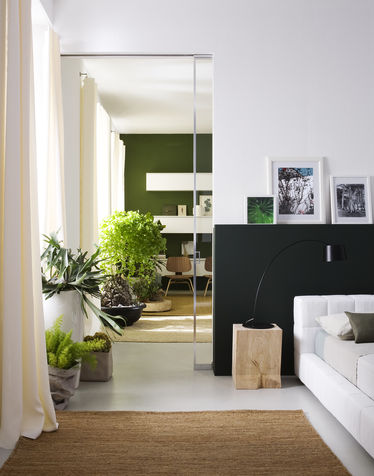 DIY ideas saving: broom closet
You do not know where to find a place for brooms and vacuum cleaners? If you have a small house looking to favor appliances mini, easier to reorder thanks to slim line. The place broom can be housed in a recess of the part, in which to place a cabinet with compartments. The alternative idea? You can create DIY closet broom cutting a corner of the hallway or a dressing area: you just a wooden panel and a hinge to create two leaves and separate the angle from the rest of the room. Monta few shelves, where to put detergent and a box with sponges; hang with a nail brush and dustpan.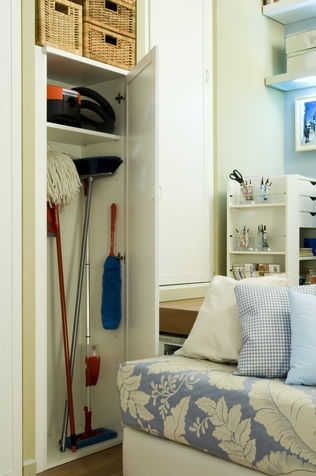 Space-saving solutions: DIY home decor ideas
Two or three steps and one on top of the space where to place a desk and a wall bookcase: minimal and practical, will allow you to have a relaxation area and a station dedicated to work or study, also ideal for children (except in the case of noisy dinners!). Exploit verticality to carve out new space.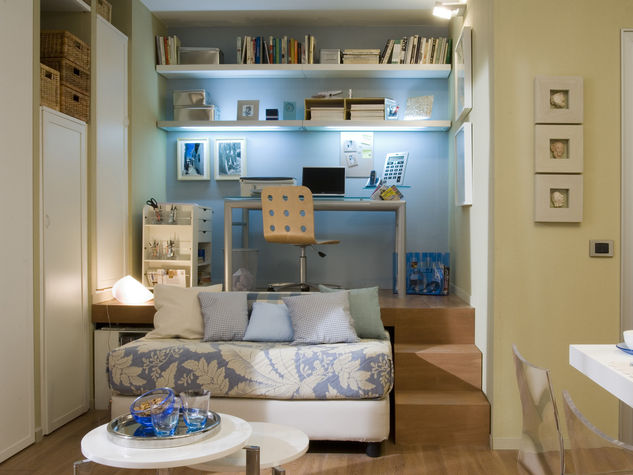 Space-saving bed: ideas DIY
Build a strategic headboard of the bed: conceived as a long wooden shelf, may worthwhile for storing lamps, books, magazines.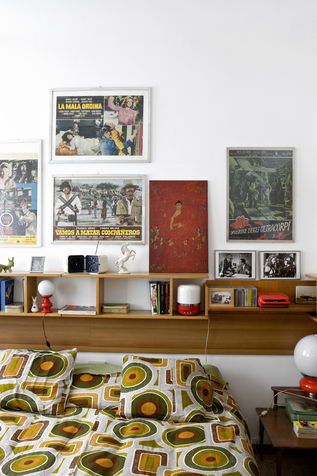 Space-saving solutions: DIY mobile kitchen
A touch shabby chic for an original pantry: use some fruit crates, to be personalized with a colored coat of paint, or a decoration with stencil and decoupage. If you want you can use a thin curtain, played on the slides, to conceal the shelves or left exposed.
Space-saving ideas for the kitchen
If you want to create a kitchen, use objects as divider. You can organize the cooking area along a wall in front of the columns refrigerator and oven, topped by a wooden panel, allow you an invisible area from the living room, to devote to the preparation of food. You have a room? Use it to store folding chairs, which if necessary will be able to serve you during dinner with many guests.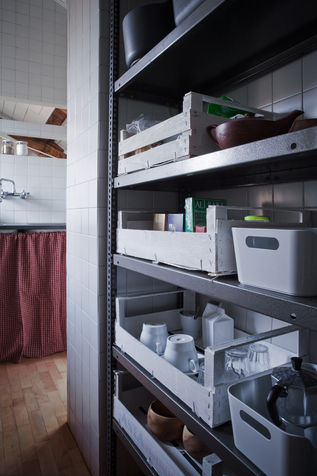 Room space saving furniture: DIY furnishing
The door is smooth and the wall becomes a counter system where enclose objects, crockery, dinner services: these are two solutions for more space in the room. The more ideas? You can build a wall system taking as inspiration the organization of the shops: using different shelves, all colored, to be allocated in some books and magazines, and other vessels for the pasta and cookies, cups and objects.