While it is important to stack enough funds for your daily needs, arrange financial planning and make sure you are saving up, many people fail to accomplish results in this field. Even though in the past most of this job had to be done with the help of such great gadgets as pen and paper, nowadays we have lap tops, smartphones and tablet devices to assist us, but we still can't really refuse to use the overdraft and get the credits. In this article I am going to review 5 most useful apps for you iPad and explain how you can start stacking money on your bank account with it.
1. Pocket Expense
This is a must-have app for any iPad user that needs to get things together with money. It has a great design and usability, which makes finance easy even for our blond female readers. Simply install the app and start making preparing your budgets. With this app you can track your accounts, plan the amount of the expenses and break them in into categories and monitor your accomplishments. Don't forget to set aside the savings in the app!
2. Bloomberg
Knowing how much you are allowed to spend is important, what is more important is seeing a full picture and the best thing to get there is by staying tuned with market updated. Bloomberg provides the most significant updates at the high speed and features the news that have the most significant impact. Many people would not see a great practical use of such an app, but having over 5 years of personal finance consulting experience I am sure that it has an enormous benefit. The amount of situations where you will need to use the market info is rather small, but their impact is crucial. Imagine you have worked for you're a few years after you are your graduation and you planning to get settled, how would you be sure about the timing?  Installing such a news feed app is crucial for your current and upcoming decisions.
3. eBay for iPad
All of us are aware of eBay and we all know that you can get there anything cheaper than anywhere. Saving from spending less than you are getting is crucial and one way to achieve this is to cut down your expenses. Download eBay app for iPad and whenever you are planning to buy something using your cash or credit card, check this item out on your iPad, chances you save over than 50% are quite large.
4. Weekly Ads and Sales
Although this sounds kind of cheap, this app can actually help you save a fortune. Simply spend a couple of minutes weekly to browse the local offers and highlight the products from your shopping list. You know the average expense for those goods from your financial planner, so seeing the benefit is quite easy. Just stick to this one rule – don't buy the stuff you don't need. While such an app can help you save, it can also drain your budget with unnecessary purchases.
5. XE Currency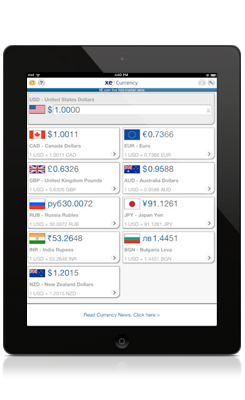 Some of the purchases we are getting don't always come from the States. In fact most of the things that we bought in our lives where produced elsewhere. Buying goods oversees is usually done is local currency and monitoring the currency rates can help you a lot in timing your purchases. One of the best forex brokers, XE, has developed a great app for keeping the track of the currency movements.