What is cloud computing?
Cloud computing enables people to access a data system via a virtual remote server, which can be accessed online and may be used as a hybrid, public or private network. This technology allows people to access all kinds of resources such as e-mails, databases, identity records, content and accounting records from one platform.
Although cloud networks have existed for decades, recent advances in digital technology have made it possible for small and medium sized business to utilise cloud technology to maximise their profits and achieve better value-for-money for their IT budgets.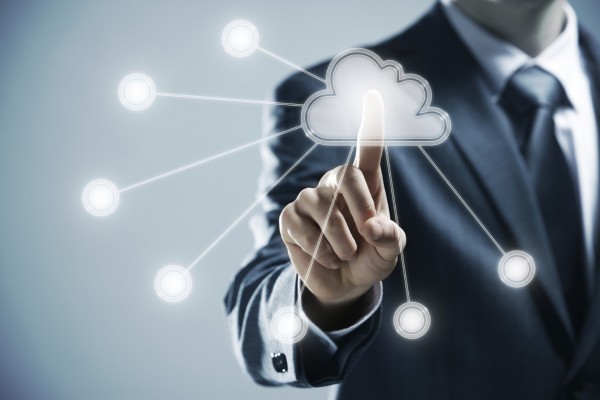 Three of the most common cloud networks
A public cloud is available to the public on a pay-per-usage basis or free of charge, examples of which include Google and Amazon.
A private cloud is intended for business use and will only be accessible to employees and other authorised personnel.
A hybrid cloud is a combination of a public and private cloud service and can enable an organisation to deliver a service through an additional external cloud.
Perhaps the most significant advantage of cloud computing is its versatility. As data can be accessed from any device and any location with an internet connection, businesses can access, modify, exchange and input information anywhere in the world.
If you hire workers on a freelance basis or are looking to expand your team abroad, operating under a cloud based server could prove very economical, as everyone in your team will have instant access to all the information and data they need as soon as they are authorised to access the network.
Need additional bandwidth? Get it straight away
When a company requires additional bandwidth, it can get it immediately via a remote server. According to the International Data Group, 94 percent of business employees working with cloud technology use it for e-mailing, while 75 percent use it for databases.
A great way to cut costs
When you operate a small or medium sized business under a cloud network, you don't need to spend thousands of pounds on new infrastructure like software and servers, because the cloud vendor will be responsible for most of these services. Instead of owning the hardware, enterprises become the consumers of the hardware, and can choose to use IT services when they need them.
Security issues to consider
For years, people have expressed concerns over the security of cloud systems due to the fact that they are hosted externally and could, in theory, be hacked. If this occurs, a business can lose all its data, whereas data stored on multiple devices like laptops and PCs is much less likely to be lost all at once.
However, as more people have become familiar with the administration of cloud servers and how they should secure data, cloud networks have become significantly safer, especially when you consider the millions of pounds that is invested into data infrastructure.
Physical data can easily be stolen
Physical servers are not entirely safe either, as laptops and tablets can be stolen in public settings or in our homes or workplaces. Even in airports, which have extensive surveillance and a high density of people, around 800,000 laptops are stolen each year.
Cloud computing can benefit companies of all industries and sizes
Regardless of the size and sector of your business, cloud technology could enable you to improve your return on investment in a number of ways, whether it's by employing extra staff remotely, expanding your bandwidth or updating your IT infrastructure.
Alex Viall is the Director for London IT Support company Mustard IT. As an expert in the industry, Alex believes that Cloud Computing has opened up a world of opportunity for SME's across the UK and the rest of the world.