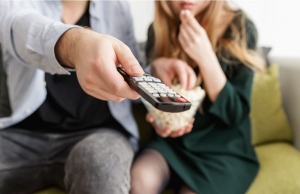 Part of what makes a great date night is a good surprise that leaves your date wanting more. A good but surprising dinner is a good way to go, but you should consider adapting this concept to everything, including the movie you end up watching. Popular movies are probably not going to surprise your date, so why not go for indies, like the five following thrillers.
Unsane (Amazon Prime)
Claire Foy had the opportunity to work with Steven Soderbergh in this strange story of a woman who is being committed to a mental institution. The film was filmed with the iPhone 7, and it follows a woman who knows she is not crazy, yet everyone continues to say she is. There is no telling who is right, but there may be an answer as the film plays on.
Buried Alive (Vimeo)
An interesting film to watch is Project Solitude: Buried Alive, which stars Eric Roberts. The film follows a college professor conducting a social experiment where he takes 10 students into the woods without giving them much more than a few tools. The students must survive by foraging and hunting. The movie takes a dark turn when students begin to disappear.
Velvet Buzzsaw (Netflix)
This artsy thriller stars none other than Jake Gyllenhaal as an art critic who stumbles upon an amazing artist who uses real blood to create macabre pieces of art. The macabre art takes off and becomes quite popular, but there is something wrong with these pieces: they come to life. Yes, there is a strange thing happening with these paintings, making this a trippy surprise.
Annihilation (Hulu)
Another interesting indie stars Natalie Portman as a scientist who is told her husband was found in a non-responsive state after going into a strange forest. The forest is strange because there seems to be a see through film surrounding a crash site. There is no telling what is beyond this film, but this infection seems to be growing, forcing Portman's character to take up the cause and find out what is happening.
Mandy (Mubi)
Mandy is perhaps one of the best examples of hardcore rock and acid ever put into a film. The film is definitely strange, but the plot is pretty straightforward since it is just about a guy who has to avenge his girlfriend's brutal death. The strangeness occurs when this man must battle demons to get to the person who killed his girlfriend, and it stars Nicolas Cage just to top things off.
These are just some of the indie films out there you can surprise your date with. Be sure to watch the film before to make sure the film matches your taste, or have a few backups just in case one fails to keep your attention.