When your daughter is too old for cute decorations in her bedroom but too young for the mature decorations that older teenagers have, you might want to consider designs that are suitable for a tween. You can keep some of the decorations that she had when she was younger in the room, but give them an updated look so that they are a bit trendier. An example would be to paint the walls violet or even a bright color, like teal or orange. This would give the room an eclectic feeling. Add a matching rug, a comfortable chair or an ottoman to complete the look. A study area that includes a desk and chair is also a must for any tween as you want to offer an encouraging environment to do homework. Add a bit of wall art to the room for a glam appearance along with vintage lighting. Find out how to add your own vintage art or how to change the lighting to a fun look by talking to a contractor.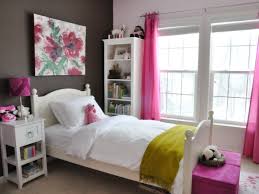 If you want to keep carpet in the room but your daughter thinks that it's a bit childish, consider adding laminate flooring or wooden planks with a colorful rug on top. This type of flooring is easier to keep clean instead of only having carpet in the room. If something gets on the rug, you can simply wash it and clean the floor underneath. Big patterns are a must in any tween girl's room. From zebra prints to polka dots, there are several patterns to choose from with bright colors as well. The windows are an opportunity to showcase the big patterns with sheer curtains. Neutral colors of black, white or gray often work best on the windows with brighter colors in other areas of the room. When it comes to the hardware in the room, such as the light switch or the curtain rod, you want a softer look. A touch of gold or brass hardware is an ideal touch to complete the room along with a satin finish so that it's not as harsh as a heavier metal would be for the tween.
When you begin adding furniture, think about a bit of whimsy. A dresser that is painted the same color of the wall with drawer pulls that are numbers would be a fun piece. Lamps and silver trays to hold pens, pencils and other small items add just the right amount of intricate details to the tween's room so that she begins to feel like an adult.