Cleopatra
Name: Cleopatra VII Philopator
Born: 69 BC, Alexandria, Egypt
Died: 12 August 30 BC, Alexandria, Egypt
Buried: Tomb of Antony and Cleopatra
Reign: 51 – 10 or 12 August 30 BC; (21 years)
Spouse: Mark Antony (m. 40 BC–30 BC), Ptolemy XIII Theos Philopator, Ptolemy XIV of Egypt
Children: Caesarion, Cleopatra Selene II, Alexander Helios, Ptolemy Philadelphus
Who is cleopatra?
Cleopatra VII Philopator was the last active ruler of the Ptolemaic Kingdom of Egypt, nominally survived as pharaoh by her son Caesarion. She was also a diplomat, naval commander, polyglot, and medical author. As a member of the Ptolemaic dynasty, she was a descendant of its founder, Ptolemy I Soter, a Macedonian Greek general and companion of Alexander the Great.
After the death of Cleopatra, Egypt became a province of the Roman Empire, marking the end of the Hellenistic period that had lasted since the reign of Alexander (336–323 BC).[note 5] Her native language was Koine Greek and she was the first Ptolemaic ruler to learn the Egyptian language.
In 58 BC, Cleopatra presumably accompanied her father, Ptolemy XII, during his exile to Rome, after a revolt in Egypt allowed his eldest daughter, Berenice IV, to claim the throne. The latter was killed in 55 BC when Ptolemy XII returned to Egypt with Roman military assistance. When Ptolemy XII died in 51 BC, Cleopatra and her younger brother Ptolemy XIII acceded to the throne as joint rulers, but a falling-out between them led to open civil war.
After losing the 48 BC Battle of Pharsalus in Greece against his rival Julius Caesar in Caesar's Civil War, the Roman statesman Pompey fled to Egypt, a Roman client state. Ptolemy XIII had Pompey killed while Caesar occupied Alexandria in pursuit of Pompey. As consul of the Roman Republic, Caesar attempted to reconcile Ptolemy XIII with Cleopatra.
However, Ptolemy XIII's chief adviser, Potheinos, viewed Caesar's terms as favoring Cleopatra, and so his forces, which eventually fell under the control of Cleopatra's younger sister, Arsinoe IV, besieged both Caesar and Cleopatra at the palace. The siege was lifted by reinforcements in early 47 BC and Ptolemy XIII died shortly thereafter in the Battle of the Nile. Arsinoe IV was eventually exiled to Ephesus and Caesar, now an elected dictator, declared Cleopatra and her younger brother Ptolemy XIV as joint rulers of Egypt.
However, Caesar maintained a private affair with Cleopatra that produced a son, Caesarion (Ptolemy XV). Cleopatra traveled to Rome as a client queen in 46 and 44 BC, staying at Caesar's villa. When Caesar was assassinated in 44 BC Cleopatra attempted to have Caesarion named as his heir, but this fell instead to Caesar's grandnephew Octavian (known as Augustus by 27 BC, when he became the first Roman emperor). Cleopatra then had Ptolemy XIV killed and elevated her son Caesarion as co-ruler.
Cleopatra Etymology
The name Cleopatra originates from the Greek name Kleopatra, meaning "glory of her father" in the feminine form. It is derived from kleos, "glory", combined with pater, "ancestors", using the genitive form patros.
The masculine form would have been written either as Kleopatros (Greek: Κλεόπατρος) or Patroklos. Cleopatra was the name of Alexander the Great's sister, as well as Cleopatra Alcyone, wife of Meleager in Greek mythology. Through the marriage of Ptolemy V Epiphanes and Cleopatra I Syra (a Seleucid princess), the name entered the Ptolemaic dynasty.
Cleopatra Biography
Hellenistic portrait of Ptolemy XII Auletes, the father of Cleopatra, located in the Louvre, Paris Ptolemaic pharaohs were crowned by the Egyptian High Priest of Ptah at Memphis, Egypt, but resided in the multicultural and largely Greek city of Alexandria, established by Alexander the Great of Macedon. They spoke Greek and governed Egypt as Hellenistic Greek monarchs, refusing to learn the native Egyptian language.
In contrast, Cleopatra could speak multiple languages by adulthood and was the first Ptolemaic ruler to learn the Egyptian language. She also spoke Ethiopian, Trogodyte, Hebrew, Arabic, the Syrian language (perhaps Syriac), Median, Parthian, and Latin, although her Roman contemporaries would have preferred to speak with her in her native Koine Greek.
Aside from Greek, Egyptian, and Latin, these languages reflected Cleopatra's desire to restore North African and West Asian territories that once belonged to the Ptolemaic Kingdom.
Roman interventionism in Egypt predated the reign of Cleopatra. When Ptolemy IX Lathyros died in late 81 BC, he was succeeded by his daughter Berenice III. However, with opposition building at the royal court against the idea of a sole reigning female monarch, Berenice III accepted joint rule and marriage with her cousin and stepson Ptolemy XI Alexander II, an arrangement made by the Roman dictator Sulla.
Ptolemy XI had his wife killed shortly after their marriage in 80 BC, but was lynched soon thereafter in the resulting riot over the assassination. Ptolemy XI, and perhaps his uncle Ptolemy IX or father Ptolemy X Alexander I, willed the Ptolemaic Kingdom to Rome as collateral for loans, so that the Romans had legal grounds to take over Egypt, their client state, after the assassination of Ptolemy XI.
The Romans chose instead to divide the Ptolemaic realm among the illegitimate sons of Ptolemy IX, bestowing Cyprus to Ptolemy of Cyprus and Egypt to Ptolemy XII Auletes.
Cleopatra Early childhood
Cleopatra VII was born in early 69 BC to the ruling Ptolemaic pharaoh Ptolemy XII and an unknown mother, presumably Ptolemy XII's wife Cleopatra VI Tryphaena (also known as Cleopatra V Tryphaena), the mother of Cleopatra's older sister, Berenice IV Epiphaneia. Cleopatra Tryphaena disappears from official records a few months after the birth of Cleopatra in 69 BC.
The three younger children of Ptolemy XII, Cleopatra's sister Arsinoe IV and brothers Ptolemy XIII Theos Philopator and Ptolemy XIV,were born in the absence of his wife. Cleopatra's childhood tutor was Philostratos, from whom she learned the Greek arts of oration and philosophy.During her youth Cleopatra presumably studied at the Musaeum, including the Library of Alexandria
Assassination of Pompey
A Roman portrait of Pompey made during the reign of Augustus (27 BC – 14 AD), a copy of an original from 70–60 BC, and located in the Venice National Archaeological Museum, Italy
In the summer of 49 BC, Cleopatra and her forces were still fighting against Ptolemy XIII within Alexandria when Pompey's son Gnaeus Pompeius arrived, seeking military aid on behalf of his father.[106] After returning to Italy from the wars in Gaul and crossing the Rubicon in January of 49 BC, Caesar had forced Pompey and his supporters to flee to Greece.
In perhaps their last joint decree, both Cleopatra and Ptolemy XIII agreed to Gnaeus Pompeius's request and sent his father 60 ships and 500 troops, including the Gabiniani, a move that helped erase some of the debt owed to Rome. Losing the fight against her brother, Cleopatra was then forced to flee Alexandria and withdraw to the region of Thebes.
By the spring of 48 BC Cleopatra had traveled to Roman Syria with her younger sister, Arsinoe IV, to gather an invasion force that would head to Egypt. She returned with an army, but her advance to Alexandria was blocked by her brother's forces, including some Gabiniani mobilized to fight against her, so she camped outside Pelousion in the eastern Nile Delta.
In Greece, Caesar and Pompey's forces engaged each other at the decisive Battle of Pharsalus on 9 August 48 BC, leading to the destruction of most of Pompey's army and his forced flight to Tyre, Lebanon. Given his close relationship with the Ptolemys, Pompey ultimately decided that Egypt would be his place of refuge, where he could replenish his forces.
Ptolemy XIII's advisers, however, feared the idea of Pompey using Egypt as his base in a protracted Roman civil war. In a scheme devised by Theodotus, Pompey arrived by ship near Pelousion after being invited by a written message, only to be ambushed and stabbed to death on 28 September 48 BC.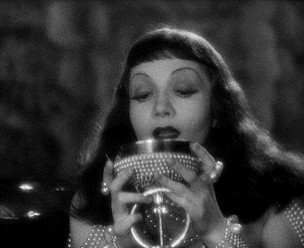 Ptolemy XIII believed he had demonstrated his power and simultaneously defused the situation by having Pompey's head, severed and embalmed, sent to Caesar, who arrived in Alexandria by early October and took up residence at the royal palace. Caesar expressed grief and outrage over the killing of Pompey and called on both Ptolemy XIII and Cleopatra to disband their forces and reconcile with each other.
Cleopatra Relationship with Julius Caesar
Ptolemy XIII arrived at Alexandria at the head of his army, in clear defiance of Caesar's demand that he disband and leave his army before his arrival. Cleopatra initially sent emissaries to Caesar, but upon allegedly hearing that Caesar was inclined to having affairs with royal women, she came to Alexandria to see him personally.
Historian Cassius Dio records that she did so without informing her brother, dressing in an attractive manner and charming him with her wit. Plutarch provides an entirely different and perhaps mythical account that alleges she was bound inside a bed sack to be smuggled into the palace to meet Caesar.
Sometime between January and March of 47 BC Caesar's reinforcements arrived, including those led by Mithridates of Pergamon and Antipater the Idumaean. Ptolemy XIII and Arsinoe IV withdrew their forces to the Nile, where Caesar attacked them. Ptolemy XIII tried to flee by boat but it capsized and he drowned.
Ganymedes was perhaps killed in the battle, Theodotus was found years later in Asia by Marcus Junius Brutus and executed, while Arsinoe IV was forcefully paraded in Caesar's triumph in Rome before being exiled to the Temple of Artemis at Ephesus. Cleopatra was conspicuously absent from these events and resided in the palace, most likely because she had been pregnant with Caesar's child since September 47 BC.
Caesar's term as consul had expired at the end of 48 BC. However, Antony, an officer of his, helped to secure Caesar's election as dictator lasting for a year, until October 47 BC, providing Caesar with the legal authority to settle the dynastic dispute in Egypt.
Wary of repeating the mistake of Cleopatra's sister Berenice IV in having a female monarch as sole ruler, Caesar appointed her 12-year-old brother, Ptolemy XIV, as joint ruler with the 22-year-old Cleopatra in a nominal sibling marriage, but Cleopatra continued living privately with Caesar. The exact date at which Cyprus was returned to her control is not known, although she had a governor there by 42 BC.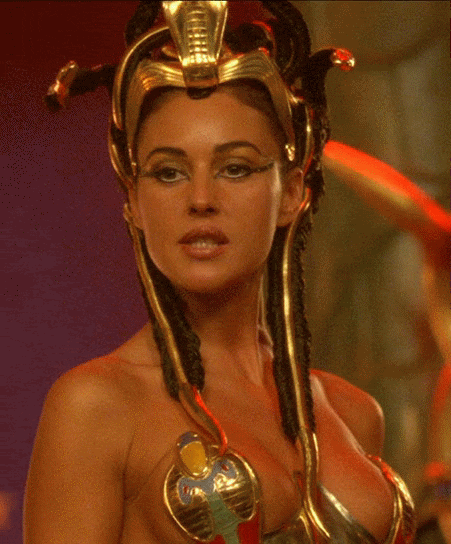 Cleopatra and Caesar (1866), a painting by Jean-Léon Gérôme
Caesar is alleged to have joined Cleopatra for a cruise of the Nile and sightseeing of Egyptian monuments,although this may be a romantic tale reflecting later well-to-do Roman proclivities and not a real historical event.
The historian Suetonius provided considerable details about the voyage, including use of Thalamegos, the pleasure barge constructed by Ptolemy IV, which during his reign measured 300 feet (91 m) in length and 80 feet (24 m) in height and was complete with dining rooms, state rooms, holy shrines, and promenades along its two decks, resembling a floating villa.
Caesar could have had an interest in the Nile cruise owing to his fascination with geography; he was well-read in the works of Eratosthenes and Pytheas and perhaps wanted to discover the source of the river, but turned back before reaching Ethiopia.
Caesar departed from Egypt around April 47 BC, allegedly to confront Pharnaces II of Pontus, son of Mithridates VI of Pontus, who was stirring up trouble for Rome in Anatolia. It is possible that Caesar, married to the prominent Roman woman Calpurnia, also wanted to avoid being seen together with Cleopatra when she bore him their son. He left three legions in Egypt, later increased to four, under the command of the freedman Rufio to secure Cleopatra's tenuous position, but also perhaps to keep her activities in check.
Caesarion, Cleopatra's alleged child with Caesar, was born 23 June 47 BC, and was originally named "Pharaoh Caesar", as preserved on a stele at the Serapeum in Memphis. Perhaps owing to his still childless marriage with Calpurnia, Caesar remained publicly silent about Caesarion (but perhaps accepted his parentage in private). Cleopatra, on the other hand, made repeated official declarations about Caesarion's parentage, with Caesar as the father.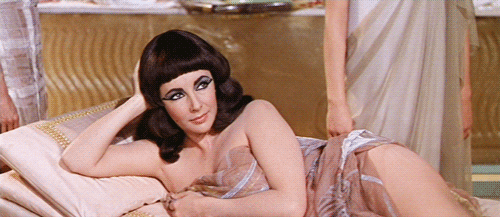 Cleopatra and her nominal joint ruler Ptolemy XIV visited Rome sometime in late 46 BC, presumably without Caesarion, and were given lodging in Caesar's villa within the Horti Caesaris.
Cleopatra's presence in Rome most likely had an effect on the events at the Lupercalia festival a month before Caesar's assassination. Antony attempted to place a royal diadem on Caesar's head, with the latter refusing in what was most likely a staged performance, perhaps to gauge the Roman public's mood about accepting Hellenistic-style kingship.
Cicero, who was present at the festival, mockingly asked where the diadem came from, an obvious reference to the Ptolemaic queen who he abhorred. Caesar was assassinated on the Ides of March (15 March 44 BC), but Cleopatra stayed in Rome until about mid-April, in the vain hope of having Caesarion recognized as Caesar's heir.
However, Caesar's will named his grandnephew Octavian as the primary heir, and Octavian arrived in Italy around the same time Cleopatra decided to depart for Egypt. A few months later, Cleopatra had Ptolemy XIV killed by poisoning, elevating her son Caesarion as her co-ruler.
Cleopatra's Relationship with Mark Antony
A Roman bust of the consul and triumvir Mark Antony, located in the Vatican Museums
Cleopatra invited Antony to come to Egypt before departing from Tarsos, which led Antony to visit Alexandria by November 41 BC. Antony was well-received by the populace of Alexandria, both for his heroic actions in restoring Ptolemy XII to power and coming to Egypt without an occupation force like Caesar had done.
In Egypt, Antony continued to enjoy the lavish royal lifestyle he had witnessed aboard Cleopatra's ship docked at Tarsos. He also had his subordinates, such as Publius Ventidius Bassus, drive the Parthians out of Anatolia and Syria.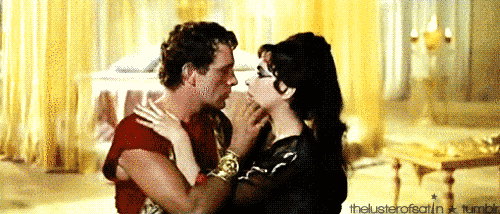 Cleopatra carefully chose Antony as her partner for producing further heirs, as he was deemed to be the most powerful Roman figure following Caesar's demise. With his powers as a triumvir, Antony also had the broad authority to restore former Ptolemaic lands, which were currently in Roman hands, to Cleopatra. While it is clear that both Cilicia and Cyprus were under Cleopatra's control by 19 November 38 BC, the transfer probably occurred earlier in the winter of 41–40 BC, during her time spent with Antony.
By the spring of 40 BC, Antony left Egypt due to troubles in Syria, where his governor Lucius Decidius Saxa was killed and his army taken by Quintus Labienus, a former officer under Cassius who now served the Parthian Empire. Cleopatra provided Antony with 200 ships for his campaign and as payment for her newly acquired territories.
She would not see Antony again until 37 BC, but she maintained correspondence, and evidence suggests she kept a spy in his camp. By the end of 40 BC, Cleopatra had given birth to twins, a boy named Alexander Helios and a girl named Cleopatra Selene II, both of whom Antony acknowledged as his children. Helios, the sun, and Selene, the moon, were symbolic of a new era of societal rejuvenation, as well as an indication that Cleopatra hoped Antony would repeat the exploits of Alexander the Great by conquering the Parthians.
Downfall and death of Cleopatra
Further information: Epaphroditus (freedman of Augustus) and Tomb of Antony and Cleopatra
A Roman painting from the House of Giuseppe II in Pompeii, early 1st century AD, most likely depicting Cleopatra, wearing her royal diadem, consuming poison in an act of suicide, while her son Caesarion, also wearing a royal diadem, stands behind her While Octavian occupied Athens, Antony and Cleopatra landed at Paraitonion in Egypt.
The couple then went their separate ways, Antony to Cyrene to raise more troops and Cleopatra sailing into the harbor at Alexandria in a misleading attempt to portray the activities in Greece as a victory. It is also uncertain if at this time she actually executed Artavasdes II and sent his head to his rival, Artavasdes I of Media Atropatene, in an attempt to strike an alliance with him.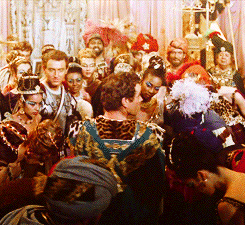 Lucius Pinarius, Mark Antony's appointed governor of Cyrene, received word that Octavian had won the Battle of Actium before Antony's messengers could arrive at his court. Pinarius had these messengers executed and then defected to Octavian's side, surrendering to him the four legions under his command that Antony desired to obtain.
Antony nearly committed suicide after hearing news of this but was stopped by his staff officers. In Alexandria he built a reclusive cottage on the island of Pharos that he nicknamed the Timoneion, after the philosopher Timon of Athens, who was famous for his cynicism and misanthropy.
Herod, who had personally advised Antony after the Battle of Actium that he should betray Cleopatra, traveled to Rhodes to meet Octavian and resign his kingship out of loyalty to Antony. Octavian was impressed by his speech and sense of loyalty, so he allowed him to maintain his position in Judea, further isolating Antony and Cleopatra.
Cleopatra had Caesarion enter into the ranks of the ephebi, which, along with reliefs on a stele from Koptos dated 21 September 31 BC, demonstrated that Cleopatra was now grooming her son to become the sole ruler of Egypt. In a show of solidarity, Antony also had Marcus Antonius Antyllus, his son with Fulvia, enter the ephebi at the same time. Separate messages and envoys from Antony and Cleopatra were then sent to Octavian, still stationed at Rhodes, although Octavian seems to have only replied to Cleopatra.
Cleopatra requested that her children should inherit Egypt and that Antony should be allowed to live in exile in Egypt, offering Octavian money in the future and immediately sending him lavish gifts. Octavian sent his diplomat Thyrsos to Cleopatra after she threatened to burn herself and vast amounts of her treasure within a tomb already under construction.
Thyrsos advised her to kill Antony so that her life would be spared, but when Antony suspected foul intent, he had this diplomat flogged and sent back to Octavian without a deal.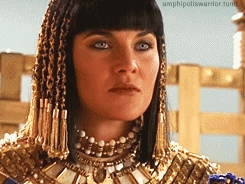 After lengthy negotiations that ultimately produced no results, Octavian set out to invade Egypt in the spring of 30 BC, stopping at Ptolemais in Phoenicia, where his new ally Herod provided his army with fresh supplies. Octavian moved south and swiftly took Pelousion, while Cornelius Gallus, marching eastward from Cyrene, defeated Antony's forces near Paraitonion.
Octavian advanced quickly to Alexandria, but Antony returned and won a small victory over Octavian's tired troops outside the city's hippodrome. However, on 1 August 30 BC Antony's naval fleet surrendered to Octavian, followed by his cavalry.
Cleopatra hid herself in her tomb with her close attendants, sending a message to Antony that she had committed suicide. In despair, Antony responded to this by stabbing himself in the stomach and taking his own life at age 53. According to Plutarch, he was still dying when brought to Cleopatra at her tomb, telling her he had died honorably and that she could trust Octavian's companion Gaius Proculeius over anyone else in his entourage.
It was Proculeius, however, who infiltrated her tomb using a ladder and detained the queen, denying her the ability to burn herself with her treasures. Cleopatra was then allowed to embalm and bury Antony within her tomb before she was escorted to the palace.
The Death of Cleopatra (1796–1797),
Octavian entered Alexandria, occupied the palace, and seized Cleopatra's three youngest children. When she met with Octavian, she told him bluntly that "I will not be led in a triumph" according to Livy, a rare recording of her exact words.
Octavian promised that he would keep her alive, but offered no explanation about his future plans for her kingdom. When a spy informed her that Octavian planned to move her and her children to Rome in three days, she prepared for suicide as she had no intentions of being paraded in a Roman triumph like her sister Arsinoe IV.
It is unclear if Cleopatra's suicide in August 30 BC, at age 39, took place within the palace or her tomb. It is said she was accompanied by her servants Eiras and Charmion, who also took their own lives. Octavian was said to be angered by this outcome but had her buried in royal fashion next to Antony in her tomb.
Cleopatra's physician Olympos did not explain her cause of death, although the popular belief is that she allowed an asp, or Egyptian cobra, to bite and poison her. Plutarch relates this tale, but then suggests an implement (knestis) was used to introduce the toxin by scratching, while Dio says that she injected the poison with a needle (belone), and Strabo argued for an ointment of some kind. No venomous snake was found with her body, but she did have tiny puncture wounds on her arm that could have been caused by a needle.

Cleopatra decided in her last moments to send Caesarion away to Upper Egypt, perhaps with plans to flee to Nubia, Ethiopia, or India. Caesarion, now Ptolemy XV, would reign for a mere 18 days until executed on the orders of Octavian on 29 August 30 BC, after returning to Alexandria under the false pretense that Octavian would allow him to be king. Octavian was convinced by the advice of the philosopher Arius Didymus that there was room for only one Caesar in the world.
With the fall of the Ptolemaic Kingdom, the Roman province of Egypt was established, marking the end of the Hellenistic period. In January 27 BC Octavian was renamed Augustus ("the revered") and amassed constitutional powers that established him as the first Roman emperor, inaugurating the Principate era of the Roman Empire.
Cleopatra's kingdom and role as a monarch
Cleopatra on a coin of 40 drachms from 51–30 BC, minted at Alexandria; on the obverse is a portrait of Cleopatra wearing a diadem, and on the reverse an inscription reading "ΒΑΣΙΛΙΣΣΗΣ ΚΛΕΟΠΑΤΡΑΣ" with an eagle standing on a thunderbolt.
Following the tradition of Macedonian rulers, Cleopatra ruled Egypt and other territories such as Cyprus as an absolute monarch, serving as the sole lawgiver of her kingdom. She was the chief religious authority in her realm, presiding over religious ceremonies dedicated to the deities of both the Egyptian and Greek polytheistic faiths.
She oversaw the construction of various temples to Egyptian and Greek gods, a synagogue for the Jews in Egypt, and even built the Caesareum of Alexandria, dedicated to the cult worship of her patron and lover Julius Caesar. Cleopatra was directly involved in the administrative affairs of her domain, tackling crises such as famine by ordering royal granaries to distribute food to the starving populace during a drought at the beginning of her reign.
Although the command economy that she managed was more of an ideal than a reality,the government attempted to impose price controls, tariffs, and state monopolies for certain goods, fixed exchange rates for foreign currencies, and rigid laws forcing peasant farmers to stay in their villages during planting and harvesting seasons. Apparent financial troubles led Cleopatra to debase her coinage, which included silver and bronze currencies but no gold coins like those of some of her distant Ptolemaic predecessors.
Cleopatra Ancestry
Cleopatra belonged to the Macedonian Greek dynasty of the Ptolemies, their European origins tracing back to northern Greece. Through her father, Ptolemy XII Auletes, she was a descendant of two prominent companions of Alexander the Great of Macedon: the general Ptolemy I Soter, founder of the Ptolemaic Kingdom of Egypt, and Seleucus I Nicator, the Macedonian Greek founder of the Seleucid Empire of West Asia.
While Cleopatra's paternal line can be traced through her father, the identity of her mother is unknown. She was presumably the daughter of Cleopatra VI Tryphaena (also known as Cleopatra V Tryphaena), the cousin-wife or sister-wife of Ptolemy XII.
Cleopatra I Syra was the only member of the Ptolemaic dynasty known for certain to have introduced some non-Greek ancestry, being a descendant of Apama, the Sogdian Persian wife of Seleucus I. It is generally believed that the Ptolemies did not intermarry with native Egyptians.
Michael Grant asserts that there is only one known Egyptian mistress of a Ptolemy and no known Egyptian wife of a Ptolemy, further arguing that Cleopatra probably had not a drop of Egyptian blood in her and "would have described herself as Greek."
Stacy Schiff writes that Cleopatra was a Macedonian Greek with some Persian ancestry, arguing that it was rare for the Ptolemies to have an Egyptian mistress. Duane W. Roller speculates that Cleopatra could have been the daughter of a half-Macedonian-Greek, half-Egyptian woman belonging to a family of priests dedicated to Ptah (a hypothesis not generally accepted in scholarship about Cleopatra), but contends that whatever Cleopatra's ancestry, she valued her Greek Ptolemaic heritage the most.
Claims that Cleopatra was an illegitimate child never appeared in Roman propaganda against her. Strabo was the only ancient historian who claimed that Ptolemy XII's children born after Berenice IV, including Cleopatra, were illegitimate.
Cleopatra V (or VI) was expelled from the court of Ptolemy XII in late 69 BC, a few months after the birth of Cleopatra, while Ptolemy XII's three younger children were all born during the absence of his wife. The high degree of inbreeding among the Ptolemies is also illustrated by Cleopatra's immediate ancestry, of which a reconstruction is shown below.
The family tree given below also lists Cleopatra V, Ptolemy XII's wife, as a daughter of Ptolemy X Alexander I and Berenice III, which would make her a cousin of her husband, Ptolemy XII, but she could have been a daughter of Ptolemy IX Lathyros, which would have made her a sister-wife of Ptolemy XII instead.
The confused accounts in ancient primary sources have also led scholars to number Ptolemy XII's wife as either Cleopatra V or Cleopatra VI; the latter may have actually been a daughter of Ptolemy XII, and some use her as an indication that Cleopatra V had died in 69 BC rather than reappearing as a co-ruler with Berenice IV in 58 BC (during Ptolemy XII's exile in Rome).
SEE ALSO: Prophet Muhammad Untold Stories
Fact Check
We strive for accuracy and fairness. If you see something that doesn't look right, contact us!
Thanks for reading and remember to share this post
Source: wiki