If you suffer from the aches and pains associated with arthritis, then you know how difficult it can be sometimes just to get up and face another day. Living with daily pain can take both a physical and mental toll on you. No one should have to live with the daily pains of arthritis. Here are eight products that can offer you some serious hope to live with your arthritis and live a pain free life.
Copper Fit
The use of copper to treat medical issues isn't new. For thousands of years copper has been used to treat headaches, stomach pains and wounds. If fact it is an important trace element that helps keep your immune system healthy and also helps regulate the thyroid gland.
As Seen on TV's Copper Fit is one compression sleeve product that infuses copper into the nylon/spandex material. It easily slips over your joints like your elbows and knees and offers relief from aches, pains and inflammation. The trace copper that is released onto your skin from sweating is absorbed into your body and is an added benefit of wearing them.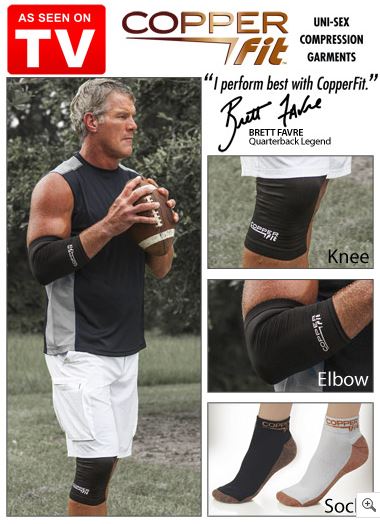 EZ Vegetable Peeler
If you have achy and swollen hands, you know how difficult it can be just to do simple things like peeling vegetables. The EZ Vegetable Peeler may be a solution for you. It is a small palm-size device that slips over your fingers and lets you peel your vegetables with ease. The peeler is held in the palm of your hand. It is made from stainless steel and is easy to clean up as well.
Anti-Arthritis Gloves
Compression gloves may offer you relief from arthritis flare-up and the inflammation. Anti-arthritis gloves give you comfort all day long and ease pain associated with arthritis and even carpal tunnel syndrome. They are unisex and one size fits all.
Emu Arthritis Pain Relief
There are lots of topical ointments and creams available over the counter. Emu Cream is a great product that can relieve tough arthritis pain. The product works quickly to ease muscle aches and to loosen up your stiff joints.
Hot/Cold Gel Bead Back-Therapy Belt
Hot and cold pack therapy is an easy pain reliever. The Gel Bead Back-Therapy Belt is designed to be used hot or cold. The removable gel pack is removable and can be heated in a microwave. Place the same gel pack in the freezer to help bring comfort to your aches and pains.
Biofreeze
Visit your local retail or drug store and you'll find a variety of over the counter products that help you find relief and reduce your arthritis pains. Biofreeze is one of the more popular products available to you. It is a topical ointment that goes on smooth and is absorbed quickly into your skin.
EZ Motion Heat Therapy Gloves
These compression gloves provide support for your hands and wrists. They are made to give you temporarily relief of the aches and pains from arthritis. Like most compression wear products, the also help increase blood circulation and get you support. One great feature of the EZ Motion Heat Therapy gloves is that you can safely heat them in the microwave.
CobraZol
CobraZol is a product roll-on topical gel that goes to work right away to relief you of arthritis pains. Since it is a topical cream, you can use it anywhere you have pain. Unlike some products, CobraZol doesn't have a smelly odor.
So stop living with the everyday misery of arthritis aches and pains. Do your research and find those products that are right for you.