Who is Antonio Rudiger?
Antonio Rudiger was born on 3rd March 1993 in the capital city of Germany, Berlin to father Matthias Rudigerand mother Lily Rudiger. His family were originally from Sierre Leone,   a nation in Africa and moved to Germany in search of better opportunities   during the verge of Civil War.
Early Life And Career Of Antonio Rüdiger
Antonio Rudiger used to play street football during his early years and spent eight years playing amateur football, including striker and midfielder, in various positions. Rudiger finally joined Stuttgart in the 2011/12 season following youth spells with different clubs including Hertha Zehelndorf and Borussia Dortmund.
SEE ALSO: Virgil van Dijk Untold Stories and Net Worth
He made his debut in Bundesliga on 29 January 2012 for Stuttgart against Borussia Monchengladbach in the 79th minute in a 3-0 defeat.  His Stuttgart's career was mix up of some fine performances and injuries. Altogether he made eighty appearances for Stuttgart and scored two goals.
Professional Career In Roma And Chelsea FC
On 2015/16 season Rudiger was loaned out to Italian club Roma for a fee of  $4.7 million which included an optional transfer fee of $10.6 Million at the end of one year contract. He made his Serie A debut on 12 September 2015 against Frosinone in a 2-0 away win. He scored his first goal for AS Roma against bitter rival AC Milan in a 1-1 draw on 9th January 2016.
He made 37 appearances for Roma and scored two goals in the table as Roma finished third. His loan deal was made permanent when Roma paid $10.6 million for his services because of his amazing performances in his first season at Italy. His second season was better in defensive records as Roma finished second just behind Juventus leaders at the table. The season he made 35 appearances for Roma, adding four assists to his name as well.
Back on the pitch for 90 min. ??????⚽️ thanks to the @ChelseaFC development squad ?? #cleansheet #homevictory #comebackwork #Hustle #AlwaysBelieve pic.twitter.com/UsjdfkrvLp

— Antonio Rüdiger (@ToniRuediger) August 19, 2019

His amazing performances in Roma earned him a move to English side Chelsea FC. Chelsea paid $39 million for him. He made his debut for Chelsea in a defeat against Arsenal FC in 2017 Community shield.  He made his league debut in the opening match of the season against Burnley which was also a 3-2 defeat.
He scored his first league goal against Swansea on 29th November 2017.  Antonio Conte's men have failed to repeat their domestic success of last year but Rudiger was praised by many critics for his amazing ball playing skills and tackling abilities.
SEE ALSO: Romelu Lukaku Untold Stories and Net Worth
International Career
Rudiger has played many games for the national team of Under 18 and Under 21 Germany. He made his senior debut against Poland for Germany on May 13, 2014. He was also included in the Euro 2016 team but was absent as a result of a knee injury.
He was also included in the 2017 FIFA Confederation Cup's young German squad and played four tournament games. Rudiger also played in a 1-0 win over Chile in the final of the tournament as Germany was crowned champions.
He also featured in several of the games for Germany in Worldcup qualifying match 2018. He scored his first international goal on 8th October 2017 against Azerbaijan in a 5-1 home win.
 Antonio Rudiger Networth And Salary
His market value was raised by $18 million in 2017 during his tenure in Roma.  He earns a weekly salary of $121,725 from Chelsea FC.  His estimated net worth as of 2018 is about $11 million. Together with Belgian athlete Nafissatou Thiam, he endorses Nike brand and has also been associated with Nike respond campaign. His collection of vehicles includes Range Rover($69,000-$118,000) and Audi(28k-$69k).
His current net worth is estimated to around 17 million euros. His market value is probably about what Chelsea paid for him when they attracted the German defender. Antonio rudiger current market value is 35 million Euros.
Antonio Rüdiger Wife, Relationship and Personal Life
Antonio Rudiger likes to remain as confidential as possible in his private life. Some reports say he is still unmarried, but he has a name for a girlfriend Reta whom he met in Roma during his days of playing.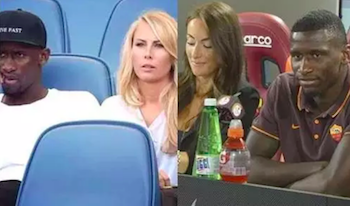 Former Liberian player George Weah and Ronaldo(Brazilian) are considered by Rudiger as his idol. His parents come from Sierre Leone. A former soccer player is also his half-brother Sahr Senesie.  He's got four sisters and a family friend. He's the oldest of them. He was an Arsenal fan at his young age and said he has followed Arsenal since Thierry Henry and Dennis Bergkamp's days.
Antonio Rudiger Injury
FRANK LAMPARD admits that he does not know when the bewitched defender Antonio Rüdiger will be able to play again.
The dominant German middle half is facing new misery after suffering a freak injury in his comeback game two weeks ago. Rüdiger slipped on a metal plate when he retrieved the ball for a throw-in at Wolves and injured his groin.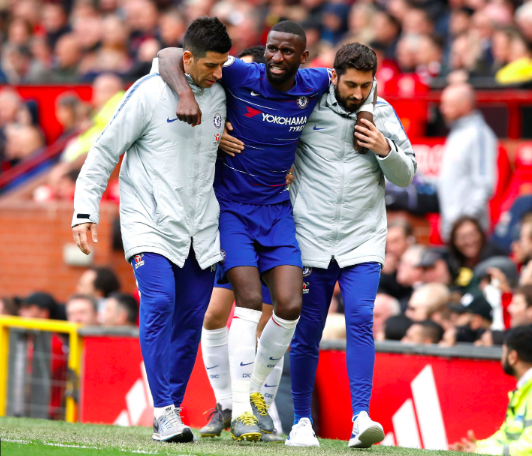 At first, they thought it – was just a minor injury, but Rudi is still exhausted and frustrated boss Lampard cannot even say when one of his key men will return.
Lampard said: "Toni has a recurring injury in the groin, so it's not the knee. We are trying to find a – solution because he is still in pain. We hope it won't take long, but we don't." I – don't have an end date for you. "
SEE ALSO: Frank Lampard Untold Stories and Net Worth
Rüdiger lasted only 45 minutes of his first game since a knee operation at the end of last season.
Lampard wants the experienced and athletic figure back at the centre of his defence. Chelsea have not managed to hold a goal against him this season, even in their 7-1 win over League One Grimsby in the Carabao Cup on Wednesday.
Lampard admits that he would prefer a permanent team, but insists that conceding goals is not his top priority.
Antonio Rudiger Bio
Fact Check
[spacer height="30px"]
We strive for accuracy and fairness. If you see something that doesn't look right, contact us!
[spacer height="30px"]