If you're planning on making any sort of a presentation soon, particularly one involved with science somehow, then you're going to have to figure out ways to engage your audience and make your message stick.
Since science topics can be very technical and some people consider them boring, the five following tips will help make sure that you keep your goal in mind – choose the right presentation medium, keep your words and phrases as simple as possible, include a packet of information for the audience, test out your presentation first on friends and family, and videotape yourself first before heading out into the public sphere.
Choose the Right Presentation Medium                 
When choosing the right presentation medium, you're basically making sure you've purchased a whiteboard that best suits your environment. It has to be big enough, and you have to have the right color pens available, and if you choose to have any sort of magnetic sheets involved, make sure those work with the lighting and size of the room as well.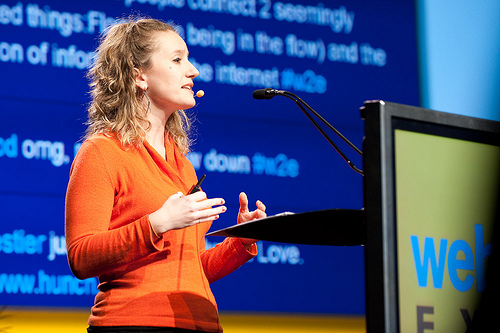 Keep Your Words as Simple As Possible                 
When discussing science, many presenters try to make themselves look smarter by using big words. Especially when addressing an audience, this is the opposite of what you should do. Research ways to make a great speech, and you will see that simplicity is at the heart of success.
Include a Packet of Information for the Audience     
Have your technical information about your topic readily available at the beginning of your presentation. This will allow your audience to browse through the information before you get started, and they can pay more attention to you and your words rather than concepts that they don't understand if they have not been given this information to start. Find out how to print pamphlets and you'll see that there are special techniques to use.
Test Out Your Presentation on Friends and Family
The first people to see the entirety of your presentation should be your friends and family. Have them be super critical and not try to avoid hurting your feelings or giving your real criticism. It would be terrible it they lied to you and told you your presentation was good, and when you finally made it to a real audience, you were booed off the stage. It sounds comical, but things like that happen!
Videotape Yourself First        
Another way to get feedback is by videotaping yourself and criticizing it. You can look at things like tone of voice, strength of voice, if your gestures are natural, how long your presentation takes, if your handwriting is legible, and other potential troubles like that. Find a way to set up a camera, and take a good long time to consider your performance.