Are you looking for swim spas in Ontario? Almost everybody wants to have a swimming pool in their house, but not everyone can afford to maintain one. So now, more and more families settle to owning a swim spa in their house.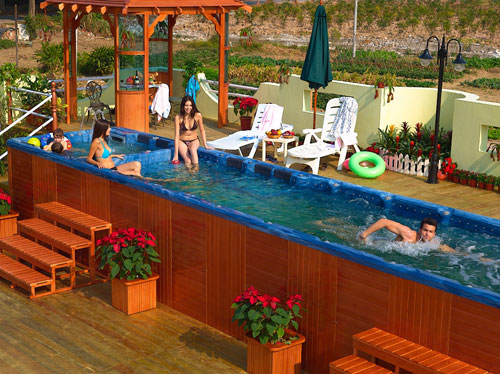 Cost and Space Saving
Swim spas save you a lot of money compared to traditional pool; yes they cost thousands of dollars at purchase but will save you a lot at maintenance. Because of its smaller size, it needs less water than a pool, thus needing fewer chemicals for the treatment of water. It is also space saving, because of its size, families with smaller backyards can have installed at their houses to experience the luxury of having a swimming pool. You can also take this swim spa with you to your new home if ever you move; it is portable in that sense so you don't have to buy a new one when moving.
Health Benefits of Swim Spas
Aside from these cost-saving and space-saving reasons, there are also a lot of health benefits you can get from swim spas.
Massage Therapy
You can enjoy the hot water therapy this spa can give you. You can just sit there and relax while the water current is massaging your tensed muscles, or easing your joint pains. This is beneficial for people with arthritis. The water current is adjustable based on your preference.
Exercise
The water jets can be adjusted to release faster and more powerful current. Swimmers can use this feature by swimming against the current; this will allow them to swim laps worth of distance while staying in place. This is very useful for swimmers who want to train but don't want to worry about turning every lap, don't want to pay rent for bigger pools, or just don't want to leave the house.
Relaxation
After swimming, or doing any form of water exercise, you can then switch to the spa feature of the tub. It is good for muscle relaxation after a tiring workout and gives you warmth.
Since you have this swim spa at your own house in Ontario, you can enjoy all these benefits all-year round. You don't have to worry about the snow if it's winter since you can adjust the water temperature. You don't have to worry about leaving the house since you can do all those mentioned above from the comforts of your own house. Spending your money on swim spas is worth every single penny.