It is a well-known fact that your house and lifestyle speak for your social standing and reflect your personality. Who doesn't like celebrity mansions and interior decoration glossies?  Everyone cannot afford big bucks to refurnish home and get a swish look. But who says you need to go way aboard from your budget and splurge for luxurious and classy looking house. Don't change everything in the house just add few hacks to bring plush and lavishness in the décor.
Hang High and Wide
Curtains and drapes complete a room. If your window size is small, you can create an illusion of spacious look by hanging curtains high and wide. Higher the rod, taller would be the window appearance. So, fix your curtain rod closer to ceiling rather than top of the window.  It adds a classy element in the room. Choose the fabric that suits the desired ambience of the room. Rich color and decent texture will do rest of the magic.
Wainscoting Charisma
The best way to add character to any wall is by getting wainscoting design which also solves the problems of scratches and scrapes. This detailed interior trimming and styling brings an upscale and formal look to the rooms. You may cover one third of the wall with raised panels, flat panels, shakers and bead boards. Without spending much money and time, you may choose different stylings for foyers, stairs, hallways, living room, bathrooms and kitchen. The durability depends on the material used. As per your budget and choice, you can select from plywood, plastic or fibreboard. You can cast a formal flair and spotlight by adding creative wainscoting details.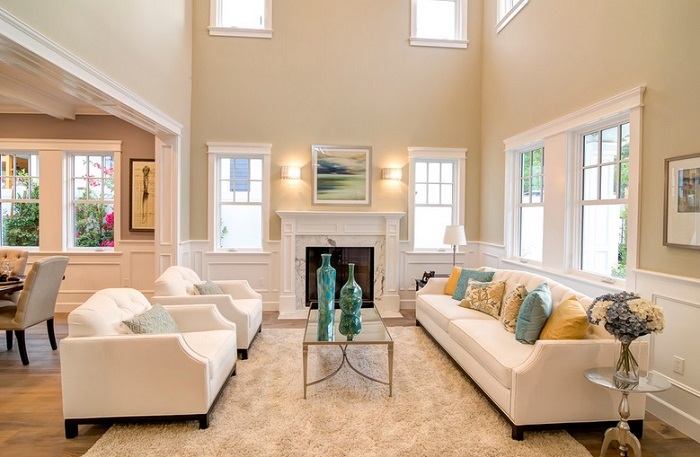 Hang an Art
Remove all old frames and wooden hangings. Replace all these old styled wall décor with a big, bold and beautiful art work that captures most of the wall area. Big art pieces will add an impressive statement. It's perfectly okay to stick with your budget and not go after a famous painting. Magnificent painting brings contemporary look to you room.
Gallery Walls
Instead of filling wall with only one artwork, you may fill it with frames. An assortment of pictures in frames gives an amiable look. Hanging pictures should not be a hard task. Other than family photos you can actually go for paintings, landscape photos and book cover photos as per your likes and taste. Living room, hallway, dining room and bedroom will give a warm look with beautiful pictures on the walls.
Rug it up
You may solve the problem of a room lacking excitement by adding a rug to it. A beautiful and well-fit rug defines the space. Understand the color scheme of the room and then decide color and design pattern of the rug. You may also use it as a wall hanging to make it as a focal point.  Choose the rug shape which looks the best. You may get square, round or oval shape in market. Pick what compliments your furniture arrangement.
Mirror Doubles the Beauty
Give your home a fresh vibe by revamping old mirrors. Nautical style mirrors with hanging ropes are so in trend these days. If you have a big mirror in bathroom, you may trim that by adding a shelf or a cabinet in the middle that will work for extra storage too. A room looks more sophisticated if it has a great shaped mirror in it. In fact hanging a big mirror in small room, makes space seem bigger.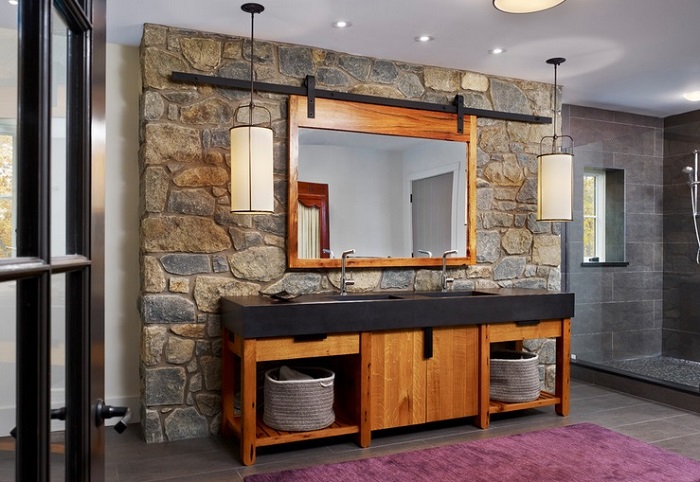 Crown Your Cabinets with Mouldings
Mouldings bring enhancement to architectural details especially in kitchen cabinetry. Add a moulding or trim to cabinet for a nicer look. Be it plain or fancy, the mouldings along the cabinet edges followed by paint and priming bring elegance to the doors and drawers. Cabinet re-facing would cost way lesser than getting new cabinet.
Make a Statement with Light
Statement lighting can change any area into a welcoming one. Light from a bold statement pieces can bring luxe to the room. You may choose from plenty of modern designs for Table Lamps, Floor fillers or pendant lights. If you are confused, just got for the safest option-a chandelier.
Splash on Ceiling
A room is never about 4 walls. Do not forget about 5th one- The Ceiling. You may be surprised to know how a dash of color on ceiling can give a charismatic look to your room. A glam color on the ceiling hides all imperfections as long as it compliments with rest of the furnishing.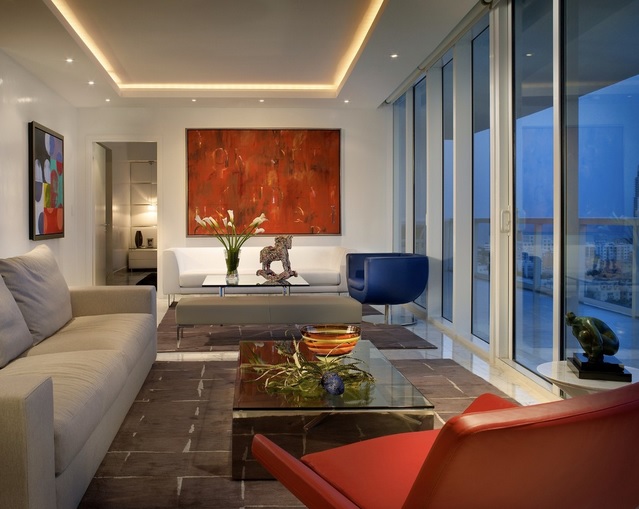 Roman Shades
Roman shades are the fabric panels which are fit against the window in such a way that when fully extended, these give a clean and stacked fold look like an accordion. Replace the old blinds with roman shades. You can customize the design to match with the rest of the planned décor. Other benefits include easy to clean, wipe and move. You will get number of designs in hobbled and flat shades. When it comes for fabric, you may choose from multiple options depending upon light filtering you prefer.
These suggestions mentioned above will do the wonders but still, the refurnishing will depend a lot on your selection, personal style and preferences. To give a kick start to the plan, get rid of the clutter. Remember, the key is to have a luxe décor look is keep it minimalistic and still be into details.