With a population of above 1 billion people and several languages in each region, India might not seem an interesting marketing for English book publishers. Though people love to read books and novels in India, most of the books sold are in regional languages. In such a scenario, what attracts international book publishers towards India?
With increased literacy rate and more emphasis by Indian parents on English-medium education, English has become a common language thread. This has also given rise to the readers of English books. Further, pirated books for international publishers available at dirt cheap prices in flea markets in India have given international book publishers a hope to enter into the Indian market. This is what luring International book publishers into the Indian market. Apart from this, there are a few other reasons why they consider India a good place to gain profits.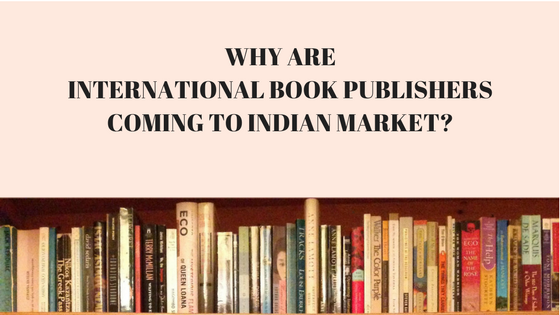 To tap the English reading population
Gone are the days when English used to be an alien language in India. Now English-medium education is available to anyone that made it easier for the masses to at least, understand the language, even if they are not able to speak it fluently.
With the internet boom, India has become a part of the global pop culture that also included books. International book publishers who never considered India a good place for them have now found a largely untapped market. From children's books to novels, ebooks, reading books and reference books, publishers are tapping every available option.
To boost sales in literary events
Not just the number of readers, but there is also a significant rise in the number of book promotion events. The New Delhi book fair is one of such events that witnesses presence of thousands of people. These fairs make it easier for the book lovers to access more variety of books, finding which might not be possible at bookstores. The population visiting these book fairs is knowledgeable and interested in exploring new material, which international book publishers can provide them.
To sell more physical books
Though with the increased use of the internet, the craze for ebooks has increased in India, but there is still a huge scope for physical books. This is the reason some publishers like Cambridge University Press India offer both ebooks as well as physical books. Digital books still have limited scope and demand.
There is a decline in the physical publishing industry due to increased demand for e-readers and e-books. However, India has a market for paper books and international book publishers take it as a great opportunity to sell their physical books.
To work with Indian authors
In past few years, the number of Indian authors writing in English has increased. They look for international book publishers in India who can help them with the publishing and marketing of their new book.
Writers like Chetan Bhagat and Robin Sharma wrote books that were not for awards but to relate to the common masses. This sparked the trend of Indian authors writing English books for the Indian market and book publishers found this a great opportunity to work with these authors to establish them in Indian book market.
These are some of the major factors that create a perfect opportunity for the overseas publishers in India. From large reader base to literary events, the demand for physical books, increased emphasis on English-medium education and new authors writing English books, everything gives publishers a reason to tap Indian book market.
As the Indian publishing industry getting matured, a rising number of literary agencies are emerging from different countries. These publication houses are also cultivating a new generation of writers by giving them an opportunity to get their books published with an ease. So, it is a win-win situation for all.