Generally speaking, when we think of railings we think of wrought iron fences. Intricate and ornate as well as practical, cast iron railings make a great addition to any household looking to up its design ante.
Although railings were originally designed with the purpose of marking land boundaries, the truth is they make a stunning aesthetic addition to outside spaces such as balconies and front gardens. Read on to see some inspirational examples of really good railings that will inspire you to renovate your exteriors today!
1. Although building regulations will determine the exact placement of any railings around your home (check), when it comes to selecting a material to construct your design the possibilities are almost endless. Something like the stylish contemporary design below which utilises different types of metals and experiments with both vertical and horizontal supports is great as it allows light to pass through to create a feeling of space. Better yet, a pared down design like this one will fit seamlessly into any pre-existing outside space.
2. For families and individuals keen to ensure their exterior furnishings are versatile enough to withstand changes in landscaping, using organic materials is a great option. Even in more urban environments, a natural footnote can make a welcome contrast against a sea of cement. Wood is not only long lasting, it can also be varnished in a range of different finishes and colours to suit every taste and style. Indeed, as in the design below, using wood is a great way to create visual interest whilst providing some much needed privacy from the outside world.
3. Glass is another excellent option for creating modern exterior railings for the home. If you feel that glass is too risky in a home with pets and small children, it is worth noting that tempered glass and acrylic alternatives are available. Best for homes with impressive views or smaller residences that want to increase their feeling of space, check bbc.co.uk for more ideas on how glass can be used to showcase your home's best features. And don't forget to get creative with your glass railing framework – having frames cast in vinyl or wood is a great way to add a sense of texture and personality to a fairly simplistic base.
4. For those who favor a more traditional look but can't commit to the cost of installing ironwork railings, the style below brings together the best of both worlds. Contemporary, stylish and boasting exquisitely intricate design, this railing design also adds much needed impact to a fairly bare outdoor space. Visit for hints, tips and advice on how to look after your ironwork and ensure it stays looking its best for as long as possible.
5. If you're lucky enough to have majestic stone exteriors like those pictured below, an elegant ironwork railing can really help to add some personality to an otherwise plain stone surface. Add character to your outdoor spaces by taking inspiration from any shapes in the vicinity. Indeed, the designers responsible for creating this railing have done just that, incorporating whorls and veins which mimic the trees behind the balcony. Curved designs work particularly well against an angular surround as they are ideal for softening up dramatic edges.
6. If slender railings smack of old-fashioned design to you, then bring your exteriors right up to date with an ironwork cut-out like the piece pictured below. Particularly arresting against a brickwork backdrop or when contrasted against more natural materials, a railing such as this one adds much needed drama to a small stairwell.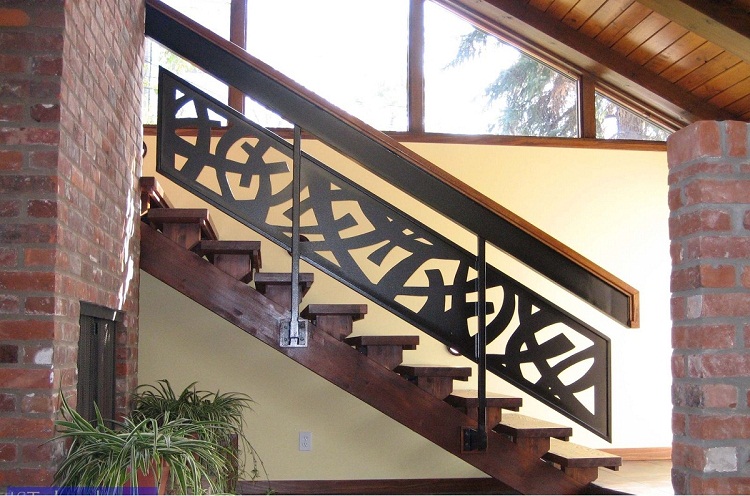 7. Who said a great railing design has to be straight? This fantastic balcony railing mimics the waves of the sea behind it with its fluid structure. This design is particularly fun as it plays with perspective by offering different vantage points to visitors. Using a shiny material like metal is perfect for capturing the light and reinforcing the feeling that onlookers are observing yet another wave crest.
8.This custom design features silhouettes of wild foliage and reeds in order to complement the lake beyond the garden. A great example of working with what you have, this quirky cast iron railing fits into its surroundings perfectly, blending into the natural theme.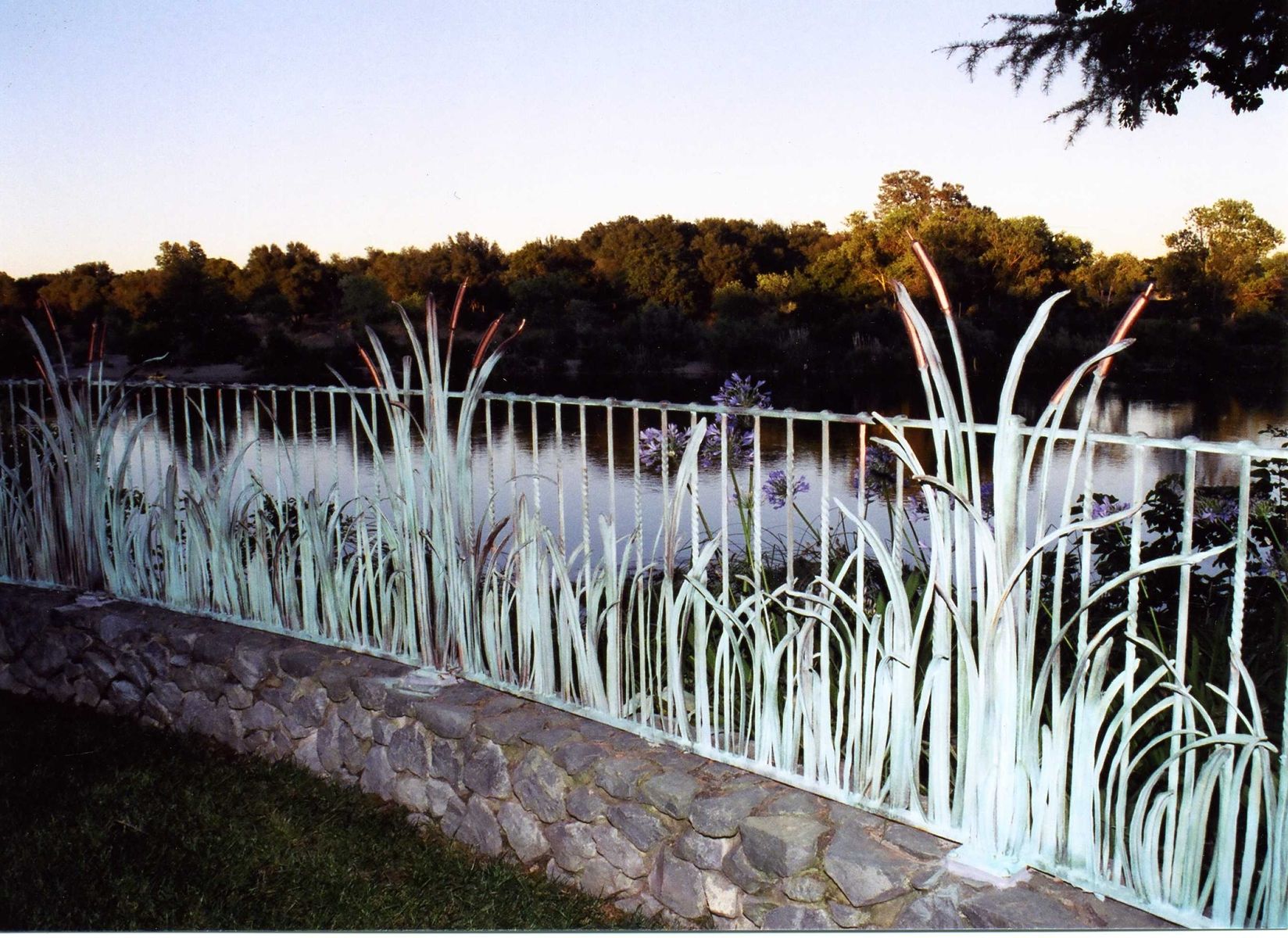 Hand cast designs like this allow you to pick your own materials (bronze, iron, copper) and colours, making it easier than ever to add some drama to the horizon. Against a fairly dark woodland backdrop, these white railings draw attention to the highlights on the surface of the water and add another dimension to this outdoor space.