String lights are so synonymous with winter holidays that it is very hard to imagine Christmas and the New Year's Eve without them, but, once the holiday euphoria settles, we are used to put them away until the end of the year when snow starts falling again. And why is that so? String lights are, essentially, a pretty awesome room decoration, so, if you were going to store your string lights for the next seasons, or have never been the fan in the first place, here are few ideas how you can use them to bring some light into your décor.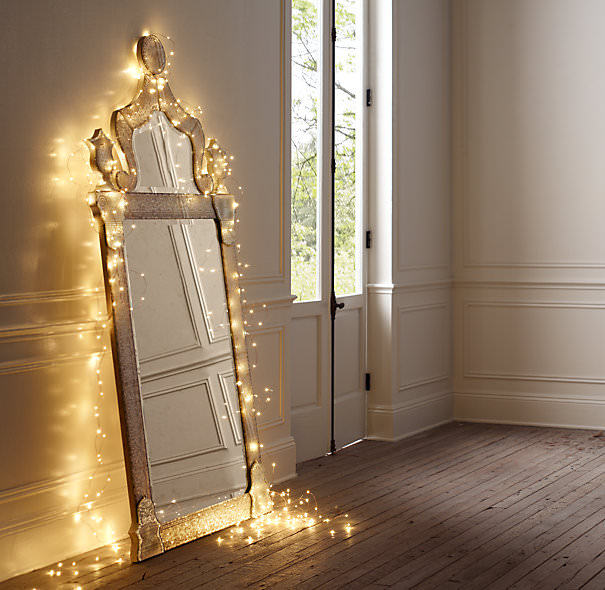 Different Types of String Lights
Before we proceed to some of the decoration ideas, we have to mention some of the most well spread string light varieties so you can decide which one will suit you the best.
Incandescent Lights – Very small and therefore very popular amongst the people which like their decoration on the more discrete side, incandescent lights come in a number of shapes. They also produce less heat, which makes them perfect for indoor decorations, but small amount of energy also means less light, and because they are wired in series, if one bulb is damaged, the entire set will not work.
LED Lights – LED lights are a bit more efficient and immensely more durable than incandescent lights, and they practically do not become warm too, but their colors are too vibrant to look natural. They are also the more expensive option out of two.
"Wrings on the Wall"
Do you like some short quote, motivational message, or you just love the sight of your significant other's name? Why would you not use the string lights to write it on the wall? Find some place which will be close to plug (you do not want to ruin the look by stretching the cable too far across the wall), decide how vibrant you want that quote to be, and do the rest of the job with a stapler.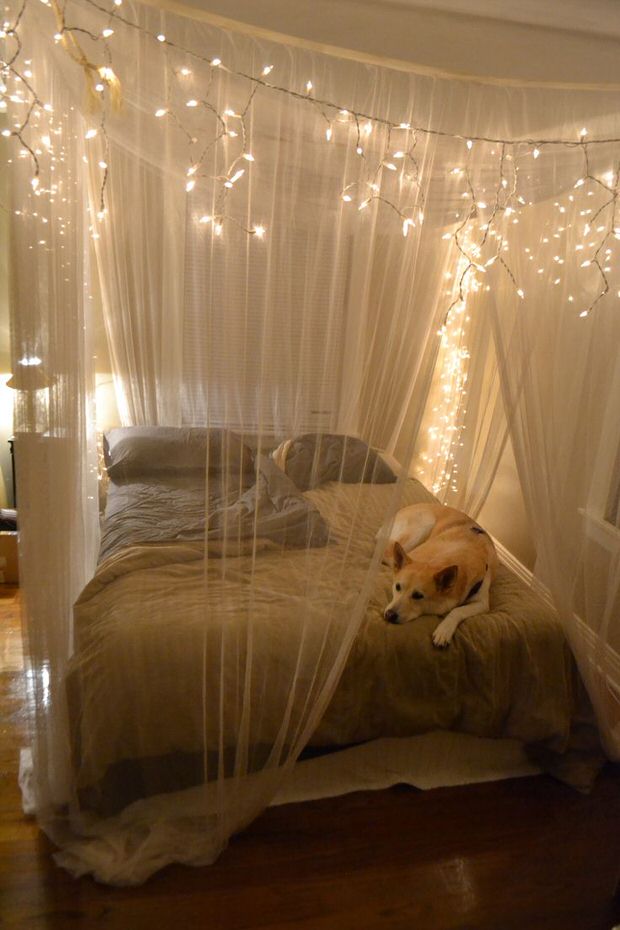 Night Sky
If you like the sight of the night sky full of stars, the good news is that now you can have it even in your bedroom. Arrange the lights so they reassemble the scattered stars, add designer lighting here and there to mimic the look of North Star, Moon, and other "shinier" astronomical objects, and enjoy "open sky" from the comfort of your bed. If you are more ambitious, you can even try to recreate some constellations, or even the Milky Way.
Broadway Backstage Mirror
You know those glamorous well-lighted mirrors we usually see as a part of some Broadway backstage? Now you can have one too. Take this into consideration though – Although the look of these mirrors can be pulled of even with incandescent and LED lights, in this case, you should probably consider using C7 or C9 lights, which are larger, and therefore more faithful to the look.
Enchanting Bed Canopy
Bad curtains and canopies are inherently enchanting. It seems that the only way to make them more like that is to upgrade them with beautiful string lights. And truly, once you combine the gentle white tulle with warm yellowish colors of the lights you will end up with something extraordinarily magical.
Improvised Light Bulbs
Finally, you can use string lights to create beautiful improvised "light bulbs" out of any kind of transparent glass containers (e.g. pots). In this case, you should search for the "firefly lights" (one of the smallest and the newest varieties), and you will get very appropriate effect – Your bulb will look like a lots of fireflies captured in a pot.
Those were few different types of string lights, and few ideas how you can use them. All you have to do now is to unleash your imagination, and prove that this decoration can be used way beyond winter holidays.