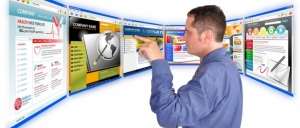 Website designing lies at the core of every successful online endeavor, helping website owners as well as website visitors in achieving their desired objectives from a website simultaneously. That is why it is rated so high in developing an efficient and convenient website. There are different elements that assist website designing to play the lead role in creating a desirable and successful online experience. In this article, we will discuss about an important element of website designing that often does not get the limelight it deserves, i.e. the role of wireframes in web design.
The Wireframe
The concept of Wireframe in web design pertains to diagrammatic illustration of web page layout with the help of different shapes like ovals, diamonds, squares, rectangles, etc., to represent different elements of a web page design such as content, function, navigation, and so forth. HTML coders resort to these shapes in having a diagrammatic description of how and where these elements will be placed on a web page and literally wire all these elements on a web page to have a better idea of how they will look, link, and perform within a design. As a matter of fact, Web designing becomes much convenient and structured with the help of wireframes and that is why we find so many useful resources online that are offer due assistance to designers in improving their web design solutions, such as:
 Balsamiq – It is a great tool whose wireframe mockups instill a feeling like a person is drawing, but only digitally. This enables designers to tweak the controls easily, so that the end result can be much cleaner and better structured. Additionally, it also enables different team members to iterate on various wireframe design aspects in real-time during a meeting.
Pencil Project – This is also a great tool to assist designers all over the world in producing design wireframes. It emerges as one of the most useful free and open source wireframe portal allowing people to get better GUI prototyping irrespective of their physical locations in different parts of the world.
Templatr – It is basically a Template Generator which helps users come up with a specialized design for their blogs online. It is a highly user friendly tool that does not entail anyone to have advanced HTML knowledge (or any other specialized software acquaintance). Once done with designing, a user can download the template by simply clicking over it.
iPlotz – With iPlotz, website designers can conveniently design clickable and navigable wireframes to better understand how different elements of their webpage would be placed and perform in a real design. One may also invite others to comment and assist on a particular wireframe, which adds to the convenience and utility of the tool.
FlairBuilder – It serves as a cross-platform tool for helping designers in producing interactive wireframes as well as other interface prototypes.
Conclusion
All these wonderful tools listed above hold as a testimony to the fact that web designers find digital wireframe assistance to be of great utility to them in improving the quality of their web design projects. You better try out some of these options to feel the difference for yourself.