Cleaning and maintaining a granite worktop is relatively easy as long as you know what to do and what products or cleaning materials to avoid. And whilst granite worktops in themselves are tough and durable, they can become stained as well. If you are unsure of how to properly clean and maintain your granite worktop, here's what you should know.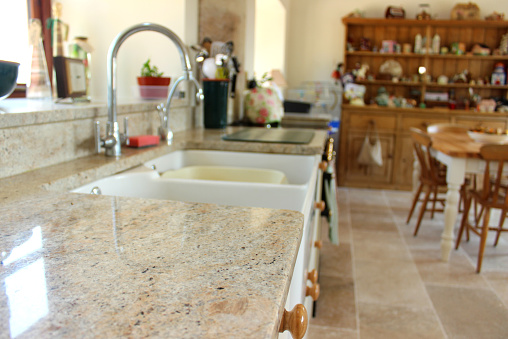 Preparing your Worktop for Cleaning

First, you have to prepare your worktop for cleaning. Wipe away any debris such as bread crumbs and bits of food and remove all the appliances on top of your worktop. Doing this will help you reach the entire worktop's surface rather than just the areas which are always exposed.
Preparing a Home-made Cleaning Formula
Then, prepare a cleaning mixture. You can make your own home-made formula for this, as long as you stay away from harsh soaps and liquids such as bleach and other liquids which are acidic (such as vinegar or lemon juice). Fill a bucket with warm water and mix in a few drops of mild dish soap and rubbing alcohol. Three parts dish soap and one part rubbing alcohol should do the trick. Alcohol is a great cleaner for granite worktops because it has the same pH level as water, but it is antiseptic as well.

Washing your Worktop
When washing your worktop with a microfibre cloth, make sure the cloth is fully immersed in the cleaning mixture before you wipe your worktop thoroughly. After wiping the cloth over your worktop, dry out the surface with another clean microfibre cloth. Another reason why microfibre cloths work best at cleaning your granite worktop is that they also enhance the shine and finish of your worktop.

Other Cleaning Products you can Use
There are also other cleaning products you can use which will not damage your worktop's surface. One of the most effective, however, is baking soda. Baking soda (also known as sodium bicarbonate) is particularly useful for tough, stubborn stains. Before you treat a stain with baking soda, you first have to find out whether the stain is oil- or water-based, as the treatment will depend on the type of stain you have. For a water-based stain, mix a cup of baking soda with five tablespoons of gentle dish soap. Add hydrogen peroxide to the mixture until it attains the consistency of yoghurt. For an oil-based stain, mix a cup of baking soda with five tablespoons gentle dish soap and enough warm water to achieve the same yoghurt-like consistency.
Then, simply apply the paste to the stain and cover the area with plastic wrap. Let the cover stand for one day before you wipe it off with a clean cloth. Granite worktop London specialists like J.R. Stone also recommend practical care with special granite cleaners and sealants.