Whilst everyone is responsible for health and safety in the workplace, there should always be a named contact who takes overall responsibility. Making sure your business complies with health and safety requirements is both an obligation and can help you limit any potential risk to employees.
Statutory obligations
The Institute of Occupational Safety and Health, IOSH are committed to ensuring that workplaces across the country are safe and productive places to work. By creating guidelines for business owners and courses for H&S representatives they make it clear exactly what should and shouldn't go on, in terms of safe working practices, managing risk, hazard awareness and legislation such as the Health and Safety at Work Act. Remember that legislation covers all workplaces across the UK, whether employees work in a business premises or are roaming workers.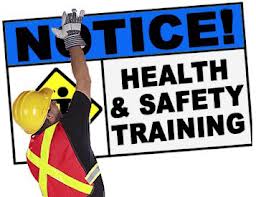 IOSH managing safely courses are run regularly by a number of accredited providers to ensure that workplaces are as safe as can be. These courses are appropriate for new H&S officers or as a good top up of knowledge for experienced representatives. Courses can help ensure that legislation is followed and that risks to all employees are identified and minimised. In making sure that risk is controlled, businesses are doing all they can to keep their employees both safe and at work. Remember, if one of your employees is absent from work due to an industrial accident it impacts on profit.
Course content
Risk assessment is often a stick used to beat health and safety procedures and ridiculed by people who have no idea what it actually entails. The process of risk assessment is all about considering what may go wrong, how likely these events are, how harmful this could be and what could be done to mitigate against the risk. For example, when crossing the road, an accident could be fatal, but is quite unlikely to happen. To minimize the risk, use a pedestrian crossing. When looking at risk assessment and control in a course, these procedures will be tailored to your work place.
Health and safety legislation is in place to ensure that safe working practices are followed across the country. Making sure that your staff members are working in a safe environment is vital to having a productive business. Remember that legislation like the Health and Safety at Work Act will have different implications for different businesses, but applies to everyone.
Finally, the course includes modules on investigation of problems and measuring the impact of health and safety procedures. No amount of risk assessment and safe working practices can keep everyone safe, but ensuring that accidents are logged, investigated and learned from will help to minimize risk further still.
Passing the course
Accredited IOSH safety management courses conclude with a written and practical assessment. The written paper is a 45 minute examination with 20 questions in a variety of formats. The practical assessment will test your ability to apply safe working procedures in a real world context. Passing these assessments will give course attendees an IOSH Managing safely certificate, showing that they are up to speed with procedures and legislation.
AUTHOR BIO
Idania writes regularly about business issues for a range of websites including http://www.phoenixhsc.co.uk/training/iosh-courses/iosh-managing-safely. When she is not writing, Idania is often found customizing guitar pedals.