Google Meet: The COVID 19 pandemic has made video conferencing software more popular for real-time collaboration with colleagues and students/teachers who are all stuck at home and unable to meet in person. The Zoom rival was reaching over100 million daily meeting participants during the coronavirus pandemic lockdown.
Meeting with Google Meet
Of all the programs available, Zoom may be the most widely used, as its free account can already accommodate dozens of people and longer meeting times.
Nevertheless, there is one up-and-coming candidate that meets the requirements of COVID-19: Google Meet.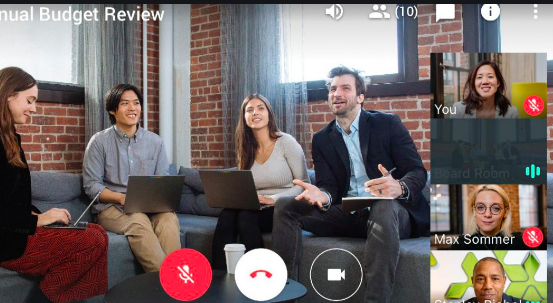 For those who don't know what Google Meet is, it's Google's adoption of video conferencing software that allows for multiple people in a meeting room and reasonable meeting time, minus all the complicated steps that Zoom has.
SEE ALSO: What is Google Adsense?  How you can make money
According to UC Today, Google Meet already has over 100 million meeting attendees, which makes it incredibly popular as a zoom and other video conferencing devices.
Google Meet Features and Security
Perhaps one of the best features of Meet is the meeting time.
Currently, a video meeting can last as long as you like. This makes it an excellent choice for online webinars, training, meetings and courses. However, this will change in October, as each video meeting can only last one hour after Fast Company.
However, this is already longer than the free version of Zoom, which only allows video conferencing for up to 40 minutes.
In addition, Meet users can easily send scheduled meetings via Google Calendar and even start spontaneous video conferences with a number of people via Gmail.
Maybe it's even easier to use because most people today have a Google Account.
The technology giant is also proud of Meet's security features, which ensure that there are no random anonymous joiners-there are more complex meeting codes and encryption in transit, plus additional security protection against account hijacking and phishing.
SEE ALSO: Best websites to make money online from home
Although the features are still missing compared to Zoom, Meet is a great alternative for those who want a simpler tool for video conferencing.
How to use it
Google Meet: How do you set up and use your account after you know what Google Meet offers?
You can either use it directly from your browser by going to the website or on Android or iOS devices. The former is the best choice if you want to explore the software and its full range of features.
Once there, you will need to choose whether to start a meeting or join one.
To start a meeting, click the New Meeting button. Three choices are then displayed
Get a meeting link to share
Start an immediate meeting
Schedule in Google Calendar, but the third option is only available if you use your web browser.
For those who are attending a meeting, there are two options: First, the host sends a link, and you can simply click it and you'll be connected. Or, the host can send you the meeting code, which you'll have to manually enter in the appropriate sections.
Get Started with Google Meet
[spacer height="30px"]
[spacer height="30px"]
Fact Check
We strive for accuracy and fairness. If you see something that doesn't look right, contact us!
[spacer height="30px"]
Reference: Techtimes