Steps to help you Increase your Domain Authority
There are hundreds of thousands of factors that Google consider to determine the search engine ranking of a blog or website. One particular that has taken on great importance over the years is the domain authority of a website.
Domain authority is a metric that was developed by Moz. The higher your domain authority is, the more likely you are to earn a higher search engine ranking and to receive more and better web traffic. Your domain authority is also a good way to measure your SEO efforts as well as compare the strength of your website to your competition's websites.
Domain Authority vs Page Authority
Before we get into the meat of how domain authority is factored and how you can go about improving your site's domain authority, it's important to differentiate it from page authority. Page authority is a similar metric, but instead of measuring the strength of an entire domain or subdomain, it measures the ranking strength of a single web page.
Domain authority is scored on a scale of 1 to 100 (1 being the worst, 100 being the best) using an algorithm designed by Moz. Its logarithmic scale means that it's much easier to improve your score if your domain authority is at a 20 or a 30 than if it was at a 70 or an 80. Domain authority between 40 and 50 is considered average, between 50 and 60 is considered good and over 60 is considered excellent.
see also : How to locate and fix broken links on your website in 2019
So how exactly does Moz determine your Domain Authority score? It uses over 40 different factors, but the following are some of the most important:
Linking Root Domains – This is the number of unique backlinks your website has earned. So if it has obtained 20 external links from two different websites, then you've only had two linking root domains. Earning a few links from different websites will boost your ranking more than earning many links from the same website.
MozRank – MozRank is the metric used to score the strength of your website's external links. It takes into account not just the number of links that are pointing back to your site, but also the quality of those links. Quality tends to beat quantity, which means that one good external link is better to have than two low-quality links. MozRank uses a 0-10 scale (with 10 being the highest). The average MozRank rating for a website is a 3.
MozTrust – Like MozRank, MozTrust is a metric used to help determine the quality of your external links. However, it's a little more specific in that it measures how closely your website is connected to trusted websites. Trusted websites are .edu or .gov sites. Even if a .edu or .gov site links to a site that then links to you, it's considered a sign of trust that helps increase your MozTrustrating, which is also based on a 0-10 rating.
Quality Content – Content is one of the main factors on which a website's search engine ranking is based on, so it should come as no surprise that the quality of your website's content is a factor in determining its domain authority. While domain authority may help improve your search engine ranking, it also correlates closely with it.
Social Signals – Google uses social signals as one of the main factors in identifying good quality content. For example, it's safe to assume that a piece of content that is shared, liked and commented on hundreds of times must be of some quality. Moz uses the same social signals in determining domain authority.
Search Engine Friendliness – This refers to the use of SEO as well as to the site structure and user-friendliness of your website. Site structure can directly affect usability in that poor site structure makes your site difficult to navigate. It also makes it difficult for search engines to properly crawl and index your site, which can hurt your rankings. This is essential for your domain authority as well.
How Does Moz Calculate Page Authority?
Although domain authority provides a better understanding of how your entire website is performing, it doesn't mean that page authority isn't as useful. In fact, the page authority of your site's webpages has a direct impact on your overall domain authority as well as your search engine ranking, after all.
Moz uses a similar scale as domain authority to score page authority, meaning a 100-point, logarithmic scale. Keep in mind that even if you haven't done anything to a page, its score may still fluctuate due to the fact that Moz is constantly updating their algorithm.
The following are some of the ranking factors that Moz uses to determine page authority:
Social signals, such as the number of Google+1's, Facebook Likes, Twitter Retweets or LinkedIn Shares a page has received.
The number of root domains linking to the page.
The number of root domains linking to the page using partial match anchor text.
The number of subdomains that link to the page.
The number of quality websites linking to the page.
The number of external links a page has.
Check out our recent blog post on how to increase page authority to get the best of both worlds.
Steps On How To Increase Your Domain Authority
Now that you understand why domain authority is important and the ranking factors used by Moz to determine a website's domain authority, you're probably wondering how you can put that to use in order to actually increase your domain authority score.
The following are the 9 steps that you should follow to increase domain authority, from the very beginning of your site's creation:
Step 1: Choose A Good Domain Name
If you are just starting out, then pick a domain name that is relevant to your website. Look at our site, SEOPressor as an example. We are mainly focusing on WordPress SEO plugin, which explains why we have the keyword 'SEO' in our domain:
It should be something that's relatively easy to remember so that visitors won't have any issues returning to your site because they forgot your domain name. You may even want to buy an old domain so that you don't have to make a domain age.
If you already have a domain, make sure it's not going to expire anytime soon by renewing it for at least three to five years.
Step 2: Optimize Your On-Page Content
SEO matters for both Google search engine ranking as well as your domain authority, so make sure that you optimize all on-page code, including your title tags, image alt tags and the content itself.
see also : How to become a YouTube Millionaire (Verified Simple ways )
Additionally, include variations of your main keywords, keep all of your permalinks short and relevant, and create a sidebar section for new posts.
Step 3: Create Linkable Content
In order to earn high-quality links form multiple domains, which both MozRank and MozTrust use as important factors, you need to create high-quality content that is published at regularly.
The better your content is, the more likely it will be that another authoritative site will link to it. This means that your content has to be relevant to your brand and to your audience, informative, creative, and well written.
Step 4: Improve Your Internal Linking Structure
Many websites are so concerned about earning external links that they overlook the importance of internal links. Internal links help to direct visitors to what they are trying to find, thereby improving their user experience. This means that if they've burrowed deep into your back catalog of blog posts, they can still easily find their way to your homepage by one of your internal links.
In SEOPressor, we usually do internal linking by suggesting other related blog posts to our readers just in case they would like to read more about that particular topic.
Internal links help prevent visitors from leaving out of frustration, and also help to keep them engaged with your website at the same time. Additionally, internal links make it easier for search engines to index your entire site.
Since we are talking about internal linking, SEOPressor has recently collaborated with the team from LinkVector.io to help webmasters like you build a solid internal link foundation for SEO. The partnership of these two powerhouses has made it easier for you to link your pages from somewhere relevant in your site.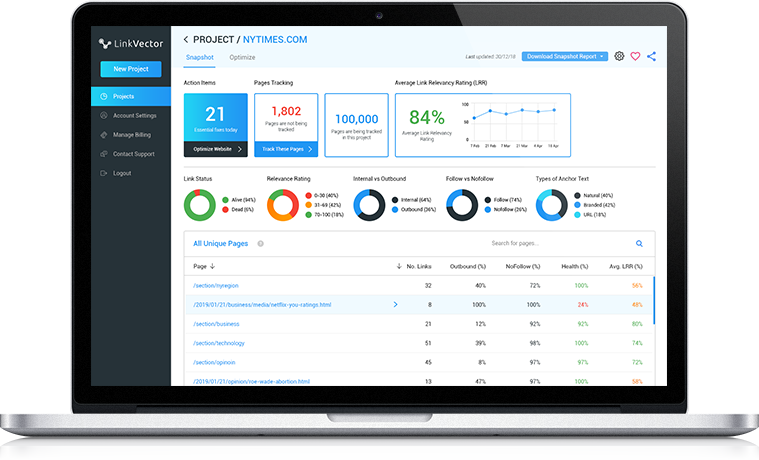 Here's a brief introduction on LinkVector:
It is an internal linking tool, designed to discover all internal and outbound links of a domain. You can benefit from using this tool as it can help you find internal linking opportunities according to the level of relevancy of each link found in your site.
Other than that, LinkVector will analyze all the links, presents them in a link map visualizer that can be easily understood. They vow to help you strengthen your website's On-Page SEO and increase your site's rankability to gain significant traffic that you deserve.
Skip the hassle of having to manually do internal linking and let LinkVector assist you to a better ranking position!
Step 5: Remove Bad And Toxic Links
Every once in a while, you should go through your link profile and search for any backlinks that are bad or toxic. This will allow you to remove links from bad sources that could end up hurting your domain authority instead of helping it.
You should also remove any links posted throughout your website that lead to bad sites or are broken as these will have a negative impact as well.
It can be a hassle to check on each and every link on your website. To make things easier, you can use SEOPressor's Link Manager that can help to manage all of your links in one place. You no longer have to check the links one by one. Instead, you can check the status of your link – whether it's Broken or Alive on Link Manager itself.
Step 6: Make Sure That Your Website Is Mobile-Friendly
A huge number of online users access the web through mobile devices. If your website hasn't been optimized for mobile use yet, then you're way behind.
Not only will it hurt your mobile search engine rankings, but you'll lose out on a lot of visitors who will simply leave your site once they realize that it's not being properly displayed on their smartphone or tablet.
see also : How you can Get Free Backlinks for Website Store
To check whether your website is mobile-friendly or not, you can visit this Mobile-Friendly Test by Google Developers page. It will analyze your web page and let you know how mobile-friendly your site is.
Step 7: Become An Authority Within Your Niche
This can only be done by creating great content and engaging with your followers and consumers on social media in a meaningful manner.
By boosting your reputation as an authority, you'll strengthen the identity of your brand, which will not only help increase traffic, but also increase the number of external links you earn from other high-quality sources.
Another way to increase your website authority is by doing guest blogs on other websites that are relevant to your industry.
Step 8: Increase The Loading Speed Of Your Webpages
Poor loading speed can have a nasty effect on your bounce rate. Most users have very little patience for a page that takes too long to load and will end up leaving your website altogether if their patience wears out.
You can also check your website's loading speed with the PageSpeed tool by Google Developers. Not only it will analyze the speed of your site, it will identify some ways for you to make your site faster and improve user experience.
Step 9: Promote Your Content Via Social Media
Because social signals are a big ranking factor, you'll need to promote your content on social media in order to obtain those signals. Otherwise, your content is just going to sit on your site all by itself.
Post links to your content on your various social media pages and be sure to encourage followers to like, share or comment on it. You should also include social share buttons directly on your webpages.
Wrapping It Up
Domain authority is important for a number of reasons. It allows you to judge the overall performance of your website. It also lets you compare your score to that of competing websites to see where you stand.
By being able to identify the domain authority of other sites, you can also identify other sites worth linking to in your content as well as sites that are industry authorities that are worth establishing a relationship with. Not to mention that it can help bring in stronger traffic.
Before you go, here's a quick guide to check your domain authority and a checklist on how to increase domain authority. Don't forget to tick these off:
Pick a domain name that is relevant to your niche.
Optimize on-page SEO including your title tags, image alt tags, and the content.
Produce high-quality content that people will link to.
Include internal links to improve user experience.
Run an audit to remove bad and broken links for a healthy website.
Go mobile-friendly.
Check your Domain Authority score on Open Site Explorer by entering your website's URL.
Become the expert within your niche.
Make sure your website loads fast to reduce bounce rate.
Do content promotion via social media – Facebook, Twitter, Google+., LinkedIn, Snapchat.
Don't forget to increase page authority as well!.
[spacer height="30px"]
Fact Check
We strive for accuracy and fairness. If you see something that doesn't look right, contact us!
Thanks for reading and remember to share this post on social media & stand a chance to win $10,000