Whether you are a professional photographer or not you must have felt the need of a photo editing software. You also must have felt the need of a photo editing software when you wanted to upload a particular photo on a social networking site. A photo editing software lets you fix minor blemishes in a particular photo and such a software also lets you enhance a photo. If you're looking for a good quality photo editing software at a reasonable price then you should consider buying Movavi Photo Editor. You'll find that there are many professional grade photo editing software available on the market which have many complex features and they cost a lot compared to other photo editing software that do not have to complex features. Those software usually require its user to undergo training to learn how to use those software. You'll also find many photo editing software that are available for free which are likely to lack features that you'll need. Movavi photo editing software is very reasonably priced and also it contains many photo editing features that you're sure to find useful.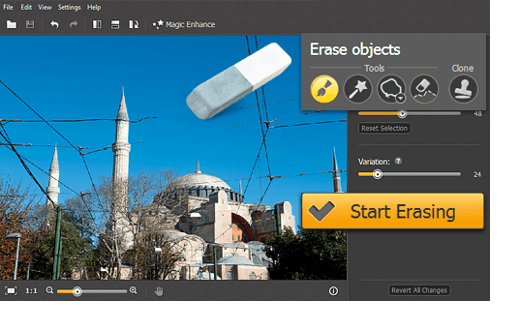 The software lets you erase anything you don't want in a photo with a single click. The software lets you remove shadows, power lines and other objects that you don't want in a picture to make it as close as possible to being a perfect click. The software is quite easy to use; you'll be able to use it even if you have no prior experience of using a photo editor. Unlike other professional grade photo editing software, you don't need to learn a lot about the method of using the software to be able to use it properly. Also a photo edited using this software will have no evidence of any photo editing.  The software not only lets you remove unwanted objects from photos but it also contains MagicEnhance feature that automatically adjusts the contrast, brightness white balance etc of your photo to make it even  better. Apart from that the software also lets you crop a photo. The software also enables you to crop a photo, flip it horizontally or vertically or rotate it. The software also lets you reduce the size of an image file. You will need to use this feature when you'll find that a particular image file is too big to share online. You can also reduce the file size of the image files using this software to create more free space in your hard disk or a memory chip.
You'll be able to purchase this software from the Movavi website. You must note that the software is available for both Windows and Mac platforms.