Ask a hundred people why they decided to purchase their current homes and you'll likely hear a hundred different responses. Yet with every answer, you'll likely see a common theme running through them: the flow-through of the property.
Maybe the owner loved the curb appeal; the way the landscaping lead them into the home.
Maybe the owner loved the openness of the main level living spaces, with the kitchen and living room feeding into each other.
Maybe the owner loved the outdoors as much as inside, with large glass doors giving free access from the kitchen to the outside entertaining areas.
In all cases, it's the way the house flowed. That movement between spaces. That's where the true magic occurred, and for most home buyers, it's the one requirement they have – even if they don't openly say it.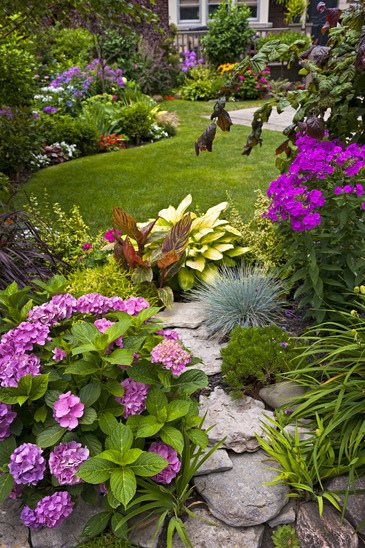 How do you go about creating that free-flowing spirit within your home? How do you create a harmonious link between the inside and out?
Look no further than your garden.
Ask a landscape designer and they will tell you that every garden has a purpose. Not just a purpose, but a clear and beneficial purpose.
And when aligning it with fitting in with the rest of your home, the more congruous you make both the inside and outside world, the greater the desired effect.
Choosing a Theme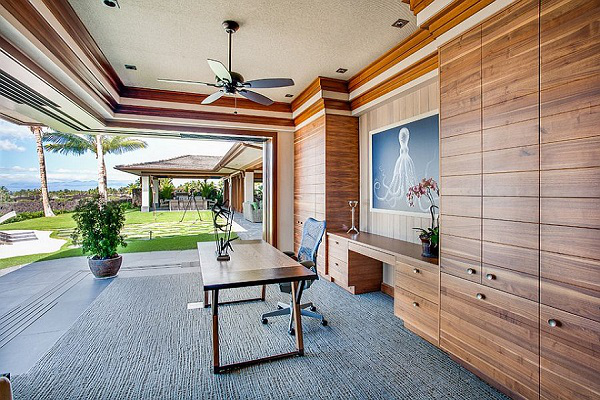 Chances are you already identify with a style, look no further than your furniture to determine your preferences. Do you love antiques? Are you into contemporary art? So you prefer traditional styles? This sets the path for a theme to run through all areas of your property.
If you've ever walked onto a property and felt a little out of place, it's often because the style doesn't flow from space to space. This can be avoided by continuing a style both inside and out. If you love natural materials, use them on your flooring, your furniture selections, and the color you choose to paint your walls. Hardwoods and tiling can often be matched and placed from your kitchen, to your living quarters, and out onto your patio.
It continues with the way your garden is placed. Tropical themes mixed with beige's and greens can be used in furniture and wall color on the inside, continued with natural stone and heavy green landscaping on the outside. Evergreens and deciduous trees can be placed in thoughtful locations that will mature into natural shading elements meant to accent the outside living spaces. Be careful to select the right trees that won't interfere with your outside activities on a regular basis. For instance, evergreens may be better placed near fountains and ponds for easier cleanup and maintenance. And placing them a little further away from patios can make tree trimming an easier process.
Creating the Link
Creating flow-through is important when building a connection from inside to out. A strong color scheme allows that to form easily. Start from the ground up and work from there. Flooring is one of the easiest ways to tie everything together. Can you choose a flooring that will function well both inside and out? Or a flooring that can be easily matched in multiple formats? With today's manufacturing processes, tile with the appearance of hardwood is an option, giving you the ability to carry your beloved hardwoods outside and still have them function well under the elements.
You can choose a variety of things that will help create flow-through.
Glass – glass is one of the best ways to connect your kitchen and living space with the outside world. Large windows let the light in. Sliding glass doors not only let fresh air flow in, but also make it easy to move between the two spaces easily. Increase your flow-through by adding sliding walls and pocket doors that allow you to increase the connection even more.
Lighting – while summer days may allow you to use your space longer into the evening hours, you'll get even more benefit if you create ambiance with night lighting. Strategically placed lights can give you ample light to move freely between the two spaces, and makes it friendlier and safer for all ages.
Furniture – today's outdoor friendly furniture comes in just about every style available for your indoor décor as well. Love light, natural pieces? Choose matching outdoor pieces too. Like glass? A glass breakfast table will complement an outdoor glass dining table nicely. By keeping them similar in nature, it's easy to blend
Color – color is one of the easiest elements you can use to bring everything together. You can use color in a variety of ways. Accent with accessories, such as pillows on chairs and couches inside and out, planters for your houseplants and landscaping. Even flowering trees can bring splashes of color to your outdoor living space in the spring and summer months.
Accent with Décor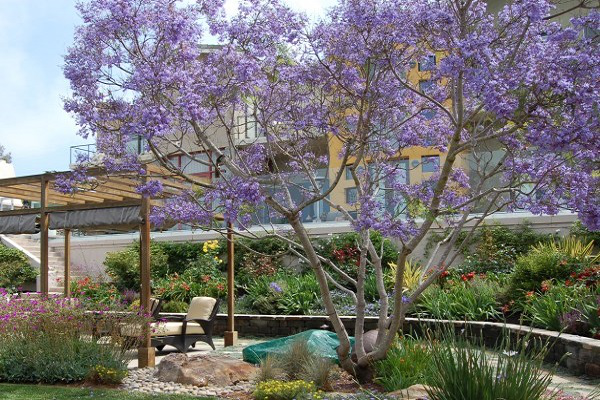 Because of our mild winters, it's easy to mix and match décor that is both beautiful and functional indoors and out.
The easiest way to create a canopy of shade is with a variety of trees. Depending on the age of your property, you can plant trees that will quickly provide both shade and ambiance in a few short years. Or work with a tree trimming company to give your trees the right shape and feel for the surrounding location.
From there, you can build in other separators and protectors. Umbrellas are one of the least expensive and most flexible ways to protect from the elements. You can continue the process with more permanent protectors, such as awnings and arbors.
Looking to create ambiance inside and outside this year with a garden? The best place to start is with landscaping you already have in place.