Every day you hear about a new major corporation jumping into cloud computing and dedicating a substantial portion of its IT budget to switching core tasks to the cloud. With the NSA, AT&T and PayPal generating headlines, it's easy to overlook the impact the cloud can have on smaller businesses. After all, the popular image of a multinational corporation investing millions of dollars in cloud computing doesn't resonate with the owner of a small but growing car dealership in the Pacific Northwest or a brand-new digital marketing firm nestled in the heart of the Midwest. A business doesn't need hundreds of servers to benefit from the cloud. As long as the services fit the needs of the business, the cloud can help in any endeavor.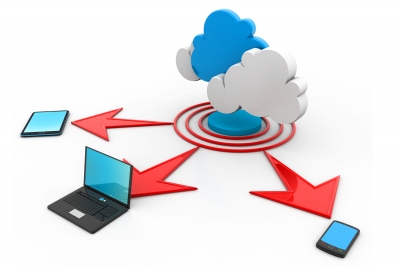 The Cloud is Economical
Rather than purchasing dedicated servers — in someone else's data center or for use in-house — businesses can rent resources, independent of physical packaging. Whereas a dedicated server might be underutilized or underpowered, a cloud server can scale to meet a company's exact needs, saving money during times of lower use. It's also easier for companies producing software to add development servers to a cloud network than it would be to lease more space in a data center or purchase a new machine. An admin can just spin up a new server instance from an available image and have a dev server up in a matter of minutes.
Cloud Storage Protects against Disaster
Any company with data saved on a computer can benefit from cloud storage. Whether it's one computer of hundreds, cloud services can store copies of every important file, giving users the ability to restore their files from anywhere they can access the Internet. Imagine how easily employees could save client meetings and business trips from disaster if nobody needed to worry about their work laptop crashing or forgetting files on their desktop computer.
Cloud storage can also prevent business disaster from following physical disaster, and it can help employees who want to work from home. With cloud storage, nobody has to stick with any single computer; people can work from their desktop at home, a laptop while traveling or their computer at the office and never lose any work.
Web Hosting
This is one area where the cloud really shines for small businesses. For years, virtual private servers (VPSs) have been the de rigueur hosting method for small businesses, but what do you do when your toy company's site starts getting massive traffic leading up to Christmas? Many hosts set limits on the amount of server resources any one VPS can use and you have to rely on the other users sharing the same physical server to keep their resource use low. That's not a concern with cloud Web hosting, though. No client's server instance has to use a specific physical machine, so you can use as many or as few resources as you need, without worrying about limits or fellow hosting clients.
The popular cloud computing image is of large corporations outsourcing entire IT operations to a cloud vendor; although it does happen, this view overlooks the people who can make the best use of the cloud. Small businesses can and do employ various cloud technologies to save money, avert disaster and improve Web experiences for customers. This popular technology opens up new avenues for local businesses that couldn't otherwise afford regular backups or robust Web hosting.