Name: Sloane Stephens
Residence Fort Lauderdale, Florida[1]
Born March 20, 1993 (age 26)
Country : United States, Plantation, Florida
Height 5 ft 7 in (1.70 m)
Turned pro : 2009
Plays Right-handed (two-handed backhand)
Coach Sven Groeneveld (2019–)
Official website sloanestephens.com
[spacer height="30px"]
Who is  Sloane Stephens?
In 2013, the tennis world believed the heiress to Serena Williams had finally arrived after a name previously not known had forced her to bow out of the 2013 Australian Open quarterfinals. The heiress is an American professional tennis player known as Sloane Stephens. Years later, she would continue to rise in the sports as she keeps making a name for herself in surprising ways. Here is all to know about Sloane.
Sloane Stephens Biography
Sloane Stephens was born on March 20, 1993,  in Plantation, Florida, USA to Sybil Smith and John Stephens. Sloane is of Trinidadian descent, she was raised by her mother after her father had left them when she was just but a toddler.
Unlike many other stars who began playing their sports or loving it since their earliest years, it was until Sloane was 9 that she made her first serious contact with the sports after she was pulled into it by her mother and her stepfather.
Soon enough, she showed great promises which wasn't surprising being that she was born into an athletic family with a mother who was a professional swimmer and a father who was a professional American football player. Sloane Stephens' father played for the New England Patriots from 1988 to 1993 in the National Football League (NFL).
Just two years after she was introduced to the sports she decided to make a life out of it by moving to Boca Raton in Florida to train at the Evert Tennis Academy.
Before kick-starting her professional career, Stephens had made a name for herself in the junior tennis scene with a number of wins including the 2010 Wimbledon Championships Girls' Doubles which she took home together with Tímea Babos.
Professionally, she has made a good run thus far. Her first major show was in 2013 after she defeated Serena Williams who was then ranked world No. 3 in the 2013 Wimbledon Championships and reaching the semi-finals before she was forced to also bow out by the world No. 1 then, Victoria Azarenka.
It was, however, until the 2015 Citi Open that Stephens got to win her first major title after she ended as the champion of the competition. This would be followed in 2017 by her first US Open title which saw her defeat Madison Keys to clinch the number one spot.
Up until the second half of 2018, the best ranking she has reached in the world is No. 9. More so, she has also been able to get close to 10 career titles with her racket.
Her Family: Father, Mother (Sybil Smith)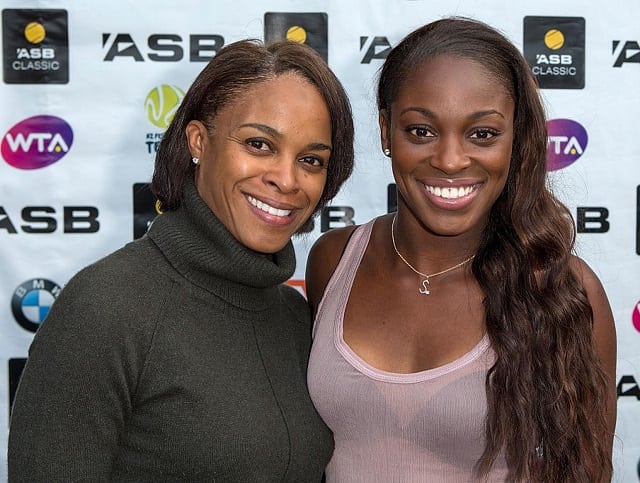 The life of Sloane Stephens has not been one without its tragedy most especially when one looks at her family life. As earlier stated, she was raised by her mother as a single parent after her father abandoned them when she was just a kid.
After her father left her mother who was in her days an All-American swimmer, she later found and married Sheldon Farrell who would played a great role in her life as a tennis player because he also played the sports.
The first tragedy that befell Stephens was the death of Sheldon Farrell when she was about 14. The next would be the death of her biological father, who she lost to a car crash in 2009. Before his death, John Stephens was able to mend broken fences with his daughter and get back to a good relationship with her.
Just as sports flows in her family, her brother, Shawn Farrel is also into sports. He is a baseball player as well as a football player although he is yet to make it big in either sports.
Strengths and weaknesses
Stephens' biggest strength is her speed around the court. No shot is too big for her, and her 2018 US Open win was largely set up by her incessant and clever retrieving.
Her forehand can be a point-ending shot, as she hits it with both pace and spin. Her composure in the face of adversity is also one of her major plus points; she has pulled off many great escapes in her short career already.
Stephens' tendency to become too defensive can become a liability at times. She has often been called out by experts for her passivity on the court; despite possessing as much firepower as any player on the tour, she refuses to take charge of points and instead waits for her opponents to make errors.
Sloane Stephens' Boyfriend & Relationship
As regards her relationships, the young beautiful tennis star has not dated many men in the past. Instead, she has only been in two thus far. Her first relationship was with fellow tennis star, and Olympic gold medallist, Jack Sock. The relationship between the two which began in 2013 was rather open and public, but it didn't last beyond 2014.
see also : Maria Sharapova Childhood Biography, Family, Fame & Facts
The next person to be her boyfriend is American soccer player, Jozy Altidore who she began dating in 2017. Just as her first relationship, Sloane and Jozy who was born on 6 November 1989 are very open about their relationship and as at the second half of 2018, they were still much together as a couple.
Sloane Stephens Net Worth
Not necessarily the biggest tennis player out there, Sloane Stephens is a bank of surprise, on the court. While that has made her very interesting to watch play and follow, it has also ensured that she has it good in terms of fortune.
Making it as one of Forbes Magazine's 30 Top 30 in 2018, she has a net worth that can be estimated to be over $10 million. Although some sources put her at $4 million, the beautiful tennis sensation has won close to $10 million in career prize. More so, she has a number of endorsement deals with brands such as Precision Nutrition and Under Armour. She was also an American Express global ambassador.
Best finish at each of the four Grand Slams:
Australian Open: Semifinalist (2013)
French Open: Runner-up (2018)
Wimbledon: Quarterfinalist (2013)
US Open: Champion (2018)
Highest Ranking: No. 3
Sloane Stephens Style of play
Stephens is a defensive counterpuncher by nature, and usually stands well behind the baseline. She likes to absorb the pace coming from the other side of the net and redirect the ball using her hand-eye coordination, and wins a majority of her points by forcing her opponents into errors.
That said, Stephens is blessed with plenty of power on her own, and can knock off winners when she gets short balls. She has a fairly quick first serve which she uses to set up her forehand. She also has a strong return, which she uses to neutralize even the hardest of serves.
see also : Serena Williams Untold Stories and Net Worth
Sloane Stephens Social media presence:
Sloane Stephens Instagram: @sloanestephens
Sloane Stephens Twitter: @SloaneStephens
[spacer height="30px"]
Fact Check
We strive for accuracy and fairness. If you see something that doesn't look right, contact us!
Thanks for reading and remember to share this post on social media & stand a chance to win $10,000