The living room of our house is definitely one of the most important spaces of the house. Different families utilize it in a different manner. Some people love to spent their most of the time in that area with their families, while some other families open them very rarely, only when some guests are over. Since, living rooms are often utilized to welcome the guests in the home; they should be more beautiful-looking than the other parts of the home. It is the representation of one's status and helps to build the reputation of the host. It takes a lot of thought to design a living room which looks great, and at the same provides the required comfort to its guests. But, the creativity can easily do it all! If the owner puts little creativity into his/her living room decoration, it will certainly look really impressive.
If you are also planning to decorate your room, it is better to take a cue from write-ups available on Internet about home décor. Grab some quirky ideas from them and infuse your thoughts and likings to make your living-room look really interesting and different. While you attempt to make it look different, don't overlook the must-have things of your room. We have made sure that you lay the correct foundation of your living room decoration; here are some of the important room furnishings and accessories for your living room. Just keep a check on them:
RUG- Rugs act as clothing to some part of your bare floor. It also defines a seating area. But, people often make mistakes with their selection of rugs. Make sure you always go with a high-quality rug, and the correct size of it. Always select a rug that is two feet shorter than the smallest wall of your living room.
CURTAINS- Window fashions can really adorn the look of your living room. Use your favorite drapes to dress up your windows. Elegant, bold, light-coloured: any of these can add a dramatic difference to your room.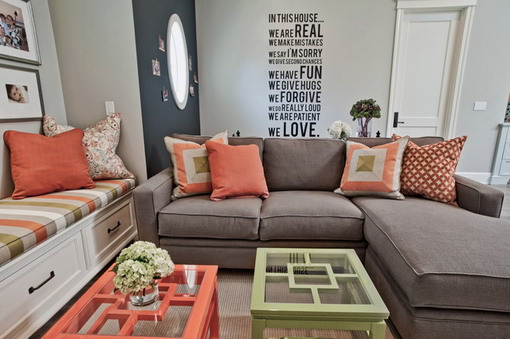 SOFA AND COFFEE TABLE- As bed is to bedroom; sofa is to living room. Sofa adds a sense of comfort to the living room. Similarly, coffee tables are there to complete the entire look of the seating space. Without coffee table, sofa set would look incomplete.
SIDE TABLE- Side tables may not be given much importance but the make the living room look fuller. One or two side tables, embellished with beautiful table linens, should definitely be there in a living room.
OTHER ACCESSORIES- A lot of fabric art-work, handicrafts and different furnishing-linens can be utilized to enhance the look of the entire living room.
Hence, these furnishings and accessories will lay a correct foundation for your living room. If all these things are right in their place, the living room will look the way you desire for. You can avail beautiful home furnishings and accessories online from Maspar store. Maspar is India's leading home furnishing store, and people rely on it for them home décor shopping habits.
So, make your living room look like you – truly adorable!