The kitchen is one of the most visited rooms in a home. Therefore careful planning should be considered when designing your own kitchen. Planning your own kitchen may be a daunting task for some. A lot of work is required to ensure the kitchen matches the rest of your home.
Fortunately, here are a few kitchen design tips to help you in your task.
Make everything easily accessible to the user.
When you're designing your kitchen, think about where and how often you use each item, and store it appropriately. For example, since most people take breakfast everyday at the breakfast table, keep all your breakfast foods and items as close to the breakfast table as possible. Keep your plastic containers and wrapping materials in a drawer close to a working surface to reach them easily when you prepare to store away your leftovers.
Whether you want to design your kitchen in a "U" or an "L" shape, make any spacing arrangements early enough for your fridge, sink, and working surface. Ideally, the three should form a triangle to allow whoever's working in the kitchen to reach them all with ease. Keep at least six feet of space between them all.
Set aside enough space for wide walkways.
When you are planning your kitchen space, adjust the peninsulas and islands well to give you enough space when you're working in the kitchen. Ensure that the walkways are at least 36 inches wide. Keep the paths within the cooking area slightly wider at 42 or 48 inches.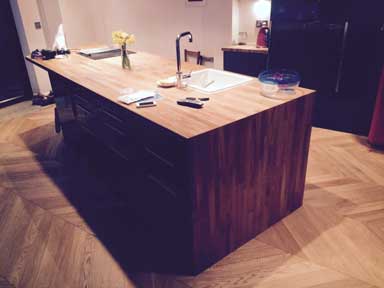 Leave enough room for storage.
Since you'll obviously want a neat kitchen, ensure that you set aside as much storage space as possible so that you can avoid cluttering the surfaces. Go for deep drawers and cabinets to allow you to fit as many items as possible. You can create more storage space by making sure that all your overhead cabinets touch the ceiling. Any space left in between will only collect dust and act as a refuge for pests.
Make room for any swinging doors
As you allocate space for your major appliances such as the refrigerator, dishwasher, and microwave, set aside enough room for swinging doors. Place all appliances with doors in a way that the doors won't bang into things like walls, furniture, and other appliances when opened. If your refrigerator and cabinet doors open in opposite directions, then try putting in some space in between them so that their doors don't bang into each other when they are opened at the same time.
Install working area lights
Install under-cabinet lights to help you see well when you have your back turned against the ceiling lights. Overhead lighting alone is ok for other rooms, however, your kitchen needs lights that shine close or directly above working areas to provide better visibility.
Choose a durable flooring material
As stated above, people visit the kitchen a lot more frequently than most rooms. Therefore, the type of flooring you decide to go with will determine how much money and time you spend maintaining it later on.
As you consider things like ease of maintenance, slip resistance, and porosity, make sure that you have the resources to maintain the type of floor well. While hardwood floors look more beautiful than most others do, they tend to wear out faster. A hard, natural stone floor will go well with almost any kitchen. Ask around to find out how much maintenance it would need. Since some stone floors are naturally porous, you will need to reseal it occasionally to keep it from absorbing stains.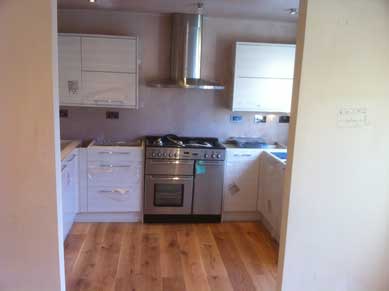 Install enough Power outlets
Electricity is a major resource in almost any kitchen. Arrange to have proper power outlets installed around your fridge, microwave, island, and anywhere else it may be needed. Install extra outlets in case you decide to add something later on. This will eliminate the need for extension cords and the tripping hazard they pose.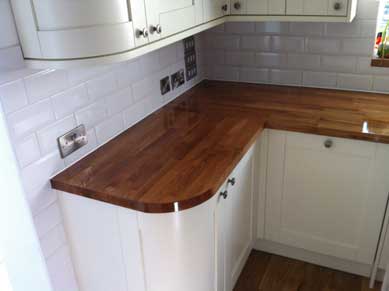 Pick materials that will be easy to clean
The materials you pick for your kitchen will determine how much time you spending cleaning every week. Instead of a refrigerator with glass shelves, go for one with wire shelves. This is because unlike glass, the wire will allow spillage to pass through. Go for matte finishes wherever possible. These do not show dirt as much as glossy ones do.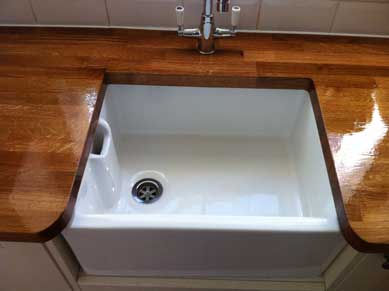 Make the prominent features interesting
Cabinets and drawers form a major part of most kitchens. However, almost every kitchen today is fitted with wooden drawers and cabinet doors. Heavy blocky drawers and cabinet doors tend to look dull and boring. Instead of wood, choose a different material to keep things interesting. Glass doors and shelves would be a good place to start.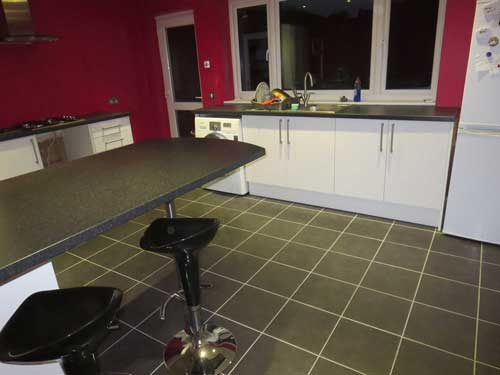 Pick the right colors and keep the kitchen bright
Color does a lot to a kitchen's space. A dark color scheme will make the kitchen look smaller than it really is. Use lighter shades instead. Keep the windows clear to allow as much natural light as possible to enter the room.
Conclusion
When it comes to kitchen design tips, there are very few rules and restrictions. Your kitchen's design can only be limited by your imagination. Whenever you are in doubt, always seek the advice of a professional kitchen fitter.