Every kitchen remodel requires a new and modern sink to go along with the remodel. Unlike before, today we have a huge variety of kitchen sinks in all sort of shapes and sizes and even made from different materials. Choosing the proper kitchen sink isn't easy as you think and you need to be sure that your sink will fit your cabinet below and, most importantly, that your sink will comply with your overall kitchen design. If you want overall kitchen remodel then be sure to check out the complete kitchen remodeling guide.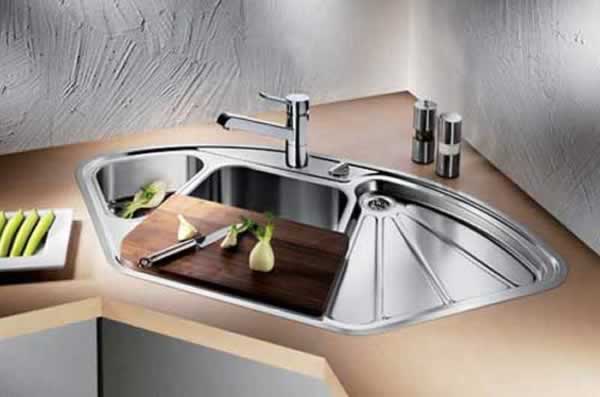 Kitchen Sink Materials
The most common type of kitchen sinks is stainless steel. This sinks are durable and they are the cheapest version for those with tight budget. Composite granite sinks are great because they come in variety of shades and they don't show water marks like stainless steel kitchen sinks. On the other hand they can crack if you hit them hard with dishes and they are a bit more expensive than stainless steel sinks. The other very common material for kitchen sinks is fireclay. Fireclay sinks are made from clay baked on very high temperatures and they are highly resistant to scratching, chipping or staining. They are very easy to clean and they look great but they are also a little more expensive than composite granite kitchen sinks. Cast iron sinks are very durable and they come in different color but the downside is that they are very heavy and you'll need a good and solid cabinet to go with it. Natural stone kitchen sinks are beautiful, durable and they can be matched with your stone countertops. Other than visible water staining they are a little expensive. Quartz kitchen sinks aren't that popular but they are also very durable and the light colors are really nice looking. Solid surface kitchen sinks are relatively new and they aren't used often but you can make your kitchen sink to seem as the part of your countertop. At the end we have copper kitchen sinks which are a bit retro but also very popular because they are antimicrobial.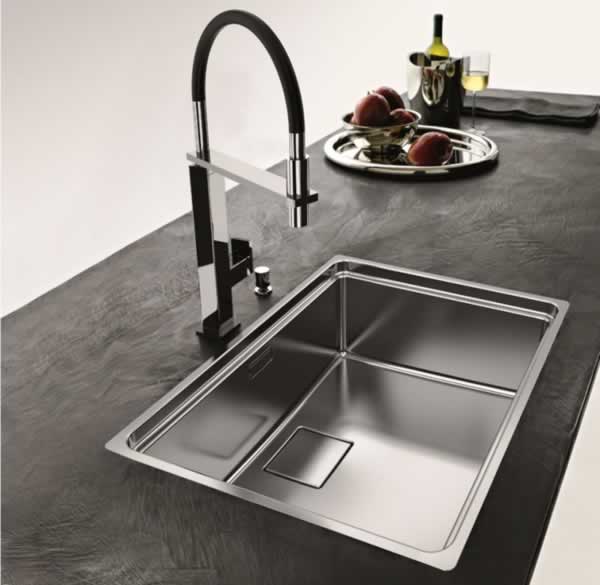 Types of Kitchen Sinks
When you pick the material of your kitchen sink, you'll need to pick the type of your new sink. The double bowl kitchen sinks have a partition which separates the sink into two parts which is very handy for draining the dishes. The farmhouse kitchen sink most often has a deep single bowl with the faucet installed in the countertop or the wall. If you want a traditional or country kitchen look then the farmhouse kitchen sink must be your choice. The drop-in or self-rimming kitchen sinks are generally dropped in above the counter with a lip overlapping the countertop. This topmount sinks will work with different materials. They are quite simple to install. Trough kitchen sinks are narrow and long and they look great. Beside looking great, trough kitchen sinks aren't that functional. The undermount kitchen sink provides really easier cleanup since it sits below the surface of the counter. You can easily wipe crumbs from the countertop directly into the kitchen sink. There wouln't lip or crevice to catch the dirt.
After you learned about types and materials of kitchen sinks you're ready to make the decision and pick a proper kitchen sink for your kitchen!