Flooring is an integral part of any establishment and it has a great impact on the overall interior design of any establishment. Be it home or commercial set up floor and floor coating has to be sturdy, sustainable and enduring. Interior designers are highly particular about floorings as these are fundamental investments and cover a huge surface area of any establishment. Good flooring can change the way a room looks. Epoxy flooring is a trending floor coating these days. This synthetic floor coat is highly reliable and hard-wearing. The price is moderate and can be compared to any other floor coat.
Fact behind Epoxy Coats:
Epoxy is a synthetic plastic-like catalysed material. Epoxy resins are specially formulated compound which combines floor hardening polyamines and bis-phenol-A derivatives in it. These polyamines in the epoxy flooring give the floor the required strength, firmness and consistent backbone. This floor hardener chemically combines to the resin molecules and it makes the floor alluring and robust. Epoxy is a very flexible material that allows recoating the floor within a short interval of time if the need is felt.
Epoxy can be coated over an already built concrete floor, marble floor or terrazzo floor. The guarding layer of this resin is clear and plastic like. It increases the surface shine of the floor but at the same time it does not even make the ground slippery. Epoxy flooring basically gives a sealed floor that is perfectly suitable for any type of designer surface specialization.
Versatility of Epoxy Floors:
Epoxy coated surfaces are very versatile because of their high aesthetic value, prolonged life, high resistance and pocket friendliness. This floor sealing is suitable for-
Homes.
Industrial or commercial buildings.
Shopping malls, shops and showrooms.
Schools.
Hospitals.
Garages
Waterhouse.
Any place that requires pretty and hardy floor sealing.
Epoxy flooring is highly versatile and simple to assimilate on any type of floor. It removes all unevenness of the floor making the floor lustrous and smooth. As a floor sealing option Epoxy provides a wide array of advantages when compared to other floor coating solutions.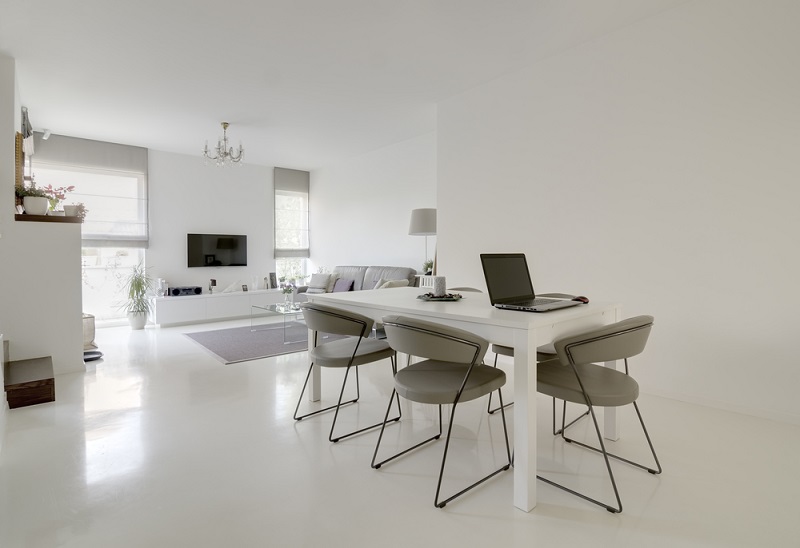 Benefits of Epoxy Coatings:
Sustainability, strength and tenacious floors: As discussed resin and polyamine combination floor coat seals ground very firmly. Floors with such coating are highly wear and tear resilient. The floor becomes non-porous and can withstand a lot of pressure for a longer duration of time, and can resist any damages. The chemical is flexible and can be recoated anytime the need is felt.
Lucrative flooring with vivid colour options:  Epoxy after drying gives a glossy finish to the floor. But unlike other glossy surfaces the chances of tripping in this type of surface is greatly reduced. Epoxy flooring has another aesthetical attribute to it; i.e. it is resilient to water, stains and a wide variety of liquids. Which simply ensures that the beauty of the floors remain intact for years. These floorings are offered in a wide variety of vivid colours and so it can be easily customized to match any type of décor.
Cost-efficient floor coats: This is a very budget friendly floor coating solution, compared to its competitor materials epoxy resins are far more affordable. It is cost effective especially for commercial apartments as this delivers sturdiness and handsome interiors at a very suitable rate.
Eco-friendly and easy to clean: As Epoxy flooring is water and stain resistant the floors are easy and quick to clean. Unlike other coatings it is resistant to allergens and dust and is a greener floor coating.
The above mentioned factors will help you make a good decision. Let's go to the details for more information about epoxy flooring.