Disk Management is something that is very crucial when it comes to customizing something either be it a file or a data. We could find the customizing options probably while downloading or saving the files into our computer. So far, the modifying options are said to be in-built.
But for the first time, you could address the software solely designed for managing the disk counting all the adapting options. Yes, the EaseUS Partition Master Free software will let you do the modifications like copying, moving, formatting, resizing, managing the disk partitions and more.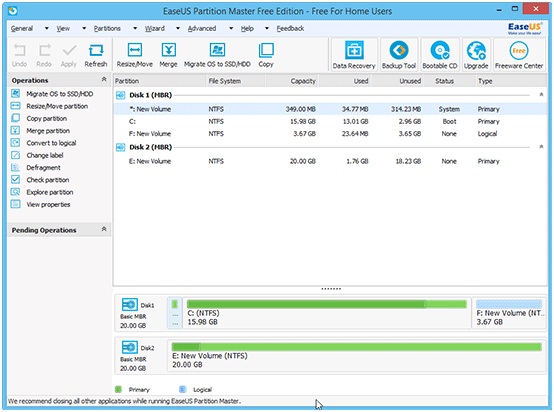 If the needed be, you can go through the following links as well to know something about the migration and cloning software.
how to clone a hard drive
how to move Windows 10 to SSD
migrate OS to SSD Windows 10
Functioning of the Partition Software
The Partition Master Free Software can effectively do the three vital functions, which are as follows,
Handle disk space simply on GPT and MBR disk.
Will assist you expand your C drive
Resolve low disk space issue
Besides the above said applications, you can further resize, move, merge, copy, change label, explore partition, copy disks, convert to local, copy partitions and more on your files using this software. The best part is that, this software supports the hardware RAID and removable drives. So, you will never find any issues in this software. It is the handy software designed to let the users effectively do the disk management tasks.
Notable Additions of the EaseUS Partition Master Free
Some fixed bugs
Easily transfers MBR to GPT from system disk
Supports Windows 10
Customizing partitions on Windows 10 is doable
Supports many languages from English to Polski
Important Haves of the EaseUS Partition Master Free
Without losing any such information or data, you can do the customization tasks like resizing, deleting, merging, copying and more.
Easily converts FAT to NTFS file system.
Wipe Partition or Wipe Disk option can permanently clean the delicate data on the disk or system.
Backup 8TB GPT disk.
Without needing to reinstall the Windows, you can copy the whole hard disk into another disk.
Easily convents logical partition into primary partition and primary partition into logical partition.
For maximizing the working of the system, you can extend the NTFS files even without restarting or rebooting.
You could combine two parallel partitions without losing the data.
Final Words
The Partition Software includes three key features, which are partition recovery, disk and partition copy and partition manager. Using these three features, you can resolve any issues on your hard drive and computer. This is why this software is notable and preferable among the users. Anyone can use this software with ultimate comfort and convenient. Installation demands only few minutes. Added to that, this software is easy to handle and customize. You can upgrade the versions of the software every now and then if the required be. Last but not least, it is absolutely free of cost.