ENSUITE
The ensuite in this stunning Blackburn home has been luxuriously transformed into an alluring spa like retreat. It is a visual feast of glorious finishes and colours that work effortlessly together to create a tranquil atmosphere. The showstopper bath is the piece de resistance and screams indulgence. It is the perfect addition to an irresistibly inviting space.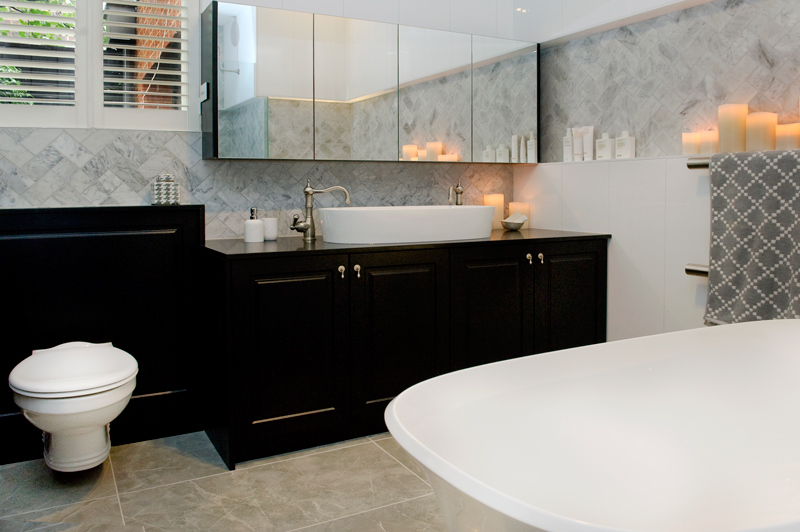 Floors
The Florence Isola floor tiles are made in Italy using the latest in digital ink technology. They simulate natural stone with precision perfectly replicating variation of colour, tone and movement just like the real thing. And the best thing, unlike natural stone there is very little maintenance involved. You will never have to seal this porcelain tile and cleaning is as simple as using hot water and a neutral based cleaner.

Walls
The wall tiles are a natural Carrara stone subway tile installed in an effective herringbone pattern. They certainly add a bit of drama and sophistication to the room. Natural stone tiles should always be sealed to protect from spills and stains. When used on walls they may only have to be sealed once in their lifetime as the sealer will not wear off unless there is excessive cleaning or scrubbing. The stone that carries through into the shower area should be sealed more regularly as they are in a wet area.
KITCHEN
The kitchen uses Kiklo penny rounds in Ocean colour on the splash back creating a brilliant effect with their irresistibly tactile surface and dynamic blue colour. It is a brave yet clever choice that will make a lasting impression for years to come.
For more information on the Blackburn renovation visit shaynnablaze.com.au
Deadline Design airs Wednesdays at 9.30pm on Foxtel's Lifestyle channel
Photography- Vanessa Hall for Lifestyle.