Adding text to a photo can be far more useful than it might sound. Not only can you create captions for your images, but you could also come up with posters, add watermarks, or even insert speech bubbles. In short, it could help you to improve your photos – but the snag is that you will want to ensure that you're able to fully customize the text that you add so that it looks exactly the way that you want it to.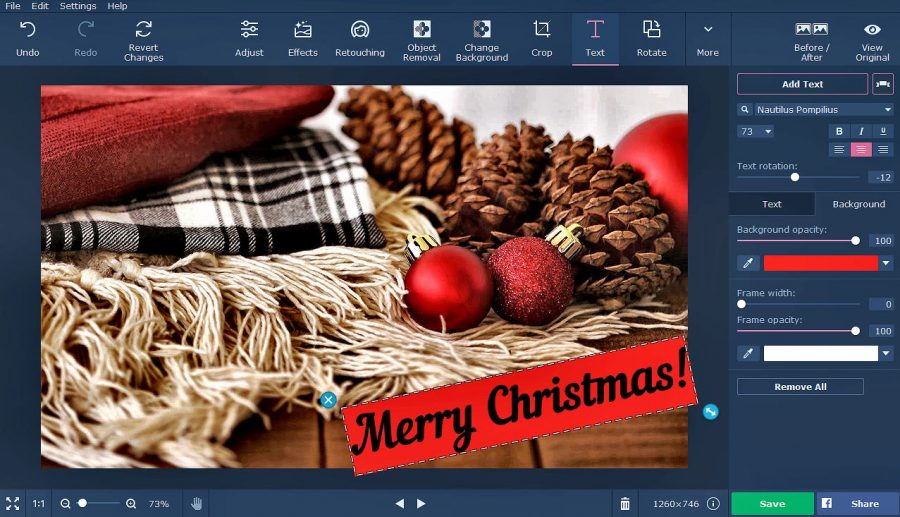 That is partly why you should use Movavi Photo Editor to add text to your photos. As a photo editor it will give you the tools you need to not only add any text that you want, but also fully adjust its style and appearance to suit your needs. On top of that it will make it so easy to do all of this that you won't need any special skills to pull it off.
If you want to try it out for yourself, just launch Movavi Photo Editor and click on the 'Browse for Images' button in the center of the screen to select your photo – or drag and drop the file into that area. Once the photo has been loaded, click on the 'Text' tab in the upper part of the interface to open up that panel.
In the 'Text' panel you will find everything you need – starting with a button labeled 'Add Text' right at the top. By clicking on it you'll add a text frame to your photo that will be represented as a frame of broken white lines where you can type in the text that you want to add. After that you can adjust the appearance of that text with Movavi Photo Editor by using the 'Text' and 'Background' subtabs in the panel to set up the various parameters.
To add various graphical stickers to accompany your text you can click on the 'Add Decorations' button and pick one from the selection that is available. If at any time you aren't satisfied you can click 'Remove All' and Movavi Photo Editor will clear all the text that you added so you can start again.
For more complete instructions you may want to head over to https://www.movavi.com/support/how-to/how-to-add-text-to-photo.html but you should get the broad strokes already. Keep in mind Movavi Photo Editor will let you improve your photo in other ways too, by enhancing its quality, removing unwanted elements, touching up portraits, replacing the background, and much more.
Each feature in Movavi Photo Editor is designed to be intuitive, as you should be able to see from the instructions above. Simply put if you spend a short while trying it out, you may surprise yourself with what you can do.